Powerful vocals, electrifying harmonica, and intense performances define Matt Blais. The rock'n'roll troubadour's latest release "Fool's Gold" (Fall 2018) is an edgy and evocative protest song for the modern era. With cutting social commentary and haunting sonics, the new track goes behind the curtain searching for authenticity in an increasingly deceptive world. "I have always tried to find and create real moments. That can be hard to do in a world of avatars and publicists. The best way I know how is through song."
Hailing from Calgary, the charismatic Blais expands the rock genre by adding a vintage blues edge that, paired with his honest, accessible songwriting style, has resonated with his Canadian audience. The guitar of Jimmy Bowskill (The Sheepdogs) weaves in and out with Blais' raspy vocals as he yearns for something more. The single was recorded and produced in Toronto by Brian Moncarz (Our Lady Peace, The Trews).
"Just 'cause it glitters doesn't mean it's got soul."
Matt's live performances, whether solo or full band, are diverse events balancing high energy, sweaty-rock with emotionally vulnerable ballads. He has been described as Springsteen-esque in stage presence and songwriting ability. Matt Blais has directly supported some of Canada's biggest acts. Opening for Blue Rodeo, The Trews, and The Strumbellas has shaped Blais into a consummate showman and artistic talent.
Blais' independently released recordings have charted on campus radio, sold thousands of copies (Canada), and garnered critical acclaim. Notably, Blais has collaborated with Sam Roberts and earned multiple awards such as Male Artist of the Year at the YYC Music Awards (2018) and Best Rock Song at the "The Great American Song Contest" (2016).
"This is roots rock at it's finest, the perfect way to sum up what it's all about." – James Fenney, Belwood Music.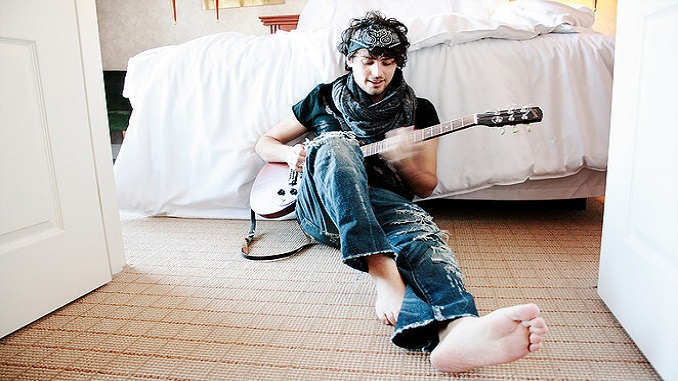 Name: Matt Blais
Genre: Roots-Rock, Alt-Rock
Founded:
Late 2008-early 2009 was when I jumped into music headfirst. I left university and started touring that year, so somewhere around there is the unofficial start of my career.
# of Albums: 1 EP, 2 LP's, 4 Singles
Latest Release:
"Fool's Gold" – Single
Latest Video:
Latest Single:
"Fool's Gold" – Single
Favourite Local Restaurant:
The Nash. Try the crispy potato rolls!
Favourite band as a teenager: Led Zeppelin
Favourite band now: Delta Spirit
Guilty Pleasure Song: Chandelier – Sia
Live Show Ritual:
I don't have one. I've given the show a lot of thought before hand. So I generally know exactly what I want to do and have been thinking about it and preparing for it all day. Getting up on stage is when the mind finally shuts off.
Favourite local artist:
Jay Bowcott. He's got an amazing song called "Highway 3″
Nose Hill or Fish Creek?
Nose hill. I once went on a date with a girl – she was really into running and she asked me out to go for a run in Nose hill. I thought, "I'm pretty fit. So sure, why not?" Long story short, she's like a PRO runner and I was a sweaty, wheezing mess trying to keep up. … There was no second date.
EP or LP?
LP. I listen to vinyl at home. I love the space and flow between songs. Albums are more of an experience, a meal rather than just a taste.
Early bird or night owl?
I'm both. I don't sleep much these days. I get a lot of work done in the morning (like this interview) but I also love the night and seeing friends and playing shows.
Road or studio?
They're both so different, it's hard to choose but when forced, I say the road. It's very freeing to know that you can get away and disappear into the highway. It's weird, but I like hotel living and gas station coffee. Meeting new people and giving something they haven't seen before is what this artsy business is all about. So the chance to do that is worth being crammed in a van for hours.
Where can we follow you?
Website | Facebook | Instagram | Twitter | YouTube
Any shows or albums coming up?
2019 will be a big year. I'm putting all the finals pieces together for a new album. There will definitely be some touring as well.
As for shows, the next big one will be at "Mikey's on 12th" in Calgary, Dec. 14th.