Free Store YYC is connecting Calgarians through clothing! Far too often do we hold onto items that no longer serve us. When gently used clothing items could be donated to improve the lives of others and families in our community. We got a chance to speak with Jessy to learn more about Free Store YYC.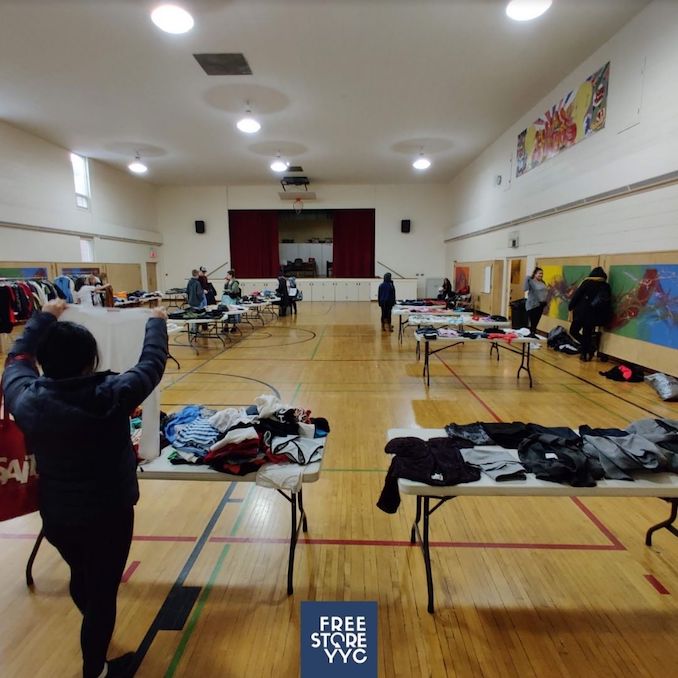 Describe your charity/non-profit in a few sentences.
The Free Store is an all-inclusive free clothing event for the entire family. Donate what you can, take what you need.
We accept clothing donations from the community and consignment stores, set up a pop-up store at Knox United Church, and invite the community to shop.
What problem does it aim to solve?
Free Store YYC aims to be a sustainable and free shopping alternative to the current system. We are keeping textile waste local and offering a sustainable and accessible way to shop for clothes in Calgary.
When did you start/join it?
We held a clothing swap at the Women's Centre of Calgary where we realized there was simultaneously a massive amount of excess clothing in our community as well as a notable deficit. We wanted our event to be inclusive and welcoming so we became a free store instead of a clothing swap – an effort to ensure there was no expectation to bring clothing if someone took clothing.
What made you want to get involved?
Jessy works in waste management and has become pretty aware of the minimal options for textile recycling and the clothing swap made her realize how many opportunities there were to connect people through clothing. Jessy met Jen and Thanh as they had helped facilitate a workshop in the clothing swap and approached them to collaborate on the project.
Once Jen was in, Thanh trusted his judgment and joined as well. It was definitely a new concept for her – she'd helped with and hosted many clothing swaps and repair events in the past but hadn't quite thought of something like this. What really encouraged her to involved was that it was a great way to provide the community with clothing and the clothes a new life, and this cycle can continue with each free store!
What was the situation like when you started?
In our community, there weren't any organizations, we knew of, doing a similar thing. We knew some churches that held events in suburban areas, but nothing in the inner city. We also knew that organizations serving lower-income populations didn't have the capacity to collect and sort through donations. This idea seemed like the right gap to fill.
How has it changed since?
We've seen at least one new free store get off the ground and we're very proud and impressed by them! We have supported each other in the past and work very collaboratively.
Consignment stores have also become more aware of the concept of our free store and have come on as partners. They have been fundamental in donating clothing their store doesn't sell.
What more needs to be done?
As consumers, we need to speak with our wallets and communicate to the stores that are guilty of creating a 52-week fashion cycle to stop. Not only the fast fashion shops, but all clothing brands in general – to think in terms of the future of their garments. What will the end of their life look like? Will the clothes end up in landfills, be burnt to make room for other clothes, or pollute the waterways of another country?
We have enough clothing in circulation to clothe everyone and their pets! We don't need more new clothes, but to think of ways to maintain the quality of the clothes we already have and keep them from a sad ending that ultimately destroys our only home.
How can our readers help?
Whenever possible, search for alternatives to clothes you may need. Think in terms of the most Earth-friendly options and choose a path that suits your needs. For instance, can you borrow clothes from a friend or swap clothes with family members? Is there a consignment store nearby, or a thrift shop? Is the next Free Store event convenient for your needs? By shopping alternative not only will you save money, but also the non-renewable resources it takes to make/ship/store a single garment.
Do you have any events coming up?
We've just wrapped up our most recent event, July 8th, and are already planning another this September. Please keep following along as we get ready for our back-to-school fall event.
Where can we follow you?
The Free Store can be found here!
Instagram: @freestore_yyc
Facebook: @freestoreyyc
Twitter:@freestoreyyc
PAY IT FORWARD: What is an awesome local charity that you love?
The Women's Centre of Calgary. We may not have met each other and been inspired to start the free store without the WCC. We are so grateful for their support and want to highlight all the great work they do. The WCC is a place for women to connect, learn and access services.