Name: ILLYRIAN
Founded: 2011
# of Albums: 2
Latest Release: Round 2 Fight
Latest Video
Bio
Once known as a group of goofballs playing thrash metal about video games, Calgary's Illyrian have now evolved into a highly technical group of goofballs playing thrash metal better. These artists, formerly known as Hellborn Death Engines, are known for their erratic and precise on-stage delivery, rapier wit, and nostalgic charm.
Originally formed in 2011 under the now reviled former moniker, Illyrian have righteously cast off its anchors and let itself develop into a unique and hungry beast. This is, in no small part, due to the recent additions of Jeff Perry (bass/vocals, Sikarra, ex-Animus Labyrinth) and British drum sensation Darren May (drums, ex-Deacon Birch), who have brought new and progressive musical mindsets into the band. Rounding out the original and founding members Scott Onofrychuk (guitars/vocals) and Brandon McNeil (guitar/vocals)'s thrash metal madness in distinct fashion.
Cue 2016, as Illyrian is on the verge of releasing Round 2: Fight!, the band's second release and more accomplished effort due out on October 7, 2016. Gone are the constraints of conventional metal sub-genre formula, replaced with a melting pot of technical thrash riffs, blistering solos, prog-influenced rhythms and the bands signature tri-vocal attack.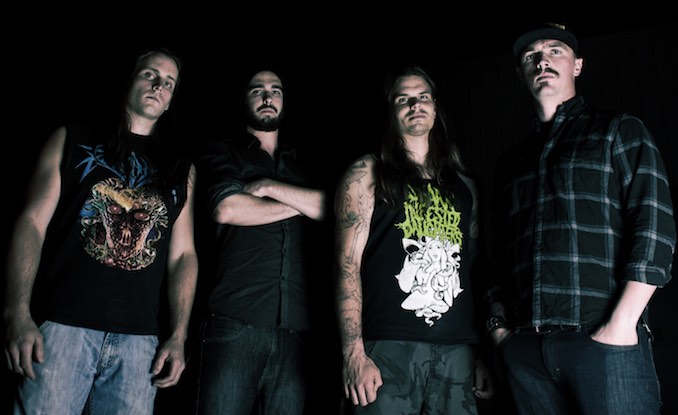 Latest Single?
Round 2 fight https://youtu.be/bm915PWlBwE
Favourite Restaurant?
Any Veitnamese place for Pre show Pho!!
Favourite band as teenager?
Iron Maiden
Favourite band now? 
Mastodon, Revocation or Battle Cross it is a hard contest
Guilty Pleasure Song?
Whatever that kissed a girl song by Katie Perry song is called.
Live Show Ritual?
ten minutes of warming up my feet with double kicks on a practice pad and all hands in and shouting "on 3!! DICKS"
Favourite local artist?
There is so much talent in Calgary it is hard to pick one for me but to list a few Belvedere, WMD, Kyoktys, Racenous Eternal Hunger, Blackest Sin, Concrete Funeral, Krepitus, False Flag, The list goes on.
EP or LP?
LP for longevity I think. EPs do have some gems on them sometimes, for example AFI's All Hallows' EP has Total Immortal on it.
Road or studio?
The road is so much fun getting to meet new interesting people along with playing to new crowds and creating new friendships. That's not to say I dislike the studio. The studio is all about getting down to business!!
Early bird or night owl?
Night Owl, thanks a lot Dark souls 2
Chicken or Beef?
Chicken in a curry beef in a burrito
Nose Hill or Fish Creek?
Fish Creek all day
Banff or Lake Louise?
Lake Louise in the Winter. Banff is too busy all year.
***
Check out Illyrian 's facebook page for more info.