This week's recipe comes from Chef Christopher of Mesmerize Spices. He put together this amazing Hypno Cider Brined, Pan Roasted Pork Tenderloin with Soubise, Mustard Spaetzle, Cranberry Compote, and grilled Broccolini using their Hypno Blend Spice! This dish would pairs excellently with Sauvignon Blanc, Reisling, or Verdicchio wines.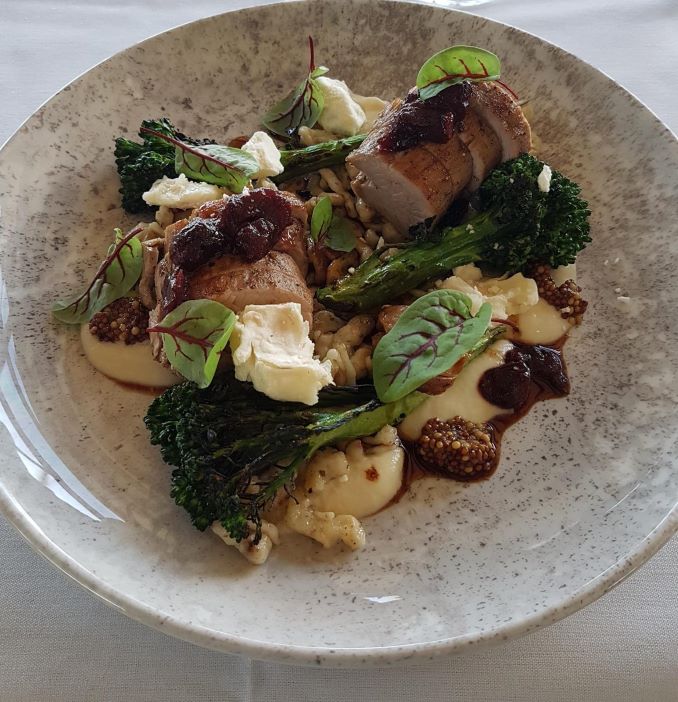 Yield: 4 Portions
Hypno Cider Brine
Ingredients
Day before prep:
– 2 quarts water
– 1 cup packed brown sugar
– ½ c of Mesmerize Spice Hypno
– 4 cloves garlic, crushed
– 2 sprigs fresh rosemary
– 2 quarts apple cider
– 1 boneless pork loin roast (2 to 3 lb)
Directions
1. In nonreactive 6- to 8-quart stockpot, stir together 1 quart of the water, 1 cup brown sugar, 1/2 cup Hypno, the crushed garlic and rosemary sprigs.
2. Heat to boiling, stirring until brown sugar is dissolved.
3. Stir in cider and remaining 1 quart water; cool.
4. Add pork. Cover; refrigerate at least 12 hours or up to 48 hours.
5. Make the Compote when brine is put away, or while making the brine;
Cranberry Compote
Ingredients
– ¼ pound fresh cranberries
– 1 tablespoon grated orange zest
– 1 teaspoon grated lemon zest
– 1/4 cup fresh orange juice
– 1 tablespoons fresh lemon juice
– ¼ cup granulated sugar
– 1 teaspoon pure vanilla extract
– 1 cups water
– 1 + ½ tablespoons cornstarch
Directions
1. Put the cranberries, orange and lemon zest, orange and lemon juice, sugar, vanilla, and ½ cup of the water in a medium-size nonreactive saucepan over medium-high heat.
2. Bring to a boil and cook for 6 minutes.
3. Dissolve the cornstarch in the remaining ½ cup of water and add to the pan.
4. Reduce the heat to medium, then stir constantly until the mixture thickens, about 2 minutes.
5. Remove from the heat and cool completely. Store in refrigerator overnight. Then prep Soubise;
Soubise
Ingredients
– 4 tablespoons unsalted butter
– 7 cups Spanish onions, (1 cups diced and 6 cups thinly sliced), about 1.5 pounds in total
– 2 tablespoons thyme leaves
– 1.5 tablespoons Mesmerize Spice Hypno (or to taste)
– ¼ cup short-grained risotto rice, like Arborio
– ½ cup grated Gruyère cheese
– ½ cup heavy cream
Directions
1. Preheat oven to 300 degrees.
2. Melt the butter in a large Dutch oven set over medium heat and, when it foams, add the onions, thyme, Hypno.
3. Cook slowly for 15 to 20 minutes, stirring often and turning the heat down if it threatens to scorch the butter, until the onions are soft and translucent.
4. As the onions cook, bring a small pot of salted water to a boil and add the rice to the pot.
5. Cook the rice for 5 or 6 minutes, then drain it.
6. Add the rice to the onions and stir to combine.
7. Cover the Dutch oven tightly and place it in the oven. Allow to cook, undisturbed, for 35 minutes.
8. Remove from oven and allow to sit for 30 more.
9. Store in refrigerator overnight. Then prep Spaetzle
Mustard Spaetzle
Ingredients
– 4 large eggs, at room temperature
– 3/4 cup milk
– 3 tablespoons grainy Dijon mustard
– 1 tablespoon snipped chives
– ½ tablespoon Mesmerize Spice Hypno
– 2 cups all-purpose flour
– 4 tablespoons unsalted butter, melted.
Directions
1. Bring a large pot of salted water to a boil.
2. In a medium bowl, beat the eggs with the milk, mustard, chives, salt and nutmeg.
3. Add the flour and stir until a sticky batter forms.
4. Scrape one-third of the batter into a large colander with 1/4-inch holes.
5. Working over the pot of boiling water, scrape the batter across the bottom of the colander with a rubber spatula to press it through the holes.
6. Gently stir the simmering spaetzle, then press the remaining batter through in 2 batches.
7. Stir gently and simmer the spaetzle until cooked through but slightly chewy, 1 to 2 minutes. Drain the spaetzle in a clean colander.
8. Cool then wrap and store in refrigerator overnight.
Put it all together 
Alright here we are, dinner time. You have two strategies for this, you can finish each hot item one at a time and store it in a oven set to 185f to keep warm, then construct your plate as I did in the picture. Or you can use my timing strategies to put this dish together.
1. Clean and trim 1 bunch of broccolini, toss with 2 tbsp olive oil and a good shake of Mesmerize Spice Hypno while your grill gets hot. Also preheat oven to 400f. Grill until you have great grill marks and it begins to become tender, about 5 minutes total depending on grill heat. Keep warm.
2. Drain pork from brine, give a quick rinse then pat completely dry with a paper towel, give a small sprinkle of Mesmerize Spice Hypno.
3. Take out a heavy frying pan that is oven safe (doesn't have a rubber/platic handle) (cast iron is great) (if not you can transfer to a baking dish after searing).
4. Heat the pan on medium-high heat for 2 minutes, add a splash of avocado oil (or another high smoke point oil).
5. Watch oil very carefully until you just see the first small whisp of smoke (indicating the oil is just reaching the smoke point), carefully put the pork tenderloin into the pan with a pair of tongs.
6. Cook it until it is very nicely browned on both sides (not greyish brown, brown-brown!). This should be 5 minutes total, or 2 ½ minutes per side.
7. Transfer the pan to the oven, uncovered and let it roast for 10-15 minutes depending on the size/thickness of pork loin. Before you pull it out, you want to make sure that the meat has an internal temperature of 145-150F. (this could take much more than 10-15 minutes if you have a huge pork loin)
8. Cover with tin-foil and put on stove-top to rest for 10 minutes while you prepare the rest of the dish.
9. Finish soubise: remove the top of the Dutch oven, stir the rice, and place over a medium-low flame to reheat. Stir in the cheese and the cream and cook, stirring occasionally, until the dish is hot. Keep on very low heat to stay warm.
10. Finish the spaetzle: In a large skillet, melt the butter over moderately high heat. Add the spaetzle and cook, stirring frequently, until thoroughly coated. Transfer the spaetzle to a bowl, and keep warm.
11. Plate: Spoon tablespoons of Soubise around your plate, spoon tablespoons of spaetzle around your plate, spoon the broccolini around your plate, slice and plate your tenderloin around plate, spoon balls of Paillot de Chevre around plate, spoon a few teaspoons of cranberry compote around plate. Spoon a few teaspoons of grainy Dijon around your plate. You did it! Enjoy!