A nice warm bath is vital when the winter starts creeping in! This week we spoke to Marisa Mireau, chief creator of EmElleEm Soaps, about how we can pamper ourselves while supporting a local business!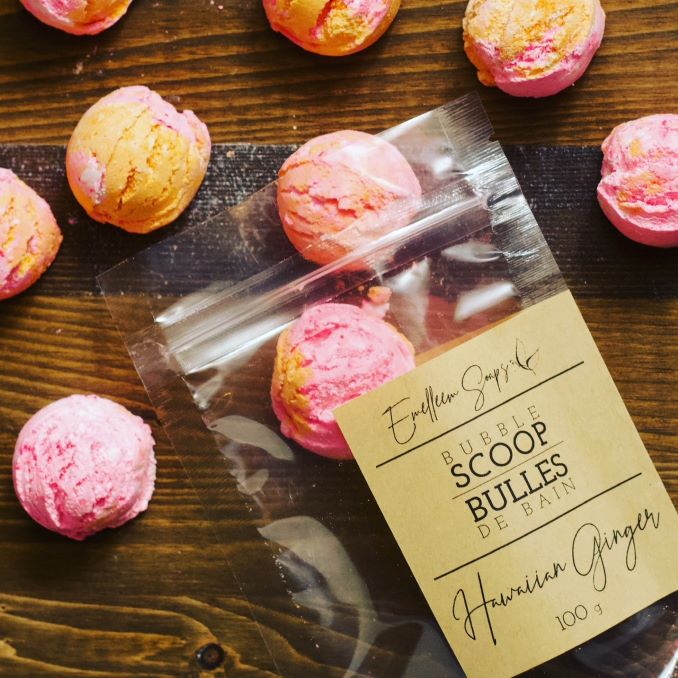 What is your business called and what does it do?
EmElleEm Soaps is a handmade bath and body business. We create a wide array of skin care, hair care, facial care, and bath products with an eye on luxury, variety and affordability.
What made you want to do this work?
As a somewhat frugal but crafty person- I always found myself drawn to the fragrances wafting from the bath and body stores in the malls. I loved the richness of the scents and the rustic, handmade look of the products. I loved that there were interesting items, things you didn't see everywhere else- but I just couldn't always justify the cost. I mean- I just wanted that citrus soap!! But do I really want it to cost $12? On top of that, the fragrance I loved from one product was never available in another.
Once I jumped into research, I realized that I really could make these things myself, and I could make them just for me. With ingredients that I wanted and fragrances that appealed to me- on a decent budget.
What started as a simple desire for a particular fragrance of handmade soap- over the years has become a large catalogue of shampoos, conditioners, moisturizers, bubble baths, lotions, butters and of course…. soaps.
What problem does this solve?
I think we all deserve to treat ourselves, but I don't think we should have to pay an arm and a leg to do it. I also REALLY don't like the idea of being confined to one lane- so to speak. Do you want a Coffee scented lotion? Cool! Do you want it to be green? OK! Do you love the fragrance so much that perhaps you want a bubble bath and a shampoo to smell the same? I can do that!
A high price does not mean a better item, add to that the flexibility of being able to speak to the person creating the item- and you really can have EXACTLY what you want. And why not? It's 2020- you should be able to have a say in what you put on your body with full disclosure and direct access to the creator and their knowledge.
Who are your clientele/demographics?
My customers range from teenage girls to grown men. Going back to the customizability of the product, I'm able to reach many and help them get what they like. I do not market specifically to men or women and keep my packaging purposely neutral. Everyone likes something different. I love woodsy scents, they aren't particularly "masculine" fragrances… they're just woodsy.
So I suppose my core demographic are those who enjoy a middle ground between department store and boutique. The luxury of a hand crafted item, made locally- with you in mind, and if you like- with your input.
How does your business make money? How does it work?
This is an interesting question. Aside from the nuts and bolts of a profit/loss statement- I feel that I make money because I let the customer be in the driver's seat. Most of my items are made to order, so I appeal to those who like to order "from the menu" and those who like to be a little more custom. As I mentioned mentioned before- there is a freedom in hand crafted items because the creator is readily available for consult. I receive custom requests all the time. Can you make this fragrance? Can you find a duplication of this scent? Could you create a product like this? [Yes, I have even formulated entirely new products for customers based on their requests]
I love to create- and there is a joy in handing a customer EXACTLY what they've asked for. Be it for a personal item, or for a set of custom packaged shower favours. I have the tools, you have the ideas.
Where in Calgary can we find your profession?
We do not have a brick and mortar store- however you can find us at online on our website. For behind the scenes peeks and new product release information you can follow us on Instagram and Facebook as well.
What is the best question a prospective customer could ask a member of your profession when comparing services?
Ask them why they've chosen the ingredients that they have. Ask them how they would elevate it by using different ingredients. A knowledgeable formulator/ creator will be able to speak intelligently about their ingredients and how they could/would substitute them to achieve different results.
Also- for lotion makers- ask them about their preservatives! Any product that contains water MUST have a preservative. I know it's a scary word- but not all preservatives are bad. They are actually quite necessary and there are eco-friendly options available. The last thing you want to do it pay for a product that ultimately grows some fur. Yuck.
A strong formulator knows when a preservative is required, they respect it, and they use the proper preservative. This is unavoidable in my opinion. I say "in my opinion" because I don't want to offend any creators out there, but preservatives are absolutely necessary in many products. Ask about it- they should be able to pontificate on the subject lol.
Finally- I'd ask them if they have any new products in the works. I always get excited talking about things that I'm working on and love hearing input about what someone may or may not think about it. This is how I end up with a lot of product testers.
What is the best part about what you do? What is the worst part?
The best part is hearing peoples reviews. I love knowing that I made someone happy either by accurately reproducing a long lost but much loved fragrance. Or by how I contributed to a wonderful event by provided their perfect idea of a party favour or gift. Maybe I was able to provide a lovely gift for someone going through a rough time. I hear a lot of personal stories from my customers and that is something I treasure, and I value all of them for sharing little bits of their lives with me and allowing me in to theirs.
The worst part? Paperwork lol. Bath and body products are considered cosmetics in Canada and there are a lot of rules and regulations with regards to what you can and can't do or say. Labelling of products, etc. It's necessary, and Health Canada has regulations for a reason which should always be followed, it's just not the most fun part of it all as you can imagine lol.
What is your favourite joke about your own profession?
HA! I don't know if this is a joke or a gripe lol. But we are often asked "Do you have any lye-free soap?" Or told "I don't like soap with lye in it"
It's quite literally impossible to make soap without lye. Without going full-nerd on you- soapers will either laugh or spontaneously combust when presented with this question.
"Soap" without lye in the process- is cleanser. Soap can only really be called soap when lye is used to saponify oils.
Ok… I'm done 😀
PAY IT FORWARD: What is another Calgary business that you love?
I'm going to go completely left field here.
Dark Age Creations- In one sentence- they know swords. Jamie Ripley is the owner here. He and his team are knowledgeable about their products and love what they do. They pride themselves on offering quality knives/swords/armour/archery equipment as well as the information that you need to go with it. Jamie is a character- but so passionate about his products and their history. They offer sword fighting classes as well – Jamie is trained in stage combat and has many contacts in his repertoire that help offer a safe and enjoyable environment for people wishing to learn more of the art that is sword fighting.
They also create GORGEOUS chainmail inspired jewellery. Check out their site. They have a lot to offer and aren't your run-of-the-mill store.