One of the best things about Calgary is being able to access fresh foods and groceries from local farms and ranches. Fresh Village Farms is looking to make that easier by creating an online gateway for Calgarians to be able to purchase goods and groceries from local farms!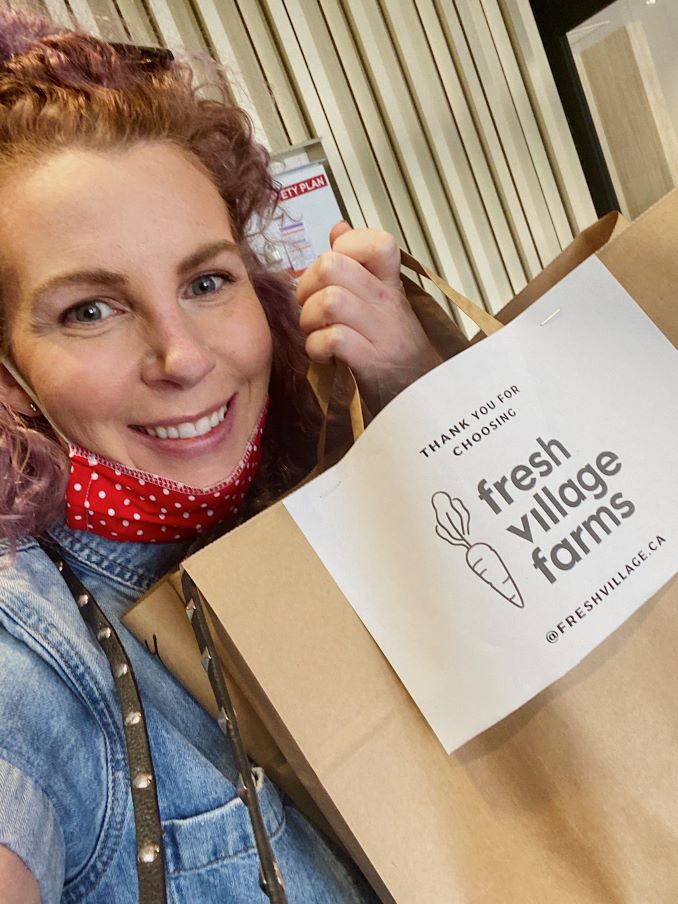 What is your business called and what does it do?
My business is called Fresh Village Farms…a virtual farmers' market that connects local consumers with local farms & vendors. Right now, when you order by Monday at 9 am, the groceries are delivered to your door on Thursdays, the same day that the farmers deliver to us (to my currently empty Marketing Agency office/retail space)! We're doing free delivery right now too 😁
freshvillage.ca is a website for local & organic grocery delivery, where people here in Calgary can go to purchase products/goods from local farms/ranches, etc. The best part is that I get to support local businesses & encourage others to do the same…not to mention I get to feed my own family fresh, healthy food, conveniently!
What made you want to do this work?
I am a Calgary Mama & small business owner. I also have marketing agencies Loud Marketing which I started 4 yrs ago & actually also have Green Ruckus Communications that I'm still looking after…oh ya I guess I guess I'm also a part-time grade 1 teacher 😬
During COVID I came up with a solution to a new problem while trying to find healthy groceries for my family…ok so that's part of it, anyway! www.freshvillage.ca is a website for local, fresh & organic grocery delivery, where people here in Calgary can go to purchase products/goods from local farms/ranches, etc & have it dropped off at their doorstep.
With all of this time staying at home, I was/am finding more time to cook (& cook healthy) & I was struggling to find places that I could get grocery pick up or delivery in a timely manner (Superstore was 9 days for click & collect last time I checked!) & forget about selection! I also really wanted to shop local to support local businesses but access to doing so seemed to be a challenge as not everyone has a website to order from & well, I need delivery!
Here's where the FARMERS came in! I reached out (yes, I cold-called farmers lol) and they were very happy to hear from me…some of them don't even sell to grocery stores & the restaurants have decreased their demand.
I'm a small business owner & wanted to do this for a million reasons! I love the idea of supporting local businesses & would encourage others to do the same.
What problem does this solve?
I want to shop local & support local businesses as well as feed my family healthy food…and I'm all about convenience. Delivery? Yes, please!
Purchasing local, organic food that is sustainably grown is something that Albertans have always focused on. Now with shortages at grocery stores and difficulty with picking up or getting groceries delivered, it's even more important and effective to focus on getting good fresh, from farm-to-door. Fresh Village Farms does exactly this.
Who are your clientele/demographics?
ME!!! Suburbian working Mama – career or stay-at-home mom, has kids that outside of COVID would be in sports, dance, etc, minimal time for grocery shopping or just wants convenience, health-conscious, esp when it comes to family's food, environmentally aware, age 34-45, SUV (or minivan)
Downtown dweller – no kids, fit, health-conscious, environmentally aware, probably went to restaurants a lot previously, professional/corporate career, age 27-45, Household Mid-Upper income
They both loooooove Insta!
How does your business make money? How does it work?
For right now, my goal is to cover my costs & get people buying local so that we can correct the demand & make sure things come from as close to home as possible. I mark up the prices that the farmers charge & use that $ to pay for some of the paid ads to drive traffic to different campaigns…ie a featured farmers page, etc.
Where in Calgary can we find your profession?
Our office is located in East Village in Calgary
What is the best question a prospective customer could ask a member of your profession when comparing services?
What sets you apart from grocery store chains and other grocery delivery services?
What is the best part about what you do? What is the worst part?
The best part? I love supporting the farmers and making it easy for Calgarians to access local & fresh food. Thursday is the best day of the whole week for me no matter what, it's when the products are dropped off, usually by the farmers – they're so happy & grateful, it's always a good day!
The worst part? There aren't enough hours in the day! With my agency & having a seven-year-old kiddo at home because of the pandemic, time seems to move quicker than me!