This week our Homegrown Business feature is the Beige Label Salon! Born out of a shift in the beauty industry, The Beige Label will leave your hair photo-ready, in their niche one-on-one experience. We spoke to owner, Farhana, to learn more!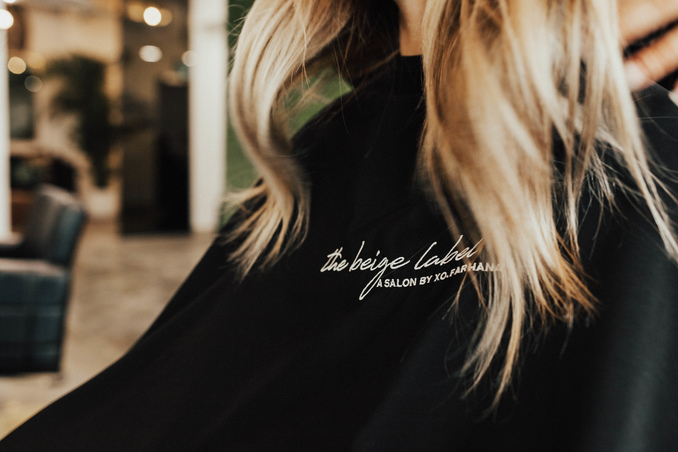 What is your business called and what does it do?
The Beige Label salon – we're in the business of creating experiences, connections, and an elevated approach to everyday hair.
What made you want to do this work?
I've been behind the chair as a hairdresser for 10+ years. About 4-5 years ago, I saw a shift in the beauty/hair industry in that clients are requesting more modern and advanced techniques that also require more training/experience/time from their stylist.
Working in a full services salon that pumps clients out at a high volume didn't align with this new wave of hair appointments. I wanted to create a space and a brand that specifically attracted that clientele, as well as the type of stylist that wanted to specialize and focus on their niche while doing a lower volume of clients but a higher ticket of services.
What problem does this solve?
Building a brand a salon that is very specialized in what we do eliminates the issues of non-verbal communication that happens before a client even books in at a salon. Since we are so clear on what type of work we do, clients who book in with us know ahead of time what they can expect from us. It would be like a consumer going directly to the Apple store to buy a Macbook as opposed to BestBuy where they'll have more options to choose from. We're the Apple store of hair salons and we specialize in a world's most sought-after colour techniques.
Who are your clientele/demographics?
Women 18 – 60, with a heavy focus on the 25-40 range. Our clients are Instagram influencers who need to be current, relevant, and relatable to their audience.
Our clients are entrepreneurs who wear many hats in their day to day, but always need to be "meeting ready". Our clients are stay-at-home moms that toss their up in buns during the day but travel and entertain dinner parties on the weekend and want to feel glam. Our clients are corporate executives that need to be polished and poised during the day but want to "wash-and-go" on the weekends. Our clients are women who feel empowered when they look good and feel good.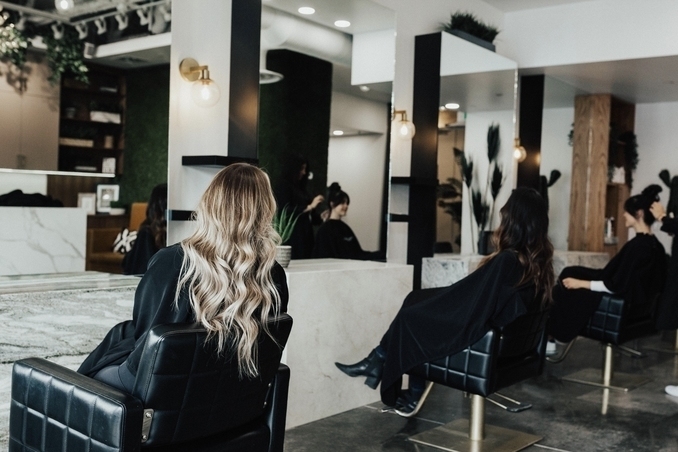 How does your business make money? How does it work?
We make money through the services we provide and retail products we educate and recommend to our clients. We also make money by creating trusting relationships with our clients – retention and referrals are everything in this business!
Where in Calgary can we find your profession?
Britannia, Calgary – inner city SW
What is the best question a prospective customer could ask a member of your profession when comparing services?
All salons are in the business of treating their clients like royalty and providing the best customer experience. Where we differ is our one-on-one booking approach – that means, we're focusing on one client at a time, giving them our full attention and care. This does come with a price though – clients can expect to pay more for this type of booking method since we aren't double-dipping from doing 2 clients at once. This also means that clients can expect their services to be a touch faster since we aren't stalling to kill time while we wait for our second client to process their colour.
We also differ in our communication and execution with each of the services. Don't expect to come in asking to go blonde in one day and we go mix up the strongest batch of bleach we got. We're going to talk things out with you – your colour history, your level of care and commitment to making this change, how lifestyle and budget, the limitation when it comes to the theory of hair colouring – all of the factors that play into your end result. We take pride in the way we educate and inform our clients of how and why we do things. It's really the only way to build trust and rapport.
What is the best part of what you do? What is the worst part?
The best part of what we do is receiving those messages the day of or months after someone's hair appointment – how in love they are with their look, and how amazing they feel. Nothing really quite compares to making an impact on another person.
The worst part – clients who don't respect our time. Last-minute cancellations and reschedules are the worst – we don't get them often since our clients know we book out far in advance, but it leaves a stylist with no work and no pay. This will forever be the pit of any service/commission-based industry.
PAY IT FORWARD: What is another Calgary business that you love?
Paying it forward to my sister. Dr Shafeena Premji who owns 2 clinics in Calgary with a focus on improving women's access to health care. She's been my number #1 supporter (aside from our parents) and inspires me daily. She can be reached at – shafeenapremji@gmail.com.
Find out more about The Beige Label Salon.