With 2020 going the way it is, many people across Canada (and the world!) have turned their attention towards their homes and interiors, and are taking this time to decorate or finish some odd jobs around the house. Whether you need to find a place for a home office workspace, want to do a huge renovation on one area of your house, or simply want to spruce up your existing decor, there are plenty of ideas available online to help get you started. The fall and winter months in particular are a great time for undertaking DIY projects as well as decorating for seasonal moments such as Halloween and Christmas. We've listed some of our top tips for big and small projects around the house!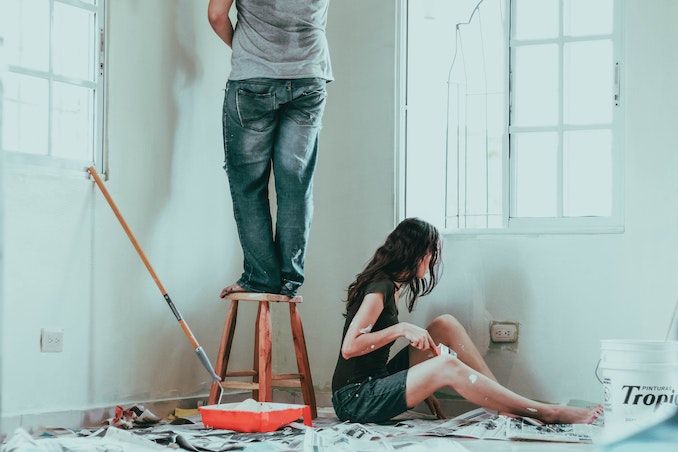 DIY Projects
It's no secret that there are many talented DIY craft experts and artists in Calgary. From the stunning handmade home decor items designed and made by Natalia at Made with Lav, to the sleek, stylish Macramé woven by Jainas. There is plenty of inspiration available on our doorstep, whether you are seeking home decor ideas to try yourself, or pieces to purchase to style your home. Handmade items such as these also make great gifts for friends and loved ones.
If you are undertaking larger DIY jobs around the house such as repainting a room, painting the kitchen cabinets, or building your own piece of furniture, be sure to follow these top tips:
Preparation is key – make sure you have all the tools and resources you need before starting. When painting, begin by taping around the windows and baseboards and start with the edges. Preparing well will make your task easier and quicker in the long run.
Plan your project – create a plan and a timeframe for how long you expect a project to take you, especially if you are re-doing an entire room.
If you are building or repairing furniture, you can choose to use screws or glue, depending on the piece and type of wood. Before starting, look up 

what to know about wood glues

 – these materials can help make repairs very quick and easy.

Use an online program to plan the layout, design and even colour of a room before getting started.
Celebrate Seasonal Moments
Whether you are redecorating or not this year, the fall and winter months are perfect times for bringing warm and festive decor to your living room and kitchen. Between Thanksgiving, Halloween and Christmas, there are lots of opportunities to celebrate seasonal moments and decorate accordingly. There are also many easy ways to implement the fall atmosphere in your home.
Creating Warmth
The colder months in Calgary are all about bringing warmth and brightness indoors. Autumnal colours such as orange, yellow, wine and brown can bring a lot of warmth to a room, so use this opportunity to decorate with natural items like pumpkins and fir cones. Likewise, cozy textures such as wool and sheepskin bring lots of coziness to a room – decorate your living room with warming fabrics like knitted blankets, fluffy cushions and sheepskin rugs to keep in the warmth throughout the chilly season.
Using candles in the evenings will also help create a soft, warm atmosphere and, if you are lucky enough to have a fireplace, light up a crackling log fire to truly feel the heat. If you are using candles, opt for uplifting scents where possible. Aromas such as bergamot, lavender and ylang ylang will help keep your spirits lifted on dark winter evenings and are great choices for the fall months. Once December hits, fragrances such as cinnamon, orange blossom, clove and winter spice will promote that festive Christmas atmosphere in the air.