Hellooo hoomans! Are you looking for the puurfect couch potato? Or even just a new pillow for your bed? Then I am most definitely your guy! I'm Ronnie – a chunky monkey and total love-bug seeking a furever home to call my own. Now if you didn't notice already, I have maybe a few extra pounds (ahem, maybe more then a few). So at the advisement of a vet, I would love if you could help me lose a few pounds. Extra physical stimulation is a great way to start this! Right now my ideal form of play is to lay on my back and have you dangle a wand/feather toy over top of me, but I'm sure with the right motivation I can be encouraged to take part in more "active" play with you! When you're not home, I enjoy lounging on the back of the couch or at the window watching the squirrels and bunnies outside. I'm a particular fella who likes his litter box clean and his dinner on time, so if I sound like the puuurfect companion for you then come on by CHS today!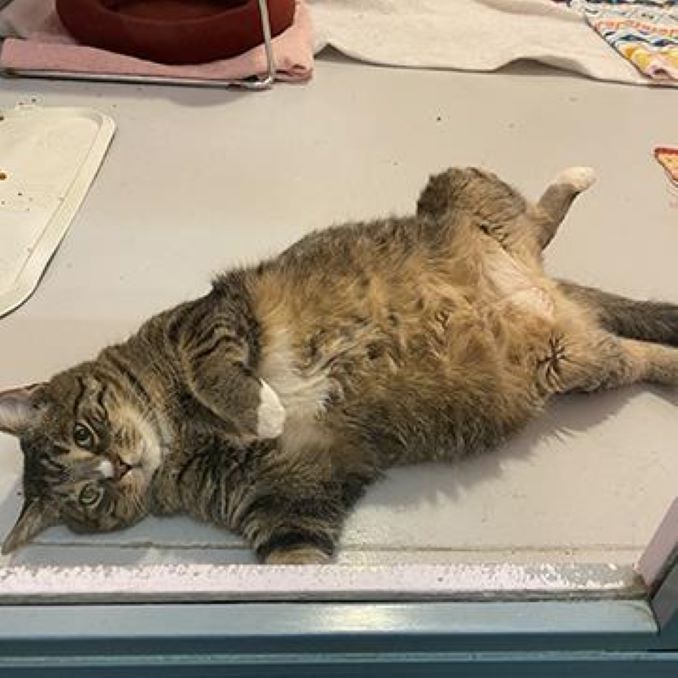 Ronnie
Breed: Domestic Shorthair/Mix
Age: 9 years 27 days
Gender: Male
Size: Large (More to love)
Colour: Brown/White
Spayed/Neutered: Yes
In order to ensure a smooth and successful adoption, please remember to check all the basic requirements for adopting before coming into the shelter.
About this column:
Each week we feature animals available for adoption from local shelters in the Calgary area with the hopes that our readers will assist in finding good homes for them. If you, or someone you know, has the resources to take care of one of these animals, please do get in touch with the appropriate shelter via the links provided.