Calgary-based Miesha & The Spanks have released their new album Singles EP, produced by Western Canadian Music Award winning artist Leeroy Stagger, who turned their signature sound way up and imbued their crunchy mono-guitar sound with extra doses of fuzz and feedback, guaranteed to get the blood pumping. Miesha & The Spanks offer a dynamic mixture of punk, garage, and hard rock embellished with straightforward lyrics, gritty production and hard hitting performances. Inspired by proto punk classics like The Runaways, MC5 and The Stooges, and 90s riot grrrl/grunge like L7 and The Gits, M&TS conjure an energy that hits you in the face, throwing you into a world of killer riffs and sweaty gig venues. Originally a punk rock kid from the East Kootenays, Miesha Louie started this project a decade ago after moving to big city Calgary. She toured and released like crazy, building momentum and a reputation for her DIY approach, with any drummer up for the challenge. Joined by Sean Hamilton six years ago, he brought a big Bonham style that's intuitive like John Freese, always creating the right feel for the song.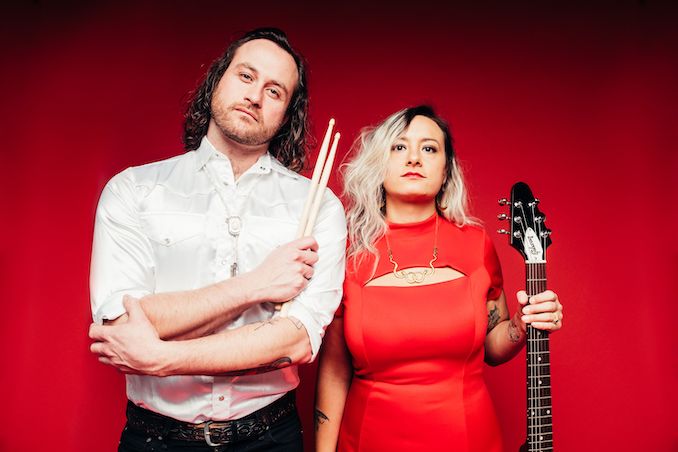 Name: Miesha & The Spanks
Genre: Garage Rock
Founded: 2008
# of Albums: 4 Full Length Albums and 5 EPs
Latest Release: We released Singles EP on April 16, 2021. Stream and purchase the album: http://orcd.co/SinglesEP
Latest Single: "Mixed Blood Girls"
Latest Video: "I Want Fire" and our 'Spanks World' webisodes:
Favourite Local Restaurant:
Myhre's Deli has the best smoked meat in town.
Favourite band as a teenager:
L7
Favourite band now:
The OBGMs
Guilty Pleasure Song:
"War" by Edwin Starr
Live Show Ritual:
A shot of Jameson as we get on stage
Favourite local artist:
Not easy to answer! The local band I can't wait to gig with the most is Stripmall.
Nose Hill or Fish Creek?
Nose Hill
EP or LP?
LP
Early bird or night owl?
Early bird
Road or studio?
Road! Oh I miss it.
Where can we follow you?
Facebook: https://www.facebook.com/mandthespanks/
Twitter: https://twitter.com/mandthespanks
Instagram: https://www.instagram.com/mandthespanks/
Any shows or albums coming up?
Check out Singles EP! If nothing else in the world goes wrong, our next confirmed performances are at Future Echoes music festival in Sweden, and Tallinn Music Week in Estonia, both not until mid-late September.