Our "Five Minutes With" feature this week is Future Womb! Future Womb is the brainchild of multi-instrumentalist and multidisciplinary artist Mikaela Cochrane, and collaborators Jordan Moe (guitar), Michael De Souza (bass), and Andrew Ellergodt (drums). Mikaela's honest and intricate lyrics tug at your heart strings, while a darker shade of psych pop gently rocks you through your existential crisis. This project's eclectic sound will keep you guessing.
Having performed at Sled Island, Femme Wave, BIG Winter Classic and Frog Fest, Future Womb has become one of Alberta's bands to watch. Their debut full-length album BABYGIRLGALACTIC was released in April 2019 with Mikaela's brother and mentor, Taylor Cochrane (36?, Jason Famous & Le Fame, Fuck Boy), as producer. Since it's release, BABYGIRLGALACTIC has been charting on campus radio stations across the country.
In addition to Mikaela's work with Future Womb, she practices several other artistic disciplines. She is a long-time member of the Major Matt Mason Theatre Collective, a democratically-run arts group that produces small scale, visceral theatre experiences. Their most recent production, Premium Content, premiered in Calgary to a nearly sold-out run in 2018, and will be remounted at Calgary's High Performance Rodeo January 21st-25th. Mikaela has acted in multiple film projects including the D&D mockumentary web-series One Hit Die, and feature film The Valley Below. The Valley Below premiered at TIFF in 2014 and earned an AMPIA nomination for Mikaela for Best Alberta Actress. Mikaela has performed as a Burlesque artist under the pseudonym Lily Bo Pique — AKA "The cupcake of your Anarchist Cookbook" — for several years. She designs and creates costumes for Lily and other performers under the pseudonym Champagne Charlemagne.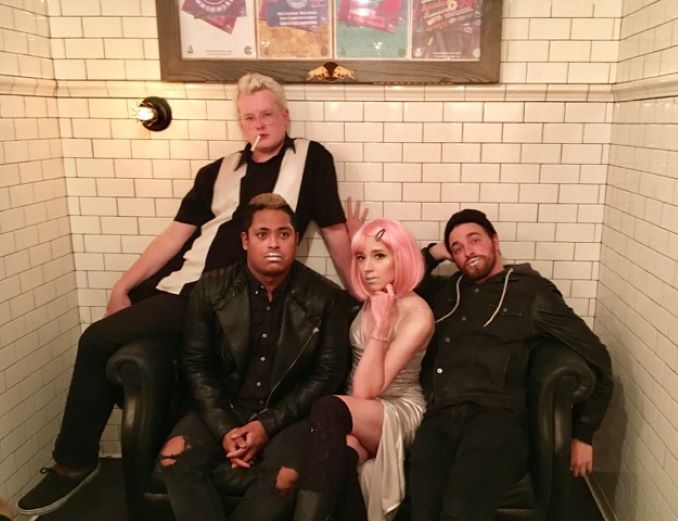 Name: Future Womb's Mikaela Cochrane
Genre: Psychedelic Darkwave Popera
Founded: 2017
# of Albums: 1
Latest Release: BABYGIRLGALACTIC
Latest Single: Kill Kitty Kill
Favourite Local Restaurant: Heaven Artisan
Favourite band as a teenager: Bright Eyes, Elliott Smith, Bon Iver, Sufjan Stevens, Motion City Soundtrack, My Chemical Romance, Say Anything
Favourite band now: CHAI, Big Thief, PUP, Cigarettes After Sex
Guilty Pleasure Song: Not guilty, but anything off Lana Del Rey's Norman Fucking Rockwell album
Live Show Ritual: Constant snacking, like 3 hours of makeup and vocal warmups, tea, anxiety
Favourite local artist: 36?, Dri Hiev, Khilla Khills, Pancake, Cartel Madras, Pleasure Prevention, Octoduck, + so many more
Nose Hill or Fish Creek?? Nose Hill
EP or LP? LP
Early bird or night owl? Both and neither, depending on the day.
Road or studio? Studio
Where can we follow you?
Instagram
Facebook
Twitter
Website
Bandcamp
Spotify
Any shows or albums coming up?
New album in the works 😉