Spice up your next special event by having a wonderful private chef experience in your own home with The Big Burly Chef! This week's recipe comes from the Chef himself, Connor Mooney, and is this Fungi on Wild Wheat that tastes and presents itself like something out of a 5 star restaurant!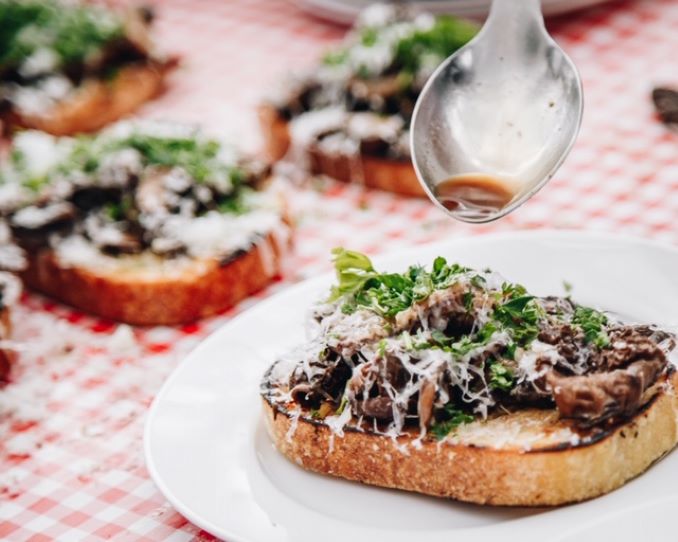 Fungi on Wild Wheat
Ingredients
– 1/2 lb Morel Mushrooms
– 1/2 lb Cremini Mushrooms
– 4 Ounces Manchego Cheese
– Sliced 1 inch thick Wild Wheat Loaf
– 1 Shallot – Fine Brunoise
– 2 cloves Garlic – Fine Brunoise
– handful Chives – Fine Brunoise
– handful Parsley – Rough chop
– 1/4 lb Butter – Room temperature
– Cracked Black pepper
– Course sea Salt
– 50ml Cold pressed Canola oil
– 200 ml Beef stock
Directions
1. Combine Butter, Chives, 1/2 of garlic, Pinch of pepper and Salt. Cover and keep at room temperature.
2. In a sauce pan @ medium heat add Oil, shallots & garlic. Cook for 5 minutes. Season with Salt.
3. Add Fresh Morels & Sliced Cremini's. Season with a pinch Pepper and Salt. Cook for 15 minutes.
4. Add Beef stock and reduce liquid by half.
5. Add herbs and mix- Save some for plating.
6. Cut bread 1" thick, Toast both sides on  a flat top, BBQ or Cast-iron pan @ high heat, until an even crust forms with medium colour appearing.
7. Allow the Bread to rest in an open air environment.
8. Spread Compound butter onto toasted bread evenly.
9. Spoon fungi mix onto bread with equal amounts of Morels & Cremini's.
10. Fine grate cheese over the fungi until an even coating covering all sides forms.
11. Sprinkle chives & Parsley on top of Manchego.
12. Spoon remainder of Pan Jus on top.
13. Season with fresh cracked black pepper.
14. Use a fork and knife for fancier styles, or get in there with your hands for the rustic version. Either way, this dish is packed with earthy flavour and is best enjoyed with an IPA or a full bodied Vino. Happy Eating!!