Sarah Adams, owner of Alberta Girl Acres, grows beautiful organically grown flowers right from her own backyard. When we spoke with Sarah about Alberta Girl Acres, she told us why it's best to buy from those who have sustainability in mind. If you're looking to support sustainability in business practices then look no further than Alberta Girl Acres.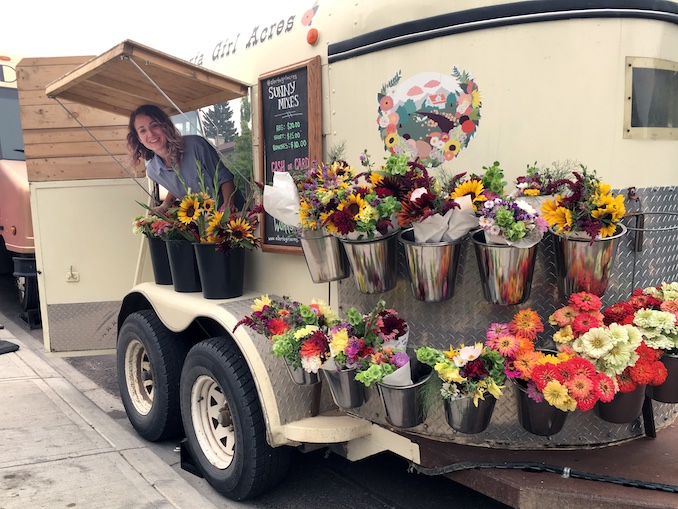 What is your business called and what does it do?
I own Alberta Girl Acres, a small scale cut flower farm that sells fresh blooms to the Calgary area. This year we'll be selling predominantly at Granary Road near Calgary, and also in Calgary's Haysboro area during the summer.
What made you want to do this work?
I had been planning to leave the city and start a quiet, productive life on a small piece of land for a long time. I've gardened all my life, and once I found a property that suited me, I weighed the pros and cons of growing various crops on a market scale. No one seemed to be doing flowers, and I love flowers! (Who doesn't?) I decided to focus on cut flowers specifically, and it was one of the best decisions I've ever made.
What problem does this solve?
Imported blooms are often farmed in large scale facilities where labour laws are minimal, wages are low, and chemical usage is common. Shipping them halfway around the world uses massive amounts of fuel, and many arrive weeks later, damaged and unusable, pumped full of preservatives. There are some wholesale farms that implement organic and sustainable practices, but the importation process still adds fuel usage and loss of freshness.
When you buy local flowers, you're paying for sustainable practices, fair labour, and the freshest and healthiest blooms available. You're supporting the local economy, building community, and making an environmentally friendly choice. You may not be able to get peonies in November, but you're contributing to a much healthier industry.
Who are your clientele/demographics?
Flowers are truly for everyone, but seasonal, local flowers tend to get noticed by people looking to source their food and goods in more ethical ways. People looking to support local business and small scale farming are usually quite happy to hear about us! Many of our customers also just want the freshest flowers possible, and are amazed that we can grow so much right here in Alberta. For the most part, when people realize there's a local option, they give it a shot.
How does your business make money? How does it work?
We grow cut flowers on our 5.5 acre farm from May to October, and sell them through our horse-trailer-turned-flower-shop. I'm a farmer first, not so much a florist, so we mainly offer seasonal mixed bouquets and bulk blooms, no custom orders. Just grab-and-go beauties! In the early spring we also offer bouquet subscriptions, and we host growing and floral arrangement workshops on the farm (located near Vulcan) throughout the summer. This summer we'll also be selling our blooms through the brand new Alberta Growers' Flower Market, the first 100% Alberta-grown, seasonal cut flower market, launching in July at Granary Road. We can't wait!
Where in Calgary can we find your profession?
There are plenty of new small scale flower growers popping up throughout the Calgary area. You can grow a lot of flowers in a good sized backyard! And people are catching on that there's a very eager market for local blooms. Just wait, Alberta will be bursting with fresh local flowers before you know it!
What is the best question a prospective customer could ask a member of your profession when comparing services?
"Why seasonal?"
Supporting local flowers means understanding and respecting the seasonality of our pretties, and doing away with idea of "on-demand" blooms. There's also an inherent harmony that comes with supporting local product, as flowers take on a whole new meaning while signalling various chapters of the seasonal year. Springtime peonies, mid-summer dahlias, early fall sunflowers… sustainable flowers go so much further than "those are my favourite and I want them". Respectfully tuning into the earth and its cycles, and celebrating what it gives us when it gives, is a very satisfying way to love flowers.
What is the best part about what you do? What is the worst part?
Peak season, when our flower field is full of colour, scent, and gobsmacking beauty… it's like working in a prairie paradise! The worst part is wind and drought. Could really use a bit less of those.
What is your favourite joke about your own profession?
"You're living the dream!" That's become a bit of an inside joke over here. Every time a hailstorm wipes out a crop of dahlias at their peak, or a herd of deer stampede through a gorgeous row of cosmos, or the wind takes out half the field, we love to sigh and say "ah yes, living the dream". We're WORKING the dream, yes. But farming looks much dreamier on Instagram than it does in real life.
PAY IT FORWARD: What is another Calgary business that you love?
Prairie Girl Flowers! She's a fantastic florist in Calgary who uses 95% local flowers and advocates for sustainable florist practices. We don't take custom orders, but she does!