The band was created by Cale Savy during the Vancouver Riots in 2011. Cale Savy moved to Calgary where he started to form the first full lineup of Riot City, which debuted in 2014. It featured three other members, Dustin Smith, Ty Gogal and Roldan Reimer. The band released a demo in the summer of 2014 titled "Livin Fast". 2016 saw the departure of Ty Gogal from the band. It would be early 2017 when Chad Vallier would replace him. After a couple of shows in the states, it was time to hit the studio. 2019 saw the release of their debut "Burn the Night" on May 17, 2019. One more big line up change would occur shortly after the release of the album as June 29th the band finally announced the newest member and vocalist Jordan Jacobs.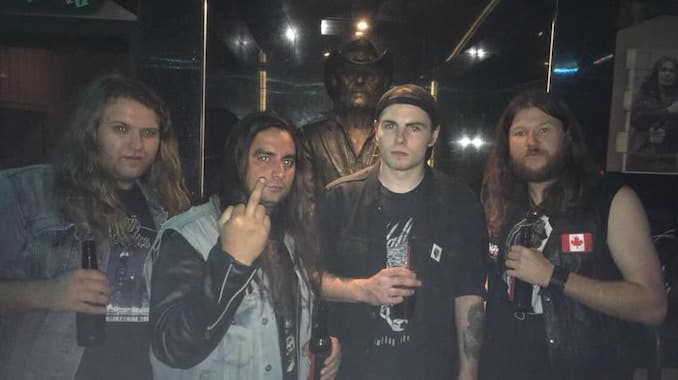 Name: Riot City  
Genre: Heavy Metal 
Founded: 2011 
# of Albums: 2 releases – 1 demo 1 LP
Latest Release: Burn the Night (Debut)
Latest Single: The Hunter
Latest Video: In the Dark
Favourite Local Restaurant:
McDonald's  

Favourite band as a teenager:
Iron Maiden

Favourite band now:
Iron Maiden  

Guilty Pleasure Song:
Iron Maiden  

Live Show Ritual:
Iron Maiden  

Favourite local artist:
Blackrat       

Nose Hill or Fish Creek??
Ralph Klein park up 114th  

EP or LP?
Impossible to decide.

Early bird or night owl?
Mid Day Rockers mostly.   

Road or studio?
Being on the road is the best. You storm in. You destroy. You leave. And you do it all over again.  

Where can we follow you?
Behind us on the sidewalks. Or the streets. Preferably online on Facebook at https://www.facebook.com/RIOTCITYOFFICIAL/   

Any shows or albums coming up?
Couple things in the works but nothing confirmed locally. 2020 we get to travel to Germany and Greece for the first time playing a couple of festivals.