Our Five Minutes With feature this week is Scratch Buffalo, a garage rock 'n' roll duo from Calgary, Alberta. They've been making what the Calgary Herald called "grinding, fuzzy, scuzzy, retro '70s street rock" since 2014.
Chris Naish and Mark Straub have spent their lives dedicated to music, working two-dozen odd jobs between them to fund the obsession. Flipping burgers, selling hot tubs, and cleaning up roadkill – all worth it to keep the music going.
Chris (guitars, vocals, songwriting) toured India and England fresh out of high school. Once home, he launched a solo career that lead to more than a million people hearing his music. His song "Sleep When You're Dead" landed on shows on the CW, MTV, HGTV and other stations.
Meanwhile, Mark (drums) was touring in bands and putting together enough musical equipment to start his own music store.
After running into each other at local shows, Chris invited Mark to join the loose collective he was calling "Scratch Buffalo." The collective solidified into a trio, and released EP's in both 2016 and 2017.
Beginning with those EP's, Mark has recorded every Scratch Buffalo release. This, along with his extensive guitar pedal knowledge, has shaped the sound of Scratch Buffalo.
In 2018, they released their debut LP, produced by The Thermals' Hutch Harris. The self-titled album premiered on Exclaim! and reached the top twenty on six campus radio stations and the Earshot National top 200.
After touring that album, the trio became a duo. Undeterred, Chris and Mark re-worked their sound and gig-tested it. They focused on the wild, heavy vibe that got their audience moving. The result: "Strawberry Soda," their latest LP.
Fuzzed-out, loud, and fun "Strawberry Soda" is a testament to the band's years spent gigging, recording and songwriting as much as it is to Mark's recording. Mastered by Gus Elg (Ty Segall, King Tuff), these songs are absolute monsters whether listened to on a streaming service, cassette, CD, or "strawberry pink" vinyl.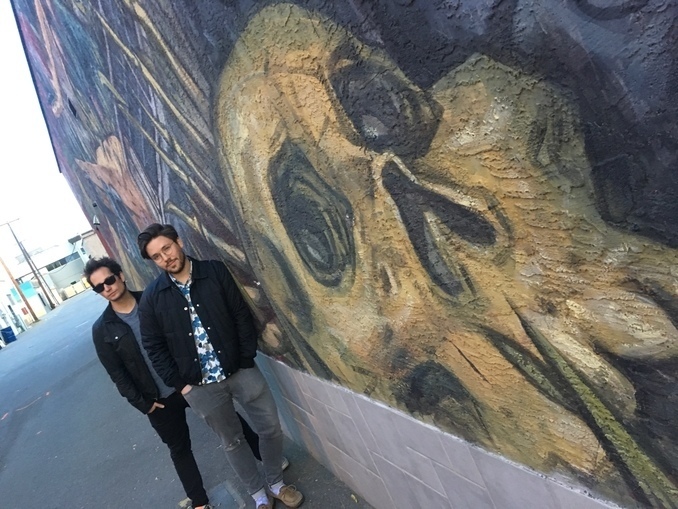 Name:
The band's name is Scratch Buffalo
Genre:
Rock and Roll
Founded:
2014
# of Albums:
2 EP's and 2 LP's. Our latest LP is on Strawberry Pink vinyl!
Latest Release:
Strawberry Soda
Latest Single:
Sugar, Shake a Freak
Latest Video:
Favourite Local Restaurant:
Tokyo Street Market!!!
Favourite band as a teenager:
Ramones and the Beatles
Favourite band now:
Ramones and the Beatles and T.Rex
Guilty Pleasure Song:
The only song I feel shame and guilt about enjoying is Crazy Bit*h by Buckcherry.
Live Show Ritual:
I sneak out and get a Circle K hot dog and Mark gets some Veggie Pizza. After the show we eat breakfast if Tokyo Street Market is closed.
Favourite local artist:
Scratch Buffalo! And The Dial Ups, Science is Fiction, Starpainter, Gratuitous Platypus, Busker Du, Salt Horse, Alberta Rats, Free the Cynics, All Hands on Jane, Fun Stoppers! There's too many good ones to name them all.
We just saw Wyatt C. Louis & Bowcott and the New World last night and they both were insanely good.
Nose Hill or Fish Creek?
Confederation Park forever.
EP or LP?
LP
Early bird or night owl?
Night owl. If you see me before 3pm I'm not really awake.
Road or studio?
Both are heaven!!
Where can we follow you?
Any shows or albums coming up?
We just released our new album, Strawberry Soda, and we're gonna have an amazing record release party in early 2020 – so follow us for details!