Rafael Kuerti grew up in Toronto and studied cello at U of T, Glenn Gould School, Indiana University, and in Germany. In this article, he will share his personal insight on the top "summer experiences" for young classical musicians in Canada. If you are serious about becoming a classical musician or want to improve your skills by studying with some of the top teachers in Canada (and the world) – then these Summer Camps or festivals might be for you.
Best Classical Music Summer Camps in Canada
5. IMC – Interprovincial Music Camp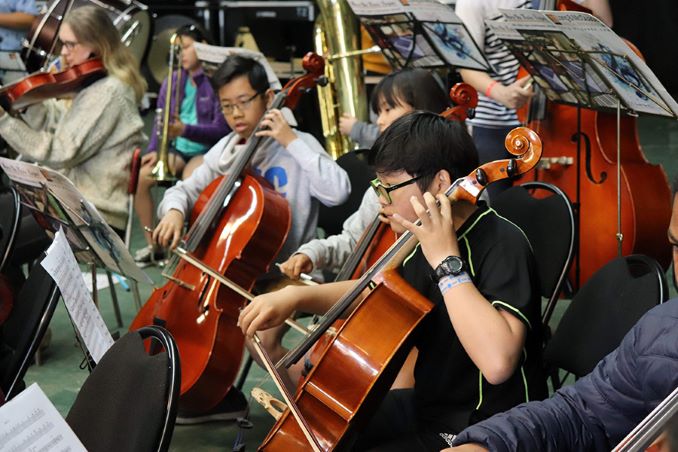 Interprovincial Music Camp, is run by one of the top cello players in Canada. David Heatherington has long been a staple of Toronto's classical music scene, for many years, being the acting principal cellist for the Toronto Symphony Orchestra. He is a founding member of the Amici Chamber Ensemble, and currently teaches cello at the Glenn Gould School, as well as coaching the National Youth Orchestra of Canada. With access to his vast experience and network, IMC annually brings in some of the top teachers in Canada and the world. This is not just a "cello camp", all instruments, and even genres are represented here. This is one of the few camps on the list that includes a jazz program, a Rock program, a Songwriting Workshop, and even Musical Theatre, as well as a top-notch classical program.
Another unique aspect to this camp, is that it is for ALL LEVELS, beginner to advanced – students are placed in appropriate classes for their level, after a small informal audition after arriving at the camp.
The facilities are extensive, including room and board, recreation, and everything you would normally find at a regular summer camp for kids.
Notable Staff/Teachers: David Heatherington – cello, Jonathan Crow – violin, Julie Ranti – flute
4. Scotia Festival of Music – Young Artist Program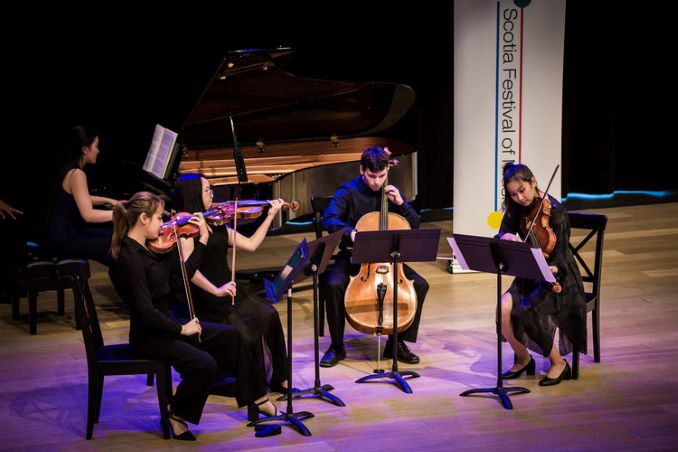 Situated on the campus of Halifax University, The Scotia Festival of Music operates out of the Dalhousie Arts Centre in downtown Halifax. This is in fact, a legitimate national music festival, however, it also offers what they call a "Young Artist Program" where aspiring young classical musicians, can get a chance to participate in lessons, masterclasses, chamber music, and orchestra alongside professionals. This program is reserved for "advanced music students and young professionals", and there are only a handful of spots available. Since this is really a professional music festival, any young artist applying (and their guardians) must realize this is not a 'structured camp' for kids, like IMC. It is held on a University Campus, and you are treated much like a university student, with little supervision.
There are not many facilities, other than the University music building (and its ping pong table) and you are expected to provide your own food, and in some cases a place to stay.
Most of the Young Artists are billeted, with a family in Halifax, and for the most part, operate independently. It's definitely good preparation for someone heading to University for Music or currently enrolled in a university, and requires some maturity to have your own schedule, and navigate, to and from, a real campus. The students aren't there, to do much more than learn from some of the top musicians in Canada, and abroad. That being said, Halifax and Nova Scotia are some of the most beautiful places in all of Canada, and the festival routinely brings the entire camp on trips around the province, including an unforgettable "all-you-can-eat lobster bonanza" at the end!
Another perk of the young Artist program is that you get tickets to every concert at the festival – and can attend some top-notch concerts.
Notable Staff/Teachers: Philippe Djokic – violin, Gwen Hoebig – violin, Sharon Wei – viola, Denise Djokic – cello, Blair Lofgren – cello, Andrew Armstrong – piano, John Novacek – piano, Dominic Desautels – clarinet, and many more.
3. Orford Music Academy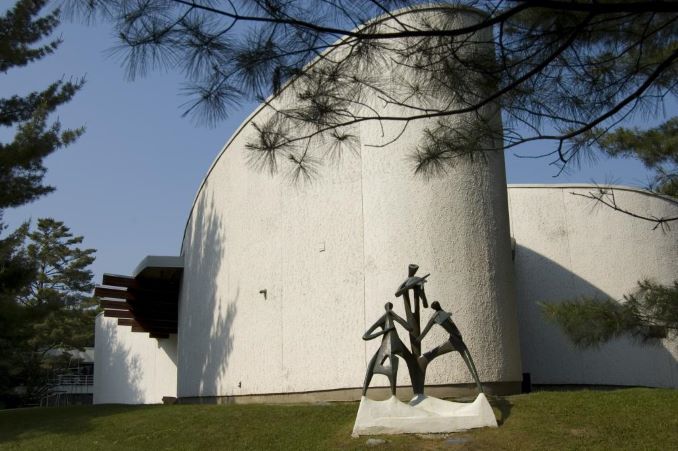 The Artistic Director of Orford Music is a professional pianist, (and personal friend) Wonny Song. The Orford Music Academy is near Magog, Quebec, and surrounded by nature, with tons of paths and lakes, trees, ponds and, if you are lucky, some animals!
The students are housed in large modern dorms, and have access to a great meal plan with terrific food, especially for a summer camp/festival…
There are great facilities, pianos, and practice cabins scattered all throughout the woods, including some really nice larger buildings, with large spaces and halls for all types of ensembles and groups. There are recreation facilities, and a great concert hall to boot. It's just a great place to spend a summer, as a musician.
Orford is a world-class music festival, and the teachers are some of the best in the world, year after year. This was one of the only places in Canada, legendary Hungarian cellist Janos Starker would teach, or make an appearance.
Notable Staff/Teachers: Marie Bérard – violin, Evelyne Brancart – piano, Guillaume Sutre – violin, Michael van der Sloot – viola, James Campbell – clarinet, Yegor Dyachkov – cello, and many more for all instruments…
2. Domaine Forget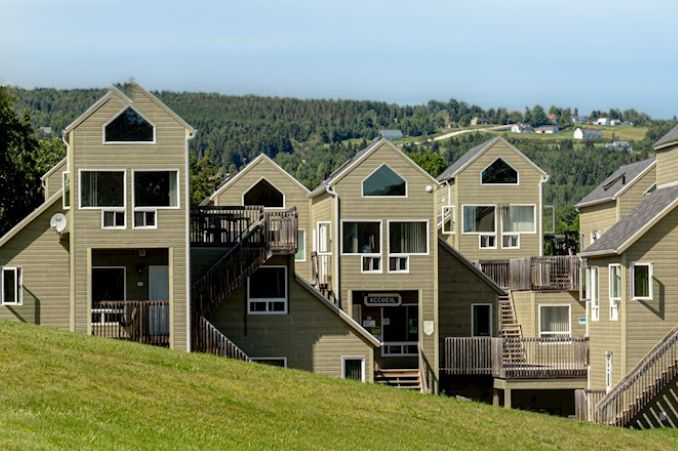 Domaine gets second place on this list just on location alone. Located near Saint-Irénée, Charlevoix, in Quebec, Domaine is situated on top of a hill overlooking the Atlantic Ocean. The view from the camp is incredible, not to mention you are a short walk downhill to the Ocean and St. Lawrence coast. The area is a hotspot for whale watching and cruises up St. Lawrence.
The camp has terrific facilities, practice rooms, studios, and pianos. Domaine also hosts a professional concert series, with some of the top teachers and performers from around the world. It is consistent in bringing top-notch faculty from not only Canada but Internationally renowned musicians at the top of the game. The festival routinely brings in professors from the Paris Conservatory in France, and some professors from major music schools in the USA, such as Julliard. The Academy program features lessons and classes for Brass, Chamber Music, Conducting, Dance, Guitar, Composition, Chamber Orchestra, Piano, Strings, Voice, and Woodwinds. All the faculty for every instrument is top-notch.
Notable Staff/Teachers: Vadim Gluzman – violin, Cho-Liang Lin – violin, Gary Hoffman – cello, Johannes Moser – cello, Antoine Tamestit – viola, Benedetto Lupo – piano, Charles Neidich – clarinet, and many, many more…
1. Banff Center for Arts and Creativity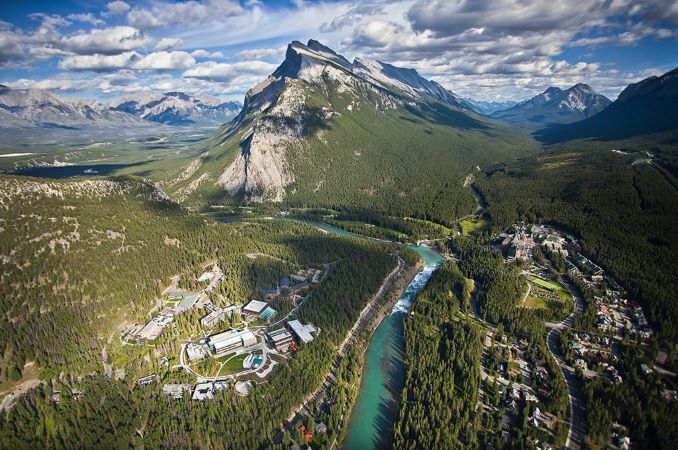 The Banff Arts Center is one of Canada's National Treasures, situated in the Canadian Rockies, on Tunnel Mountain, surrounded by snow-capped mountains. The environment is literally what a child would draw – if you asked them to "draw Canada". It is also one of the most inspiring natural environments in Canada and is no doubt, part of the reason this Arts centre was built here. Banff is not just a music camp, it hosts conferences and workshops in pretty much every artistic discipline: from graphic design, film, and sound design, even architecture – to music, dance, and visual art, plus a whole lot more!
The facilities are amazing, including a recreation centre with a full gym, basketball court, and swimming pool. The dorms on site are clean and private, and the music facilities, and pretty much the facilities for everything, are amazing – including the food. All that is great, but it still pales in comparison to the natural experience of living on a small mountain in Banff. It is not uncommon to see a curious Elk or two, right outside your practice cabin, as you prepare for your next class, rehearsal, or workshop!
Banff is a world-class Canadian institution, and relies on Government subsidy to exist, as it is actually technically inside a National Park. Banff operates year-round and offers musicians and artists various "residencies" in different artistic mediums. These are often "self-directed" residencies where students can "pitch" a program design, that works specifically for what they are trying to accomplish. Many groups, duos, and individuals go here to fine-tune their skills and practice their programs for upcoming dates. The interesting thing about Banff is that the programs tend to change, and offered year-round – so checking in on their website seems to be the best way to see what they are currently offering.
Notable Staff/Teachers: The Gryphon Trio, St. Lawrence String Quartet.
***
NOTE: prospective residency plans, submitted by the participant, can even include a teacher or professors of your choice – that the centre can actually bring in specifically for you, if it is possible, and approved, on a case-by-case basis.