Nothing screams Christmas mornings like a plate of freshly baked festive cookies! Chef Valérie Azinge shared with us this Linzer Cookies recipe, made with Mazola Vegetable Oil. They are moist, light and a great dairy-free choice guaranteed to melt in your mouth.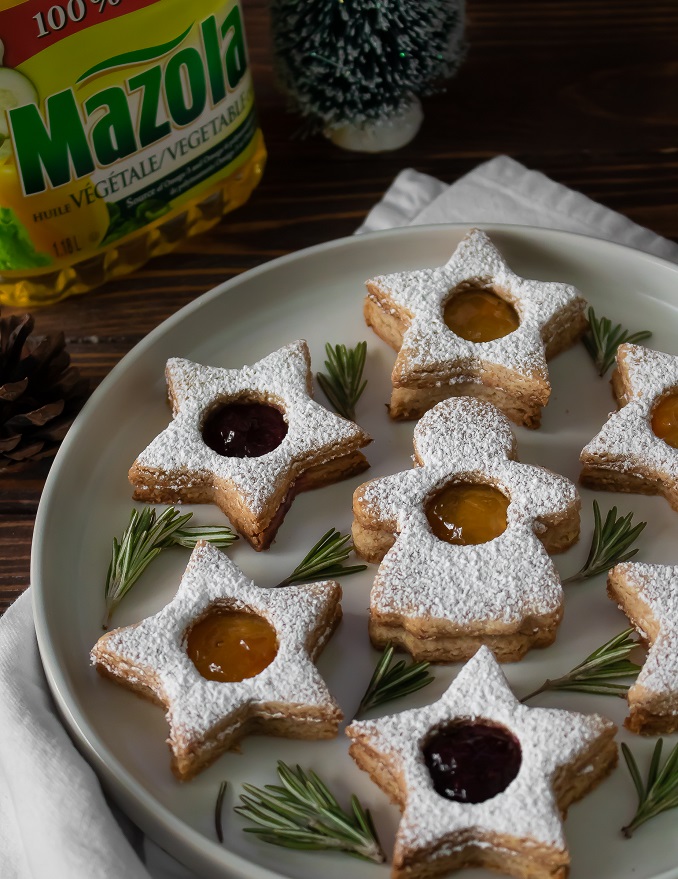 Linzer Cookies
Cooking time: 32 mins
Makes 24 Cookies
Level of difficulty: Beginner
Ingredients:
¾ cup room temperature vegan butter
3 tbsp Mazola vegetable oil
½ cup monk fruit sugar
1 tsp vanilla extract
2 egg yolks
Zest of one lemon
2 cups whole wheat flour
1 cup blanched almond meal
½ tsp ground cinnamon
¼ tsp kosher salt
Filling:
½ cup cranberry orange jam (or any jam of choice)
½ cup marmalade
Optional topping:
⅓ cup monk fruit powdered sugar
Directions
1. In a large bowl, cream the vegan butter, Mazola vegetable oil, sugar and vanilla until fluffy. Fold in egg yolks and lemon zest until incorporated, but don't over mix.
2. Sift in flour, almond meal, cinnamon and salt into the wet mixture. Using a spatula, mix the batter until a dough forms. Divide the dough into four quarters (into 4), and wrap each quarter with plastic wrap. Refrigerate for 2 hours or overnight.
3. Preheat the oven to 350°F and line two baking sheets with parchment paper. Remove one piece of dough from the refrigerator at a time. Place the dough between two sheets of parchment paper and roll it out to ¼ inch thickness. Use a 3-inch holiday cookie to shape your cookies. Don't cut them too thin, otherwise they might burn.
4. Place the shaped cookies on the lined baking sheet. Cut out a matching top for each cookie and use a small cookie cutter or the base of an icing tip to cut out the center of the cookie top to ensure the jam filled centre is visible. If the dough gets too soft as you cut the tops, place it in the freezer for about 5 minutes to firm up again. A firm dough ensures that the cookie dough maintains its shape.
5. Bake the cookies for 12 minutes, then transfer to a cooling rack until cooled. Once cooled, spread the bottom half of each cookie, alternating between the cranberry orange jam and marmalade, leaving a thin border around each cookie. The jam ensures that the cookies stick together. Place the top of each cookie (with its middle cut out) to the corresponding bottom cookie. Return to the cooling rack to allow for the top and bottom cookie to set. Top with monk fruit powdered sugar and enjoy!