Blogger Georgia Eliopoulos shared with us this tasty Holiday Potato Hash recipe, courtesy of Mazola.ca. Enjoy!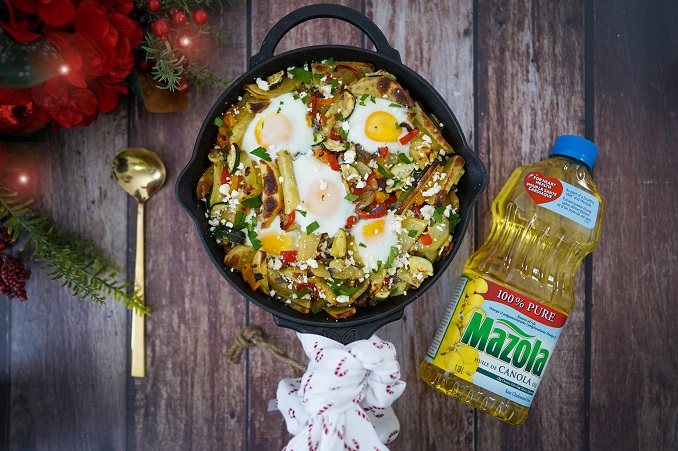 Holiday Potato Hash
Cooking time: 65 mins
Makes 6-8 servings
Level of difficulty: Beginner
Ingredients:
4 potatoes cut in 1 inch pieces
1 zucchini cut in ½ inch pieces
3 bell peppers cut into 1 inch pieces
5 garlic cloves (minced)
½ a red or yellow onion, diced
4 tbsp Mazola Canola Oil
Salt and pepper to taste
5 eggs
½ cup crumbled feta
Fresh parsley (for garnish)
Directions:
1. Preheat your oven to 425 degrees.
2. In your cast iron pan, place your potatoes, peppers, garlic, onions, salt and pepper, and toss with Mazola Canola Oil.
3. Bake for 40 mins and remove. Switch your oven to broil. Create wells among the vegetables in your pan and crack one egg into each well.
4. Return to the oven for 5 minutes.
5. Remove from the oven and garnish with feta and parsley. Serve hot.