Forward Housing is a not-for-profit organization that is dedicated to creating affordable homes in Calgary. We spoke with them to learn more about their organization and what they do!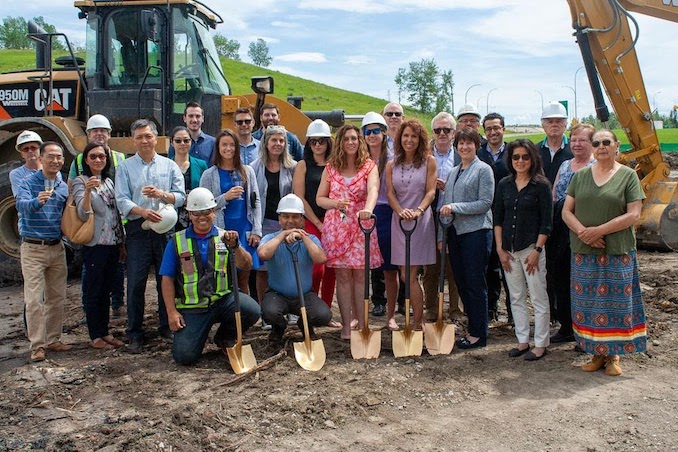 Describe your charity/non-profit in a few sentences.
We house families, seniors, and individuals with diverse needs including those with mental health and mobility challenges, low-wage earners, and those fleeing domestic violence, and individuals at risk of entering or those transitioning out of homelessness. As a housing management body, we operate 477 senior self-contained units, across seven apartment buildings, for the Government of Alberta. As an affordable housing provider, we own and operate 180 units amongst two buildings.
What problem does it aim to solve?
We believe that everyone has the right to a safe and affordable place to call home, Home is why we exist and the reason we show up every day. In Calgary over 80,000 (or 1 in 5) households are struggling to pay their housing costs, placing them at risk of homelessness. By providing affordable housing, our organization is working towards a future where every Calgarian has a safe, secure, and affordable place to call home.
When did you start/join it?
We have been working to provide homes to Calgarians since 1976. Formerly known as Bishop O'Byrne Housing Association, we exclusively housed low-income seniors for most of our 40-year history. After the construction of Columbus Place, our first owned building, we witnessed the tremendous need for affordable housing amongst low-income families. Our organization naturally evolved to serve a more diverse clientele. When we began designing our newest project, Bishop's Manor, we knew we needed our buildings to reflect the community at large; families, individuals, and seniors. In the summer of 2020, during the construction of Bishop's Manor, we revealed our new brand, Forward Housing. The new branding reflects our evolved mission to serve a diverse set of individuals in the Calgary community.
What made you want to get involved?
Calgary's living has become increasingly unaffordable for a large subsect of the population. As housing prices soar and rental rates remain unaffordable for many, we recognize that many households are often forced to choose between keeping a roof over their heads or putting food on the table. Calgary falls well below the national average, with only 3.6% of households living in affordable housing compared to 6% in Canada's other big cities. Our organization knows that the affordable housing crisis cannot be solved by one organization alone. We are proud to be part of Calgary's collaborative and innovative affordable housing sector; together, we are working to create 15,000 more affordable housing units throughout the city.
What was the situation like when you started?
While we don't have a complete history of the affordable housing situation when our organization began, we know that affordable housing has been an issue across Canada since the early 1980s. According to Homeless Hub, cuts to social housing and other programs began in 1984, and the federal government ceased all funding for social housing in 1993. In 1996, it transferred all responsibility for affordable housing to the provinces. Homeownership has become increasingly unattainable for many over the past two decades.
How has it changed since?
Throughout Calgary, several organizations are working hard to provide affordable housing for a diverse set of Calgarians with a variety of needs. We're thrilled that support has steadily increased over the past decade from municipal, provincial, and federal governments, allowing new affordable housing units to be created throughout several new buildings. In April, we completed Bishop's Manor, adding 104 more multi-bedroom units to Calgary's affordable housing stock.
However, our celebration is short-lived as thousands of Calgarians are still living on the streets, precariously housed, or struggling to cover their shelter costs due to high rental rates and low affordable housing stock. In Calgary, affordable housing providers face the challenges of growing waitlists and minimal turnover.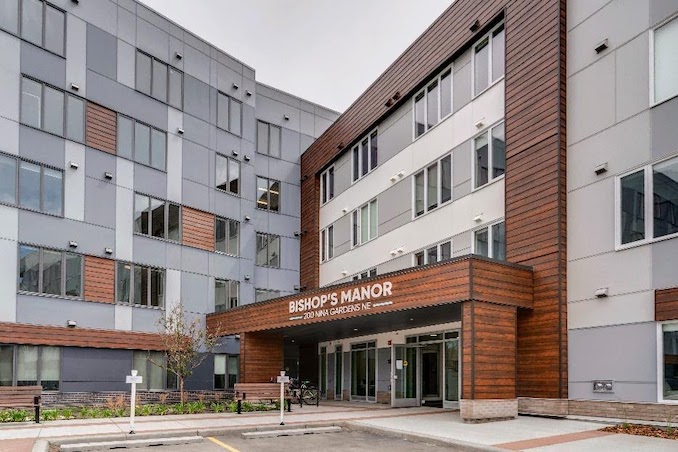 What more needs to be done?
Tackling housing-related problems in Calgary starts with garnering support through education and advocacy. The benefits of affordable housing are countless, yet many misconceptions still perpetuate. Read about the incredible ways affordable housing grows communities here!
There are 3,000 Calgarians experiencing homelessness on any given night, so more transitional units are desperately needed in Calgary. In addition, according to a Stats Canada metric, coming into the COVID-19 pandemic, 189,000 people in Calgary were living in poverty. Creating more affordable housing units paired with the implementation of a living wage in Calgary could help reduce these numbers significantly. According to Vibrant Communities Calgary, The 2020 living wage is $20.69 per hour, a difference of 39% from Alberta's minimum wage of $15 per hour. (SOURCE)
How can our readers help?
You can help by donating on our website to one of our three fundraising programs.
Calgary is preparing itself for the 2021 General Election on October 18. Calgarians can inform themselves on each of the candidates' platforms and make a difference by voting for those candidates who have included viable poverty reduction strategies and support for affordable housing as part of their platforms.
Do you have any events coming up?
Although we aren't quite ready to begin holding larger in-person events at this time, we do have our upcoming #PayItForwardYYC social media fundraising campaign taking place throughout the month of October. Keep up to date with new announcements by following our profiles below!
Where can we follow you?
Website | Facebook | Twitter | Instagram | YouTube | LinkedIn
PAY IT FORWARD: What is an awesome local charity that you love?
Along with affordable housing, food security is a major hurdle for individuals living in poverty. Many of our tenants rely on food hampers to fill their pantries and fridges. One organization we love is the Leftovers Foundation, started by the amazing Lourdes Juan. According to their website, The Canadian food system is one of the most wasteful in the world. We throw out a quarter of our fresh food and release about 21 million tonnes of greenhouse gases per year, just in food waste! The Leftovers Foundation is working to reshape our food systems, inspire change, and build a sustainable future together.