Justine Tyrell has earned nominations for Singer of the Year, Solo Artist of the Year, Media Personality of the Year (Obsidian Awards), and has went on to be named one of Branded Magazine's 'Game Changers, in her City of Calgary, Alberta'. She has been featured on CBC Radio, received nods from Stingray Music, featured in Metro and went on to see exciting success with the release of her previous single, 'Hopes Up' – followed by her current release, Worthy, Her music chronicles to the bitter and sweet tastes of love and relationships, and reflective diary-like moments– with a smoky unabashed, and unapologetic nature. Justine Tyrell creates a vibey and refreshing soundtrack, to suit listeners as they move through the moods of their own lives.
Early on, Justine's love of music was undeniable- growing up in an eclectic household around everything from R&B and Hip Hop, to Blues and Country. She wrote her first song at the age of 7, from the basement of their family's small home in Calgary, AB – and describes music as being her first love, and way to process the world – starting with some of her earliest moments. Always performing, learning as many instruments as she could get her hands on – and never missing an opportunity to recruit her young friends to join 'the band' – Justine was always certain, that bringing music to people was what she wanted to do. When asked about her largest influences and greatest musical memories growing up – she says it's as somewhere between "discovering my first Aaliyah CD, crying to the first Amy Winehouse song I'd ever heard, scribbling down song ideas in the back of my journals– and the feeling I got when the hair stood up on end, at my first concert."
She concluded with how she started singing, writing and performing, because of how music naturally made her feel. Through music, she felt like she was never alone, always had a place to belong – and had something to capture her mood, or make a moment that much better. Now, Justine hopes to bring that very same feeling to her listeners, while giving them something of their own to get lost in.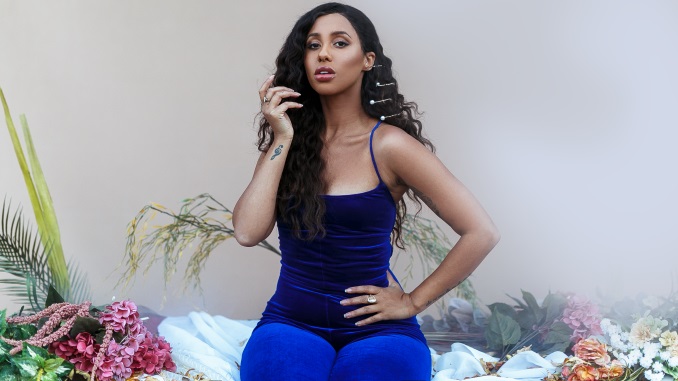 Name: Justine Tyrell
Genre: R&B
Founded: 90's baby – 1990.
# of Albums: Working on debut EP, 4 Commercial Single Releases
Latest Release: Worthy
Latest Single: Worthy
Latest Video: 
Favourite Local Restaurant:
Forever will be, Japanese Village. It's been a staple in our family, celebrating special occasions for as long as I can remember.
Favourite band as a teenager:
Favorite Artist, Aaliyah. Band, Nirvana.
Favourite band now:
Aaliyah still. She'll probably always take the cake.
Guilty Pleasure Song:
100%, 'Unleash The Dragon', by Sisqo.
Live Show Ritual:
Mcmahon Stadium is the same every time – Fruit punch Rockstar, headphones in, listening to singular piano notes to work on pitch – usually alone and quiet. Other shows, coffee, Just coffee.
Favourite local artist:
Jocelyn Alice, Kaeyae Alo, Terez, and Jared Daniel
Nose Hill or Fish Creek?
Fish Creek. My teenage stomping grounds.
EP or LP?
EP that feels like an LP.
Early bird or night owl?
Night Owl. If I could scream this answer, I would.
Road or studio?
Tough one. Gah, nothing beats performing live, hotels, and making new friends. Road.
Where can we follow you?
Any shows or albums coming up?
Yup. Thursday nights, Untitled Champagne Lounge (Calgary, AB), Touring with Jocelyn Alice, Sundays at 4pm MST (Online show Live on her Official fanpage)