I'm King Fabbs from Calgary, Alberta, Canada! I have lived here my whole life. I am a Pop Punk artist, I made my official debut back in July 2021. I started my musical journey when I was in grade 7, I got my first guitar that year for Christmas and from there I learned a few other instruments such as drums, bass guitar, saxophone, and vocals. I was in a punk band when I was in high school and it only lasted about a year. I didn't want to give up on it though because I love making music so I've been looking to get back into a band for a lot of years. But last year I decided that going down the solo path was best for me and it turns out it's been the best decision I've ever made. I'm making the music I've always wanted to make and I can express myself, however, I want to. I'm looking to make a big impact in the Pop-punk scene or anywhere in the music scene! I want to inspire people and make music people can really connect with. I also want to inspire and represent people of colour!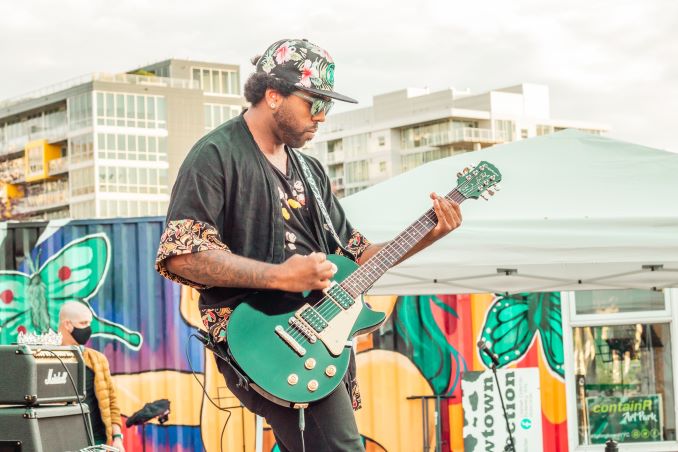 Name:
King Fabbs
Genre:
Pop Punk
Founded:
Calgary, Alberta, Canada
# of Albums:
1
Latest Album:
Your Safest Place
Latest Single:
Don't Judge by the Colour
Latest Video:
Favourite musician growing up:
Green Day
Favourite musician now:
All Time Low
Guilty pleasure song:
Trampoline- Kero Kero Bonito
Live show ritual:
I don't have one just yet. I'm waiting for something to happen naturally that will become a ritual!
Favourite local musician:
Bellevue
EP or LP?
Aaaaaaaah I'm torn! Both!
Early bird or night owl?
Early Bird
Road or studio?
Road
Any shows or albums coming up?
I have a live stream performance on January 22nd, and another one in February (Date to be confirmed).
Where can we follow you?
Instagram | Facebook | Spotify | LinkTree
***
Rapid Fire Calgary Qs
Favourite local restaurant:
Unicorn Pub
Favourite street in your city:
Stephen Ave, It's just such a great place to be! Lots of restaurants and bars to go to and hang with some friends!
Favourite park in your city:
Stampede Park! It's pretty much my second home. I teach the Calgary Stampede Showband and the Calgary Stetson Showband so Stampede Park is our home base. I spend a lot of time on Stampede Park each week!
Favourite music venue in your city:
ContainR- Amazing outdoor venue! Big stage and lots of room for a big audience!
Favourite music store in your city:
Long and McQuade