Felix Possak, a veteran performing artist residing in Calgary, AB, has performed well over 3,500 evening and school concerts in all provinces and territories (with the exception of P.E.I.). Felix has toured for FestivalConcerts(BC), OvertureConcerts(BC), ArtStarts(BC), OSAC(SK), JuniorConcerts(SK) and Prologue(ON).
Born and raised in Vienna, Austria, he studied piano and classical guitar before coming to Canada in 1967.
Following invitations to perform at provincial showcases in British Columbia, Yukon, Alberta, Saskatchewan, Manitoba, Ontario and Nova Scotia, Felix Possak has appeared in concert venues from coast to coast.
For over fifteen years he was a featured entertainer at Fairmont (formerly Canadian Pacific) Hotels and Resorts properties in Alberta's National Parks: Jasper Park Lodge, Chateau Lake Louise, Banff Springs Hotel and Lodge at Kananaskis. He also worked for the Calgary Stampede Special Events department, the Calgary Ranchmens Club and other organizations.
From 2002 – 2018 he was the resident musician/entertainer on the Kettle Valley Steam Railway in Summerland, BC.
Felix Possak is a multi-instrumentalist, a multi-lingual vocalist, a comedian and a consummate entertainer. He performs in concerts and variety shows. And he provides musical services for conventions and corporate events.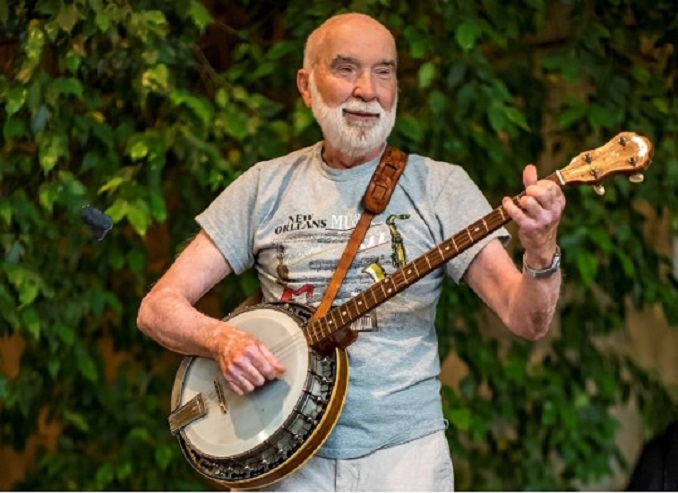 Name:
Felix Possak
Genre:
All, with the exception of heavy metal and rap.
Founded:
1964
# of Albums:
1 CD, 1 cassette, 2 LPs
Latest Album:
Back In Time
Latest Video:
Favourite musician growing up:
Pete Seeger
Favourite musician now:
Mon Laferte, Megg Farrell, Natalia Lafourcade
Guilty pleasure song:
Te Vi
Early bird or night owl?
Early bird.
Road or studio?
Definitely road!
Where can we follow you?
***
Rapid Fire Calgary Qs
Favourite local restaurant:
I seldom go out to eat.
Favourite park in your city:
Fish Creek Park (close to home)
Favourite music venue in your city:
I hardly ever go out to watch others play.
Favourite music store in your city:
Long & McQuade