Lion-like in its ferocity, Exit Division is a four-piece alt-rock band hailing from Calgary, Alberta. With its DNA rooted in post-grunge, Exit Division's sound is known for its intense guitar riffs, in-your-face drum grooves, elaborate basslines, and haunting vocals reminiscent of early 90's Seattle. Their philosophical lyrics lead listeners into the innermost crevices of the human experience, prompting a subtle and clever ambiguity well surpassing their youth.
Drawing on combined influences: Alice in Chains, Arctic Monkeys, Deftones, and Queens of the Stone Age, their first album Psychosis takes you on a journey across genre, time, and tempo, with powerful enigmatic storytelling that leaves you wanting more. From the stage, Exit Division will awaken a wild swarm of havoc with delicate precision, captivating you until the very last note.
Maddie Lee (she/her) / Vocals, Keys
Mason Remmer (he/him) / Lead Guitar
Ben Wealleans (he/him) / Bass
Taylor Miles (he/him) / Drums, Percussion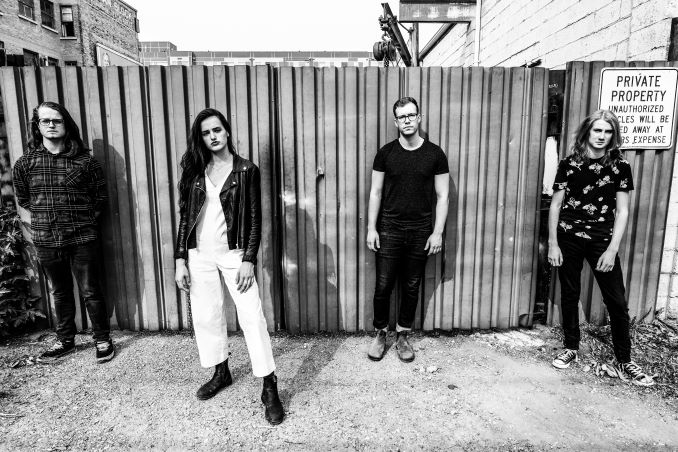 Name:
Exit Division
Genre:
Rock
Founded:
2016
# of Albums:
1
Latest Album:
Psychosis
Latest Single:
Baseball City
Latest Video:
Favourite musician growing up:
Growing up, the band (Maddie, Mason, Ben and Taylor) listened to a variety of artists across genres including Pearl Jam, Joni Mitchell, Black Sabbath and The Smashing Pumpkins each playing a role in cultivating the band's current sound.
Favourite musician now:
Currently, the band is drawing influence from bands such as Deftones, Alice in Chains, Queens of the Stone Age, Arctic Monkeys and more!
Guilty pleasure song:
Miley Cyrus, can't choose just one song 😉
Live show ritual:
Singing songs in the car on the way to the venue.
Favourite local musician:
Jory Kinjo
EP or LP?
LP!
Early bird or night owl?
Night Owl
Road or studio?
Studio
Any shows or albums coming up?
We are currently working hard on new songs and hope to be in the studio very soon to begin the process of recording and releasing album #2.
Where can we follow you? 
Website | Spotify | YouTube | Instagram | Facebook
***
Rapid Fire Calgary Qs
Favourite local restaurant:
Greco's Pizza
Favourite street in your city:
Nicknamed Music Mile, 9th Avenue SE Calgary, is home to a very diverse group of venues including The National Music Centre, The Ironwood and The King Eddy.
Favourite park in your city:
Prince's Island Park, home to Folk Fest and some great busking spots.
Favourite music venue in your city:
The Ironwood
Favourite music store in your city:
Long and Mcquade