Scott Dumas is a Stand-up Comedian, Actor and Writer, who has performed at numerous corporate functions, fundraisers, and comedy clubs from coast-to-coast. In his career, he has worked with such accomplished comedians as Harland Williams, Tommy Chong, Emo Phillips, Mike MacDonald, Judah Friedlander, Ari Shaffir, and Gilbert Godfried. We had the chance to catch up with him and find out more about his style and projects.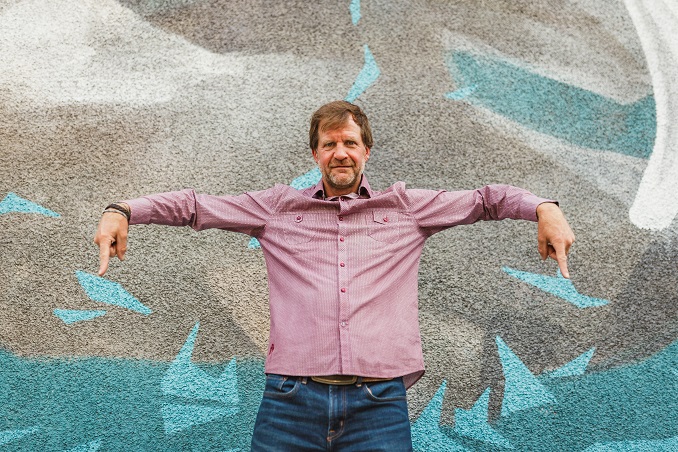 How would you describe your comedy style?
I suppose my comedy style would be a combination of observational humour and self-defeating, no-wait, self-deprecating stories.
Who are some of your influences?
My influences would be a combination of records I listened to constantly as a kid and some old-school stand-ups you should look up on Youtube. For instance, Brian Regan, the funniest, cleanest comic in the biz, Robert Schimmel, possibly the funniest, dirtiest comic in the biz, Steve Martin, Bill Cosby, his album Why Is There Air? made me cry, Funky Favorites, Looney Tunes, Jim Carrey, every cast member on SCTV, Mike MacDonald, every comic that went through Ottawa Yuk Yuk's between 1984-1995, George Carlin, Robin Williams,
Who was your favourite comedian growing up?
This is a trick question because it sounds like I need to pick one from the list above. I will go with Jim Carrey, ever since Fire Marshall Bill in, In Living Color.
Who is your favourite comedian now?
My favourite comedian now is Donald Trump.
What is your pre-show ritual?
First thing in the morning I get up and start panicking. Then I look at an old setlist, relax, and remember I have done this before.
I am a little bit like a hockey player in my ritualistic behaviour. I try to do the same things on game day. If there is driving and a hotel involved I will plan my check-in at 5 pm to correspond with the start of Eastern Conference games. Watching hockey at 5 pm is my addiction. Shower after 1st intermission. Dress and get ready during the second period. I dress in the same order and I like to wear thin, fun, socks. For instance, one pair I received from my 10 yr old niece and 8 yr old nephew for my birthday, which are an off-white colour and have green pine trees all over them, and one small tree is saying, "I fucking love it out here".
What is your favourite place you have performed? Why?
My favourite place to perform is the stage at The Laugh Shop at The Blackfoot Inn, Calgary. In 1999, that club was a Yuk Yuk's Comedy Cabaret, before they moved to another great location at the Elbow River Casino.
The original Yuk Yuk's, now The Laugh Shop is the best stage in the country. If you were a hockey player and you started playing hockey at, let's say The Montreal Forum, but you didn't know it was The Montreal Forum until you began to go to other rinks and realize that you started playing the greatest game of all time, at the greatest rink of all time. That is how I describe my favourite place to play.
What is your favourite bit you have written and why were you proud of it?
My favourite bit I have ever done is the one about getting a perm in grade 9. It was the first thing I ever did on stage. Still funny. Still relevant. Still can't believe I wrote it out 1 hour before the show and pulled it off in 6 mins. After my first time on stage, a guy came up to me and said, "That thing you did about the broken strap on your Adidas bowling ball bag made me howl. How long have you been doing this?" I told him it was my first time. He said, "man, you need to keep doing this." I did. I quit my bank job 3 months later. I haven't had a retirement plan since.
What is your favourite medium for listening or finding new comics/comedians?
The only true way to see comedy is LIVE. I try to watch comedy specials and listen to podcasts but I can't buy in. The only medium for comedy is going to a venue and sitting in the 2nd row.
Tell us a joke about your city.
I don't actually have any jokes about Calgary. I do have jokes about Watrous Sask., Fort McMurray, Ab. and Dildo, NFLD.
Do you have anything to promote right now?
I just recorded some material recently at Calgary Yuk Yuks and will be working on an album.
Where can we follow you? 
You can get more information about me at my website and follow me on Instagram.
PAY IT FORWARD: Who is another local comic/comedian we should know about?
A local comedian that you should know about is Brian Stollery.