Universal Rehabilitation Service Agency (URSA) is a non-profit agency located in Calgary that aims to meet the needs of people with disabilities. They offer a variety of services including (but not limited to), developmental disability services, Indigenous services, brain injury services, children's services and other specialized services. We spoke to CEO Pam McGladdery to learn more about them, where we can find them and how we can help them.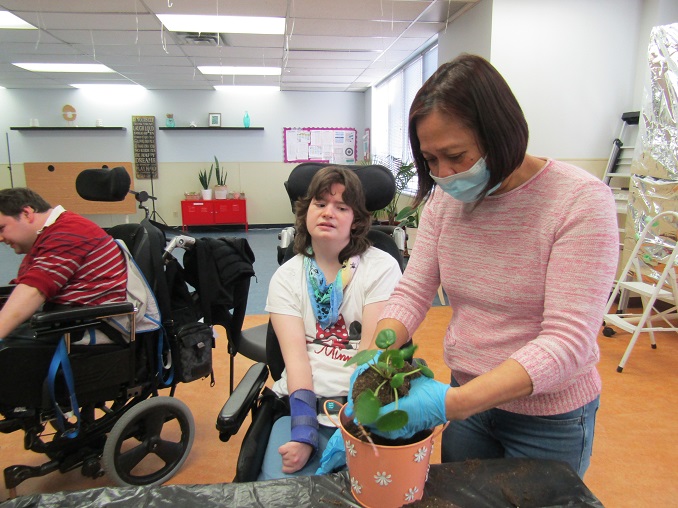 Describe your charity/non-profit in a few sentences.
Since 1985, Universal Rehabilitation Service Agency, URSA, has been a Calgary-based non-profit agency that works to meet the needs of individuals with disabilities in community settings. We continue to break down a multitude of barriers for these individuals and help them thrive in the community, whether that be supporting them in their own home or in a home with us. URSA specializes in support to individuals with developmental disabilities, complex medical needs, and brain injury survivors.
What problem does it aim to solve?
We believe that all individuals, regardless of their disability, should be active participants in the community, in their individual families and in their own life. We strive to utilize all the resources and services available in the community to promote community participation and inclusion.
When did you start/join it?
We were founded in 1985 by Doug Hauser, a man who had the vision to ensure that individuals with disabilities should live and thrive in the community and did not have only an option to live in an institution. Since then, URSA has expanded to meet the needs of the community. While this year marks the one anniversary of Doug's passing, we continue to carry on the mission of the organization with the same spirit and values that our founder embodied. I joined URSA in 1999 with big dreams and hopes for the future. The agency has grown and changed over my 23 years and I look forward to what the future holds.
What made you want to get involved?
I have always worked in this field. I started in the late 80s as a Special Olympics coach. I fell in love with helping people. I have worked in a variety of settings such as a hospital, sheltered workshops (now called Day Programs), many residential settings, and for the last 30 years in management and leadership roles.
What was the situation like when you started?
When I started in 1999 at URSA there were 5 group homes and an EasyStreet rehabilitation program for brain injury survivors. There was about 100 staff. I have had the pleasure of participating in URSA's journey as we have grown to about 325 staff and over 24 programs across the City.
How has it changed since?
Over the years the world has changed so much – the world of disability services and all of society. Back in my days as a frontline disability worker, we would lift individuals out of their wheelchairs into the back seat of our cars. I remember taking individuals on a houseboat and letting them slide down the slide to a staff who would catch them. Now I can not imagine the forms and paperwork it would take to do that!
There are so many more medical advancements and there are so many more diagnosis capabilities. People would literally die at the scene of an accident in the late 80s and those same brain injury survivors are now living past the scene of the accident and being discharged from the hospital to the community.
When I first started in the field there was hardly any diagnosis of FASD, autism, or brain injury. Now individuals in community services are living with very complex diagnoses of mental health, addictions, developmental disabilities, and much more.
The acts, laws and regulations are multiplying every year. As frontline disability workers in the early 90s, we never thought about OHS, working alone, privacy, or meeting minutes. Now there are so many regulations for workers and agencies to follow it can take away from the time spent with individuals.
What more needs to be done?
Awareness! The Pandemic has shone a light on many industries such as seniors and service workers. What you did not see in the news was the over 15,000 community disability workers in Alberta who have been coming to work every day during the pandemic. We were the last ones to get PPE and have not had a salary increase since 2014. Disability Support workers play an important role in society by providing a variety of supports including residential support, day supports, in-home support, employment support, and much more.
When I watched the news during the pandemic I would see recognition for nurses, Drs, nursing homes, retail workers, and teachers. All of them deserve an increase in wages for sure. So do Disability Support workers!
The life of a disability support worker includes making meals, shovelling snow, cutting the grass, giving medications, doing laundry, driving individuals to appointments, personal care, planning and participating in community-based activities and so much more. This is hard work that is 24/7 365 days a year.
Awareness of the great work that Disability Support Workers do is important as we advocate for the compensation they deserve.
How can our readers help?
URSA operates a Retreat Centre north of Cochrane which is fully accessible to individuals on a limited income who can have an affordable vacation each year. The Retreat Centre also offers rentals to the community to ensure that we can offer this to people with disabilities. Whether you have a meeting during the day you want a change of scenery, or you are looking for a family and friend getaway, the Retreat Centre is an option! For more information, please visit our website.
We also welcome donations directly to the organization that supports us to purchase specialized medical equipment in our homes and to ensure that our individuals have the tools they need to live successfully in the community.
June is Brain Injury Awareness Month every year. Awareness and education on helmets and safety are important as the weather gets nicer.
Where can we follow you?
Facebook | Instagram | Website
PAY IT FORWARD: What is an awesome local charity/non-profit that you love?
Ryan Geake, Calgary Scope Society