Many youth who experience homelessness have gone through the breakdown of their family. This week we spoke to Carolyn Holloway of The Safe Haven Foundation, a Calgary charity that is working toward giving at-risk girls their future back!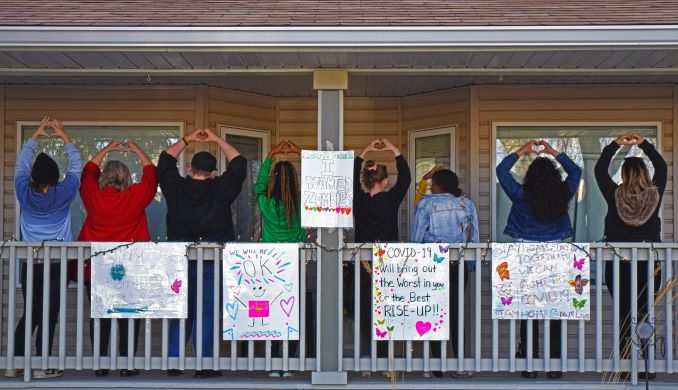 Describe your charity/non-profit in a few sentences
Safe Haven Foundation is a registered charity and our Haven's Way™ homes opened their doors in November 2000. This unique and innovative program was the first of its kind in Canada and duplicates that of a healthy, caring family environment. Haven's Way is a voluntary, long-term supportive housing program that assists girls between the ages of 14 to 24, who do not have child welfare status, and who have a focus and commitment to completing their education.
What problem does it aim to solve?
Many of the youth experiencing or at risk of homelessness in Calgary come from breakdown in their family homes and are in a shelter or couch surfing. They have not had the opportunity to grow and practice their life skills to be able to live independently in the community. We address the needs of the girls and give them a structured and home like environment, where they can continue their education, build their self-esteem, create and achieve their goals while healing from their trauma.
When did you start/join it?
The Safe Haven Foundation was founded in 1996, by Karen and John Sherbut. Their vision was to provide a "safe haven" for homeless and at-risk girls, as Karen had once been. It was their hope to provide other girls with everything that Karen had needed but never had. The Sherbuts undertook an extensive, in-depth study and confirmed the need for an innovative program that would end homelessness, poverty and abuse for young women in need. Their passion, and the very need to serve our city's homeless and at-risk girls, caught the hearts and imagination of Calgarians. In one short year Safe Haven Foundation went from concept to reality.
What made you want to get involved?
I joined Safe Haven in 2002 and worked as the Director of Marketing & Fund Development until 2007. I have so many great memories of those five years and was very excited when I was given the opportunity to return in 2017, as the Community Engagement Officer, at what was a significant time of growth and development. It has been inspiring for me to see the successes & personal growth of the young women who were part of Haven's Way so many years ago, as well as those in our program more recently. I have always admired the unwavering passion of Karen and John, our Founders, and the innovation and significant impact our small, grassroots organization is making in our community.
What was the situation like when you started?
In our earlier years, we saw many younger girls needing services and supports; ones that were not able to access child welfare supports for various reasons. This program became a safe place for youth that were caught between systems. It met an urgent need for those where home was not safe, but were not able to access support through the system that was in place. These are the girls who often slip through the cracks.
How has it changed since?
Today, we continue to support those girls, however we have seen an increase in more youth needing supports and services of Haven's Way. There is always a young person, or an individual concerned for their well-being, reaching out in hopes we have a bed open for them to call home. Youth today are a bit older, with more trauma, undiagnosed mental health and damaged relationships with their families. The issues are more complex, because our society has become that.
Over the years we have also changed our approach with engaging families. We understand that though relationships are broken, they can be repaired. This may take several years, and they may change form, however we support the families and let them know we are here for them and also an advocate and support for their own personal journey.
What more needs to be done?
We need more Haven's Way. We need more access to housing options that meet all youth and their developmental stages and age. Funding for more mental health supports, family and natural support work, more financial support for our new immigrant youth to become Canadian citizens, for our LGBTQ2S+ youth, to be able to receive specialized supports including medication and treatments not covered by the health care system. More Indigenous supports, so our young people can connect with their culture, learn where they come from and learn their traditional ways of being.
How can our readers help?
Our partners and supporters play an integral role in ensuring the success, growth, and longevity of the Safe Haven Foundation. We do not receive United Way or fee-for-service government funding and rely on financial and in-kind support from corporations, granting organizations and individuals. We invite readers to join as as ambassadors by engaging support from their companies, making a one-time donation, or becoming a Haven's Hero by providing a monthly donation. As little as $10 per month goes a long way in ensuring our stability and ability to change the lives of homeless and at-risk girls in our community.
Do you have any events coming up?
Unfortunately, all of our signature and third-party fundraising events have been cancelled in 2020 due the COVID-19 pandemic which resulted in a substantial loss of revenue. We are continually seeking new and innovative ways to fundraise through online/virtual events and third-party partnerships so we can continue to serve this most vulnerable population.
We are excited to announce that we are part of the Raising the Roof 2020/2021 Toque Campaign which kicks off on National Housing Day, November 22, 2020. Watch for more information on our website and social media channels closer to that date.
Where can we follow you?
Website
Instagram
Facebook
Twitter
LinkedIn
PAY IT FORWARD: What is an awesome local charity that you love?