Project Warmth Society of Alberta provides new and gently used outerwear to homeless and underprivileged community members throughout Calgary. We spoke with Mike Schacter, the Vice President of Administration, Fundraising and Coordination for Project Warmth Society of Alberta, to learn more about the charity and its mission.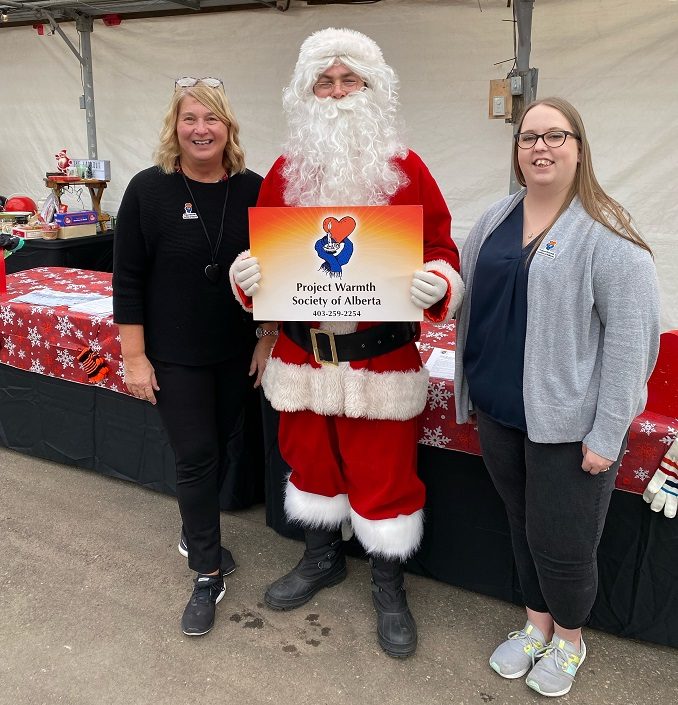 Who is answering these questions and what is their position?
My name is Mike Schacter and I am the Vice President of Administration, Fundraising and Coordination for Project Warmth Society of Alberta.
Describe your charity/non-profit in a few sentences.
Project Warmth is engaged on a year-round basis in the provision of new and gently used sleeping bags, outerwear, blankets, scarves, gloves, footwear, caps, hats, boots and toques for the needy, underprivileged and homeless. As well, Project Warmth assists school children and others under its umbrella organizations Pupils Parkas, Students Scarves and Project Clean. In order to accomplish this Project Warmth has been collecting and re-distributing the above-mentioned items to those in need, throughout the City of Calgary.
What problem does it aim to solve?
Over half the homeless in Alberta live in Calgary and many in Calgary are living only a couple of hundred dollars a month away from being on the streets themselves. For many the cost of purchasing warm clothing, blankets, etc. to help survive our harsh Calgary winters can be overwhelming and may mean giving up food or paying the rent for the month. Our goal is simply to help those struggling Albertans stay warm and help them survive our harsh Calgary winters.
There have been a growing number of homeless, needy and underprivileged in the City of Calgary that have to survive through our very cold weather but do not have the financial resources to properly clothe themselves or their children in this tough economy. Project Warmth has been helping out those in need for the last 26 years. Where this charity is different than most others is that the new and gently used clothing will be collected and then redistributed through shelters, community associations, etc. at no charge to the end user. If there is a need, for example, for a specifically sized jacket for a child that Project Warmth just did not have, they have often in the past gone out and purchased a new jacket for the child, so he or she would not go without.
When did you start/join it?
Project Warmth Society was founded on January 15, 1996, by Gordon J. Hoffman QC, a Calgary Barrister and well know philanthropist. I started out with Project Warmth initially as a volunteer approximately 25 years ago.
What made you want to get involved?
I had been volunteering for various charities and I saw the great work being done by Project Warmth and the even greater need and decided that it was my duty to help out.
What was the situation like when you started?
When I first started, we assisted individuals that came to us and filled various clothing orders from numerous social service agencies.
How has it changed since?
The overall economic situation has gotten much worse in the last 25 years and the need is greater than ever. In order to help more people in need, Project Warmth now fills the closets of numerous charities, the Drop-In Centre and various shelters. We get warm clothing orders from social service agencies as well as from many school counsellors. We supply warm clothing and hygiene items to street charities and even to some police officers for distribution among those in need. In 2012 we distributed over 70,000 items of warm clothing, etc. among those in need, in 2018 that number increased to over 150,000 items and in 2021, we distributed over 250,000 items of warm clothing, blankets, etc. among those in need.
What more needs to be done?
The number of people in need is greater than ever right now and each year we need more gently used or new warm winter clothing, blankets, sleeping bags, etc. than ever before. Also, the costs of operating the charity, in order to help the growing number of people in need are getting higher each year and we depend on cash donations and fundraisers to generate the necessary funds to serve the growing need.
How can our readers help?
Our website lists donation drop-off locations (including all Calgary Fire Stations) where your readers can donate their used and gently used warm winter clothing, blankets, etc. The website also gives contact phone numbers and a mailing address for cash donations. We also are looking for volunteers to assist with casinos, and fundraisers and to help out in our distribution centre, sorting donated items. Our next casino takes place this coming March 2 and 3, at the Deerfoot Inn and Casino and we are looking for volunteers for the same. If any of your readers are interested in volunteering for the same, they can call me at the office phone number 403-236-3900 or email admin@projectwarmth.ca.
Do you have any events coming up?
As a result of our current pandemic, we have cancelled most in-person fundraisers and coat drives over the last three years. In the past, along with outerwear collection and distribution Project Warmth helps in other ways. The only upcoming in-person event in the next few months (March 2 & 3, 2023) will be a casino we are holding at the Deerfoot Inn and Casino and we are still looking for volunteers to help out with the same.
Each year Project Warmth holds a "Christmas Carol Gala" at Theatre Calgary and it is one of their main fundraisers for the year. When we can safely hold this event, over 450 children in the Project Warmth program along with many of their parents are picked up by buses and taken to the gala, which included a Theatre Calgary production of "A Christmas Carol" and a reception featuring both hot and cold finger foods and desserts. For many of these families, it was the first time they had ever been to a live performance venue and Project Warmth made sure that all had a wonderful experience by arranging for candy apples, gift certificates and other gifts along with a trip to their Candy Lane display (tables full of candies and treats, for all of the children) and a visit with Santa. Our plans are to restart holding our Christmas Carol Event in November of 2023.
"While nothing can replace having food, clothing and a roof over your head, exposure to the arts can help provide an important or imaginative spark to a young life, that is otherwise ground down by constant poverty. It was amazing to see their faces light up…it's a feeling you can't forget." (Gordon J. Hoffman, 2010)
Where can we follow you?
PAY IT FORWARD: What is an awesome local charity that you love?
Alberta Champions Society in Recognition of Community Enrichment. This Charity posthumously recognizes Albertans who have made a significant positive impact on Calgary, Alberta and Canada.