The loss of a child or pregnancy is a horrible thing for anyone to go through. This week we spoke to Aditi Loveridge, Founder of Pregnancy & Infant Loss Support Centre, about how her team works to provide families and individuals facing loss gain the support and resources necessary to begin their healing.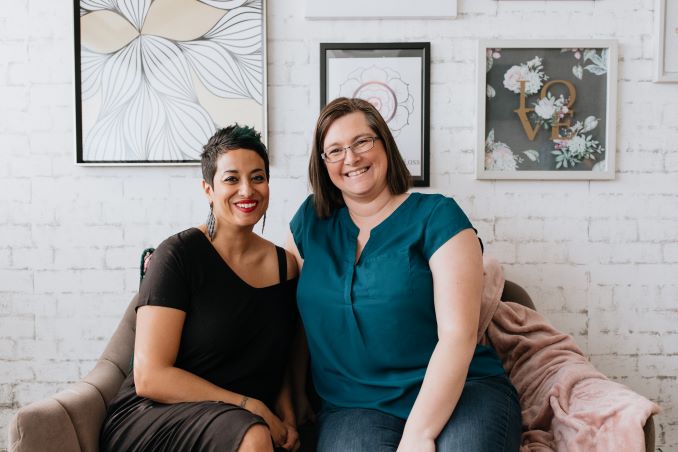 Describe your charity/non-profit in a few sentences.
The Pregnancy & Infant Loss Support Centre is a Registered Charity in Calgary whose mission is to connect people who have experienced pregnancy and infant loss to comprehensive and inclusive support offerings through each phase of the journey.
The journey through loss is complex and we know that not everyone heals in the same way. For this reason, our Centre connects bereaved families to community, peer support groups, traditional and alternative healing supports, and educational opportunities.
What problem does it aim to solve?
We aim to solve the following problems:
Lack of long term care: Our center provides ongoing, long term mental health support across all stages of the loss journey. We provide support that addresses the unique needs of our community at every stage (initial grief, trying to conceive, pregnant again, and parenting post loss). Our community can continue to access our programming no matter how much time has passed since their loss.
Acknowledgment that grief affects all the members of a family (such as the birthing person, partners, grandparents and siblings) who have been touched by loss. We are addressing this by having our programming open to any family member who has been impacted, not only the birthing person and their partners.
Community driven programming. We were founded by bereaved parents and bereaved parents within our organization help drive the focus of what gaps still remain. We are the only community based organization in Calgary so we can offer our support in a warm and non-clinical setting. It is a lot easier to build community relationships in a space made by, and for our community members.
More inclusive care within pregnancy and neonatal loss communities. Our organization is the only one in Canada that is proactively addressing the impacts that pregnancy and neonatal loss has on people who identify within diverse and marginalized communities. Our organization acknowledges the added impacts on mental health for individuals who have experienced loss and identify within marginalized groups such as those from diverse ethnic and cultural backgrounds (Black, Indigenous, People of Colour (BIPOC) members), and those that identify within the LGBTQ+ community.
When did you start/join it?
Aditi Loveridge, who is a certified coach, Certified Grief Recovery Specialist and mindfulness meditation teacher, founded the Centre in December 2018.
What made you want to get involved?
I (Aditi) have personally navigated the complex journey after pregnancy and infant loss. Through my combined 10+ years of personal and professional experience I saw that there were more supports needed to holistically serve the loss community in Calgary. To fill this gap and create more options for families, I founded the Centre.
What was the situation like when you started?
When we first started there was not a physical space that was ours (the pregnancy loss community); a space where we can gather in grief, triumph and healing. There were very limited options for the community to find their own path to healing so we have created multiple pathways.
How has it changed since?
So much has changed since we started. Prior to our start the only options for support were onsite at a hospital or within clinical settings. Our Centre is a gorgeous space that is non-clinical in its approach, one that feels safe and approachable. The community now has a place where our stories can exist. A space where our babies are acknowledged and held. A space where we can come together and truly acknowledge the deep impacts pregnancy and infant loss has.
Our community is growing stronger and more empowered in their choices toward healing. We provide remote support services and we are reaching communities that have little to no support. With our remote supports we are able to reach rural areas, connecting those that are isolated to community and healing.
What more needs to be done?
We have started the conversation around the impacts of pregnancy and infant loss and what true healing looks like. We have made great strides in addressing the intersections of trauma that marginalized communities face in relation to loss, however we need to further the conversation within marginalized communities and how to better support our BIPOC (Black, Indigenous, People of colour) and LGBTQ2S+ members. We will continue to further this conversation and deepen the inclusive and diverse care within our community.
How can our readers help?
As a charity donations are essential to keeping our programming running. If you have the monetary means please consider donating. We offer one time as well as monthly giving options. If you would like to donate in memory of your baby, their name can be added to our virtual memory wall. You can donate by visiting here.
We are always looking for people who would like to give back to the community by volunteering their time through the following programs: Peer Support Groups, Pregnancy Loss Support Line, and Peer Mentorship Program.
We love to connect with fellow Calgarians! Our social media is always open… engage with us online!
Do you have any events coming up?
Tiny Footprints Gala is an annual gala that recognizes and honour those brief lives lost that have left lasting impressions while raising funds to further support the pregnancy and infant loss community. The Tiny Footprints Gala 2020 will be a virtual gala with all proceeds supporting the Pregnancy & Infant Loss Support Centre. Join us from anywhere and help give voice to this often silent topic.
Where can we follow you?
PAY IT FORWARD: What is an awesome local charity that you love?
Skipping Stones Foundation is doing amazing things for transgender children, youth and adults in Calgary.