We had the chance to catch up with Stephany Codd, Communications and Donor Relations Manager at LUTW, to learn about how they are changing lives by providing access to energy.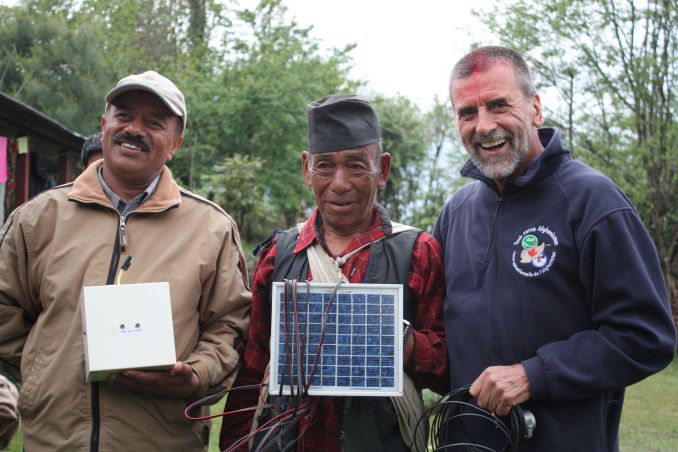 Describe your charity/non-profit in a few sentences.
Light Up the World is a registered Canadian charity and international development organization dedicated to providing access to life-changing solar technologies to underserved communities worldwide. Since 2010, our operators have been focused on Peru, where we are building a scalable social enterprise model for the installation and distribution of solar technologies. LUTW has been based in Calgary, Canada since 1997.
What problem does it aim to solve?
LUTW is dedicated to the idea that access to energy changes lives. We work in remote off-grid communities that lack the basic technologies that many of us take for granted. By providing these communities with solar photovoltaic systems, we make a lifelong impact on our beneficiaries by helping them unlock the opportunity to use technologies and tools, to help them in their everyday life.
When we provide a community with sustainable access to energy, ultimately, we are helping them fight poverty because of transitioning away from costly fuels and batteries. Through generous support from interested individuals, corporations, host country organizations, international foundations, and industrial partners, LUTW has brought light to homes in 54 countries around the world from Afghanistan to Zambia.
When did you start/what made you want to get involved?
In 1997, Dr. Dave Irvine-Halliday, a Professor of electrical engineering at the University of Calgary, had the vision to use LED lighting to bring practical, economical, and environmentally safe lighting to the developing world. While on a trip to Nepal he realized there was a great need for simple, safe, healthy, and affordable lighting.
In 2010, LUTW established a field office in Peru, and we continue doing electrification projects in other Latin American countries. Peru had a high rate of people living off-grid due to the difficulty of geographical terrain and scattered populations within the Andes and the Amazon.
What was the situation like when you started?
Thulo Pokhara, Nepal, was the first village in the world to be illuminated by LED lighting and solar energy, powered by Pedal Generators, and LUTW designed and built the first LED headlamp to be used on Mount Everest in the same year, 1997.
In 2001, LUTW provided the first solid-state medical theatre lighting in the developing world in Bagdogra, India, and villages in Sri Lanka were also illuminated. From there LUTW conducted solar projects in over 54 countries.
How has it changed since?
Over a million people have benefited from Light Up The World projects.
In 2010 we opened our second head office in Lima, Peru, so we could establish roots and ensure the sustainability of our projects.
In 2017, we launched a social enterprise model to provide the opportunity for all those left behind to be able to afford a home solar system. To learn more about our social enterprise visit us here: Social Enterprise
What more needs to be done?
800,000 families remain off-grid in Peru. To reach these families we propose a social enterprise model that reaches these communities efficiently and sustainably with life-changing technologies.
Many families still face uncertain futures especially with the COVID-19 pandemic and subsequent economic crisis. Remote learning and working aren't an option for many of these families, so our push to provide access to sustainable electricity to as many families as we can is
our number one goal.
How can our readers help?
First, everyone can subscribe to our newsletter and follow us on social media to stay connected!
We are always so grateful for any one-time donations or monthly donations, that help us provide a stable service to our beneficiaries. You can check out your donation options on our website.
We are currently fundraising to #LightUpTheAmazon and hope to light up two more schools in the Peruvian Amazon by the end of 2021.
Do you have any events coming up?
We will be announcing our virtual and possible in-person Fall event soon! To stay updated on our event announcements make sure to head to our website and subscribe.
Join our mail list so you can get an invite straight to your inbox!
Where can we follow you?
Facebook | Instagram | Twitter | LinkedIn
PAY IT FORWARD: What is an awesome local charity that you love?
We love Change for Children, based out of Edmonton! Change for Children runs many programs in many different countries. They have been running programs in South America since the mid-1970s. They work with indigenous communities that have been marginalized and work to promote their rights and cultures to help them build a better future.