Youth en Route is a non-profit organization that aims to promote healthy and sustainable modes of travel. We recently had the chance to speak with Laura Shutiak, their Executive Director, to learn more about what they do.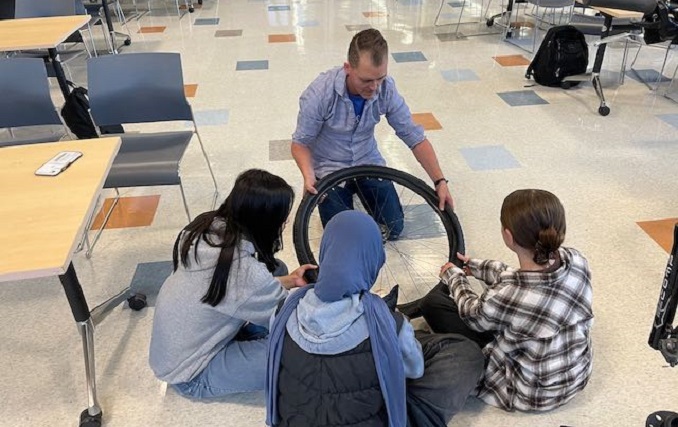 Describe your charity/non-profit/volunteer work in a few sentences.
Youth en Route champions active transportation to school and beyond. We break down the barriers youth face when choosing how to get around. It might be a need for better bike storage or locks, or the skills and confidence to try cycling. Kids also tell us they need help to find the best routes. We also advocate for safer, all ages and abilities routes in communities.
What problem does it aim to solve?
We want to empower you to be able to choose healthy and sustainable modes of travel. Short, daily trips are the easiest and cheapest way to reduce GHG emissions from transportation. At our schools, up to 54 percent of kids are arriving at school in a car – and most of these trips are less than 10 minutes. But if a kid has never ridden a bike, doesn't have a lock, or doesn't know the route, they are unlikely to consider biking to school. We want to change. that.
When did you start/join it?
I started Youth en Route during Covid. It was so apparent that kids lost so many transportation choices. Carpooling was against the rules, the frequency of transit was dramatically reduced, and parents, working from home, didn't want to drive to school. Kids were stuck! I was frustrated with my own children who said biking to school was nerdy or not cool. I saw an opportunity – no one was working with older kids or helping improve safety around their schools.
What made you want to get involved?
I've been a long-time parent advocate working on school Councils in Alberta and Ontario. I recognize the challenges that schools face in offering new or innovative programs. That experience helps me work with school administrators to deliver our programming. I'm also keenly aware of the clock ticking on Climate Change and want to empower youth to be able to make sustainable choices.
What was the situation like when you started?
We started our work at three schools – one in SW Calgary and two in communities on the east side of the city with a high proportion of new Canadians and BIPOC. The most bikes we counted in the bike rack at Lester Pearson High School in May 2021 was three. The following year, we were up to 18. At Forest Lawn High School, where the principals moved the bike racks indoors to prevent theft, cycling rates went up from four to 40. While cycling rates are higher in wealthier communities, it's still only a small fraction of students that cycle to school
How has it changed since?
We secured funding from Alberta Eco-Trust to run programs at 10 Calgary high schools. One secret to our success is to design programs to meet the needs and capacity of the school. There is no one size fits all. Some schools we've worked to improve the bike rack. (We actually improved the school rack design to re-vamp it and make it functional!) At other schools, we've delivered fleets of 40 bikes for schools to use with PE, ELL or other classes. We've created maps for students and are working with the City of Calgary to prioritize school routes for improvements to the bike path network.
What more needs to be done?
So much! There are 30 large Calgary high schools, and we have started data collection and work in only 14 of them. And younger kids, in middle schools and junior highs also want to learn cycling skills to help them be independent and get where they are going. For a kid, a bike is freedom. But at some of our schools, 11 % of kids tell us they have NEVER been on a bike. Right across the city, only 50% of Grade 10-12 students tell us they have the skills they need to ride their bike "anywhere." Giving a kid a bike is only the start. They need the skills and confidence to ride it! Basic bike repair skills help too!
How can our readers help?
Like any charity, we rely on grants and donations to do our work. We have a page on Canada Helps where you can make a donation. We also have a fabulous partnership with a group of seniors in the Bike Shed at the Greater Forest Lawn Seniors Centre. They fix up salvaged and donated bikes that go to our schools for their fleets. We are always looking for good, used bikes to refurbish. And we also have some specific volunteer opportunities. Please reach out on our website.
Where can we follow you?
Website | Twitter | Facebook | Instagram
PAY IT FORWARD: What is an awesome local charity that you love?
We'll share the love with our good friends and partners at the Greater Forest Lawn Seniors Centre. They've done so much to support our work, from fixing up bikes to inventing bike storage solutions for our schools.