My name is Mica and just like the mineral, I add shine and sparkle everywhere I go! My foster mom says I have the cutest voice of any kitty she's met!
I like to talk to her, and my talking comes out as tiny quiet little mews, plus lots of chirps and squeaks and murmurs. It's adorable, she tells me, and I always make her smile. I bet you'll think so too!
My purr machine is ready 24/7. I often start purring when you just look at me, and even more, if you rub my head, scratch my cheeks, or just let me lay down close to you. This is the real me!
Please be patient with me so I get comfortable enough to show you this side. I am a fast learner. For example, I know to get in position and then sit still to get my collar put on.
I do find loud noise and activity overwhelming, so I am looking for a quieter home with no small kids or dogs. While I am a cuddly girl and a lap cat, I do consider myself an introvert, so I prefer to initiate our snuggle sessions.
Now I can be a tad particular when it comes to my litterbox habits. I would love it if my future family could provide me with a large litterbox that is cleaned daily and is in a low-traffic zone where I can do my business in private. Think you and I could be the best of friends? Me too!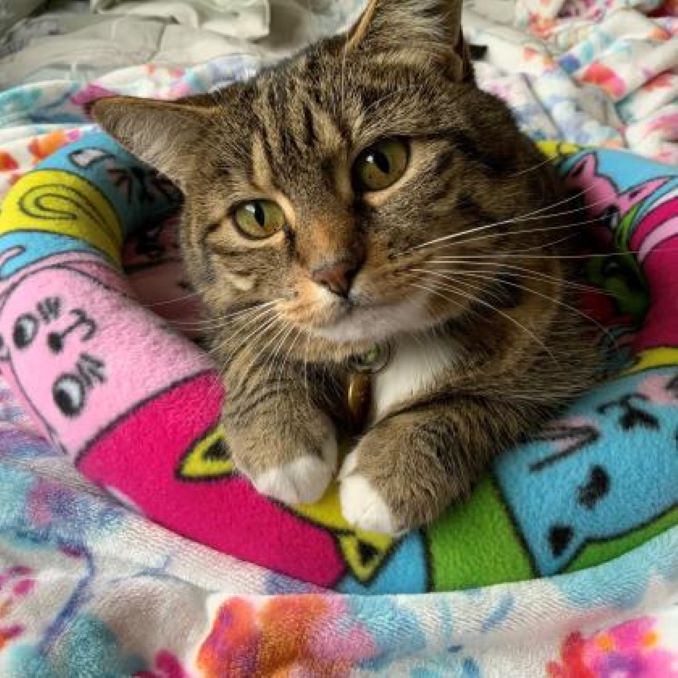 Mica
Breed: Domestic Shorthair/Mix
Age: 5 years 6 months
Gender: Female
Size: Large
Colour: Brown/White
Spayed/Neutered: Yes
Mica is available for viewing at the Calgary Humane Society! Interested adopters are welcome to self-schedule for an adoption appointment using our online calendar here.
About this column:
Each week we feature animals available for adoption from local shelters in the Calgary area with the hopes that our readers will assist in finding good homes for them. If you, or someone you know, has the resources to take care of one of these animals, please do get in touch with the appropriate shelter via the links provided.