Hi! I'm Meena and I'm looking for a very special home. I can be a bit shy at first, so I'm looking for a family that is willing to be patient and go slow with me until I can get to know you and feel comfortable.
Loud noises and children are too much for a cat like me; I can also be a bit sassy, so I'm looking for a stress-free, adult-only home with no other animals. I am a friendly and affectionate lap cat with my foster mom and she thinks I would be happiest in an experienced household that can read my body language. I do find some kinds of people scary when we first meet (like men), but with time I will warm up.
I am very protective of my personal space so I will come to you when I want pets. My favourite place is on the windowsill watching the birds and curling up on the bed. Now according to the vet team here, I'm carrying around a few extra pounds… okay maybe more than just a few. I would love it if my future family, alongside a veterinarian, could help me achieve a more healthy weight with a slow monitored diet and exercise plan! Since I am an extra-large kitty, I will require an extra-large litterbox – preferably one with higher sides to allow me to do my business without making a mess.
It would also be great if it were cleaned daily and kept in a low-traffic zone to ensure I have some privacy when taking care of business. The most important thing to know about me is that I am a sweet girl if you're willing to be patient while I come out of my shell! I can't wait to be part of your family.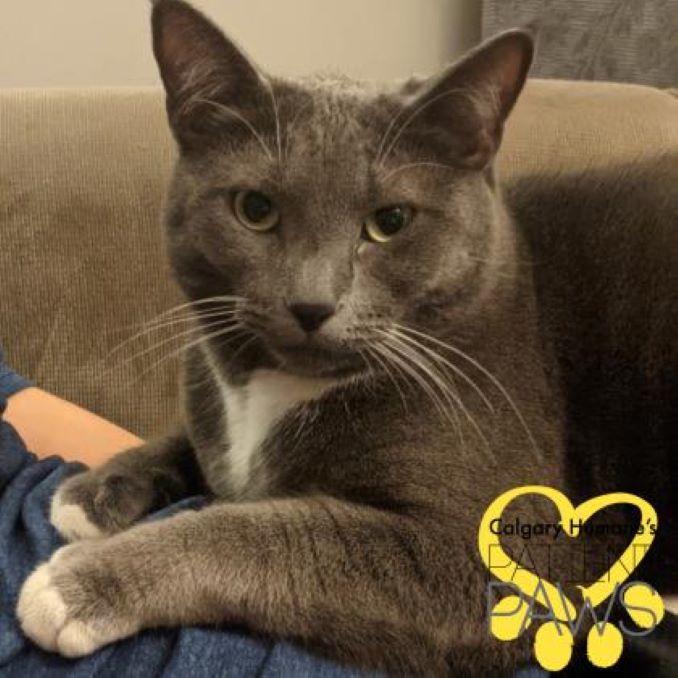 Breed: Domestic Shorthair/Mix
Age: 5 years 3 months
Gender: Female
Size: Small
Colour: Grey
Spayed/Neutered: Yes
Meena is available for viewing at the Calgary Humane Society! Interested adopters are welcome to self-schedule for an adoption appointment using our online calendar here.
About this column:
Each week we feature animals available for adoption from local shelters in the Calgary area with the hopes that our readers will assist in finding good homes for them. If you, or someone you know, has the resources to take care of one of these animals, please do get in touch with the appropriate shelter via the links provided.