Hi there, my name is Slate and I'm looking for my furever home! I'd love to live in a home with a stress-free lifestyle, this means no small children or other animals. The loud noises and commotion that comes with a busy household are just too much for a cat like me. New people and situations can make me a bit shy at first so I'm looking for a family that can go slow with me to start. If you are patient and let me come to you on my terms to start, then my affectionate personality will shine through. I should also inform you that I am a gentleman of many opinions, and I am not afraid to share them! This means I am a chatty kitty who loves to join in on the conversation with my humans! I'm an older guy with a couple of medical needs, so the team here at CHS recommends that my future family follows up with their regular veterinarian to discuss managing my unique needs in the long term.
Slate is currently staying with a foster family, please contact the Adoption Department at adopt@calgaryhumane.ca to arrange a meet and greet. We work on a first come first serve basis, and will set up meet and greets with interested adopters in the order we receive them. Our team will be in contact with you as soon as possible to update you on where we are in the meet and greet process of the animal you are interested in. Please do not book an appointment using the online calendar as that is reserved for animals available for adoption on-site.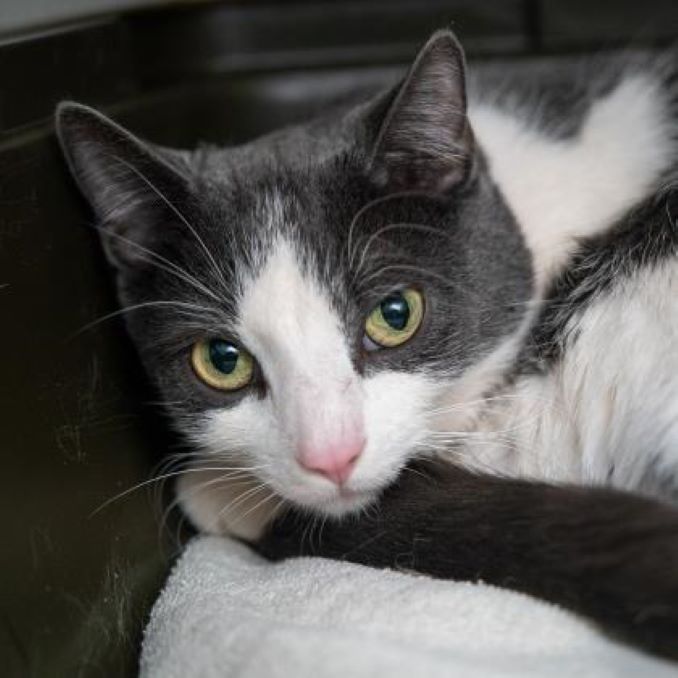 Slate
Breed: Domestic Shorthair/Mix
Age: 7 years 1 month 16 days
Gender: Male
Size: Medium
Colour: Grey/White
Spayed/Neutered: Yes
NEW ADOPTION PROCESS: Please fill in the Cat Lifestyle Survey found on the How to Adopt page (please include my name and animal reference number) if you are interested in adopting me! Serious inquiries only.
In response to COVID-19, Calgary Humane Society is closed to the public. We are currently processing adoptions and animal intakes by appointment only. For more information about our modified adoption process, please click here.
In order to ensure a smooth and successful adoption, please remember to check all the basic requirements for adopting before coming in to the shelter.
About this column:
Each week we feature animals available for adoption from local shelters in the Calgary area with the hopes that our readers will assist in finding good homes for them. If you, or someone you know, has the resources to take care of one of these animals, please do get in touch with the appropriate shelter via the links provided.