At Artpourings Studio, the focus is on empowering and creating a safe space for people of all ages to enjoy and work on their art. They offer a variety of classes such as drawing development, expressive art, painting class, polymer clay, and private and online classes. No matter how you feel about art and creating, at Artpourings Studio, there is a space for you to improve your creative skills and learn in a fun-constructive way. We spoke with Michelle Tasa, the Owner of Artpourings Studio to learn more about them.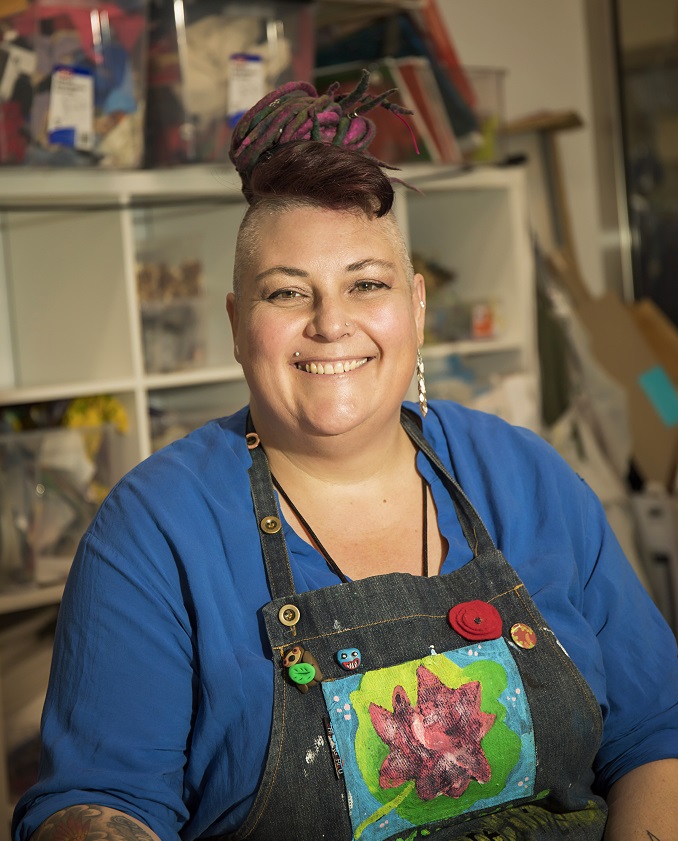 What is your business called and what does it do?
Artpourings Studio is a creative maker space where all ages can explore and develop creative skills. We run classes teaching everything from drawing and painting to sewing and simple robotics. We also provide creative activities for large events, present workshops on igniting innovation and using creativity to tackle stress and anxiety and serve the homeschool community by offering educational classes.
What made you want to do this work?
As an International educator with over 20 years of experience, I was fortunate to work in schools that have moved beyond traditional teaching methods and are using self-directed, inquiry learning to teach. Returning to Calgary, I wanted to create an ideal learning environment that would help children and teens develop creativity, problem-solving skills and resilience. Our studio encourages students to design their own projects and work through the process of creating with guidance and mentoring.
What problem did you want to solve with the business?
To me, creativity is not about artistic talent. It is the ability to think of solutions to problems, often connecting ideas from various disciplines. This is a critical skill that the next generations need in order to solve some big problems the world is facing. It is also one of the skills employers are looking for in potential employees. Traditional education often focuses on information retention and paper and pencil skills, with less and less time spent allowing students to work through difficult problems on their own, making mistakes and then finding solutions.
Who are your clientele/demographics?
Artpourings Studio largely serves families with school-aged children and teens. We also work with large organizations such as community associations and VIVO to create unique and creative activities for large groups.
How does your business make money? How does it work?
We rely on student fees for classes, sales of art supplies and creative take-home kits as well as commissions from large organizations either privately funded or funded through grants focused on improving the community.
Where in Calgary can we find your profession?
We have a physical studio located in New Horizon Mall (next to CrossIron Mills) that can accommodate up to 30 students. We also take the studio on the go to provide classes, events and even private classes within Calgary and the surrounding areas.
What is the best question a prospective customer could ask a member of your profession when comparing services? Give the answer as well.
"How are classes at your studio different from other art classes?"
Artpourings studio provides a unique creative experience where students do not complete the same project or follow step-by-step instructions to create a sample artwork. Instead, students choose their subject matter and our staff help mentors them to meet the goals they set for themselves. For example, a young person may want to develop their figure drawing and, using their love of anime, the teacher will teach them to draw figures with correct proportions in the style of characters that motivate them,
What is the best part about what you do? What is the worst part?
The best part of what I do is hearing from kids and parents that the studio is their 'favourite place or that they can be themselves when they come to the studio. It is so important to me to make people feel safe enough to take creative risks and that can only be developed by being interested in our students and their lives, encouraging them and accepting them as they are. The worst part is juggling the demands of being a small business owner with being a single parent of teens.
What is your favourite joke about your own profession?
"On a scale of 0 to TEACHING, what is your stress level like today?"
What are your social media channels?
Website | Instagram | Facebook | Pinterest | LinkedIn
PAY IT FORWARD: What is another Calgary business that you love?
I adore Love 4 Cali's Photography. Nicole is an amazing photographer who knows how to bring out the best in me as a nervous subject. She has done photographs of our recent Cosplay Camp outfits as well and the parents were delighted to have professional photos of their children's creations.