To find out more about Axe Throwing Calgary, we recently spoke with Shannon Stone about the sport's scene in Calgary. The popularity of this activity, across Canada and the US, has really been gaining momentum, bringing an ageless sport into the next generation.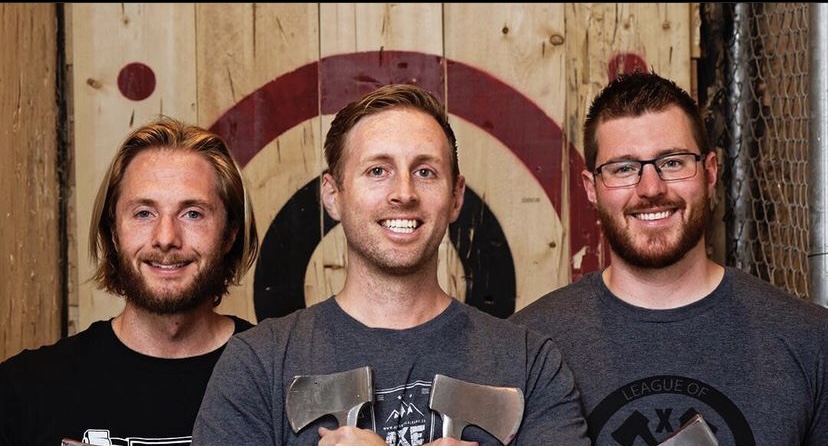 What is your business called and what does it do?
We are Axe Throwing Calgary. We are a recreation centre that hosts axe throwing events for all occasions.
What made you want to get into the axe-throwing business?
AXE Throwing Calgary was started in 2015 by a group who enjoyed partaking in outdoorsy activities together and saw an opportunity to bring what they would do on camping trips to the city. Axe throwing provides a fun and satisfying activity for those looking for a unique experience.
What problem did you want to solve with the business?
We hear a lot from guests when they book with us that they were looking for something new to try. While there are lots of different activities to try in the city, people are still trying axe throwing for the first time even after six years. Seeing guests land their first bullseye never gets old, and that feeling is what we keep striving to deliver for all of our patrons.
Who are your clientele/demographics?
Everyone from age 8 to 98! We see a diverse range of people who come in for all occasions from team-building events, birthdays, stag/stagette parties, to people just looking to get together. One of our favourite aspects of axe throwing is that it's a skill that almost anyone can master.
How does your business make money? How does it work?
The majority of our days are filled with bookings made in advance for our Private Events. These allow parties to have a private throwing area with a designated coach to teach them our different axes and techniques and run games and tournaments for them. We also offer four Drop-In Sessions throughout the week (Weds, Thurs, Fri from 7-9 and Sun from 2-4), these run like a fitness class where small groups of people rotate in and out of the lanes with a coach who guides them through our arsenal of techniques and speciality axes. We are also licensed and have a lounge area that guests can order food and drinks in to enjoy during their time with us.
Where in Calgary can we find people who like throwing axes?
We are located at 5923 3rd Street SE, off of 58th Ave SE and just a few blocks east of Chinook Centre.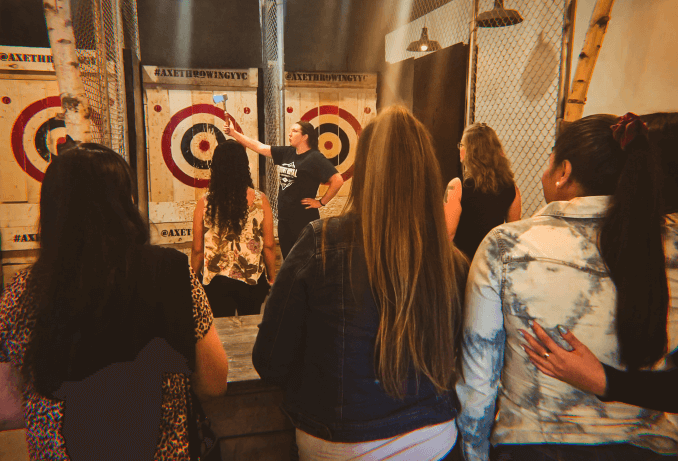 What is the best question a prospective customer could ask a member of your profession when comparing services? Give the answer as well.
We would suggest asking any axe-throwing company about their coaches in relation to your event. We think that coaching makes all of the difference in the experience of any guest, which is why our staff are with you through the full length of any event you come in for. While safety is our number one priority, ensuring that our staff can provide patrons with effective coaching and an enjoyable time is top of mind as well.
What is the best part about what you do? What is the worst part?
The best part of what we do is provide people with a place to have fun. We love seeing someone finally land a throw they've been working on or how a group reacts to watching a winning shot during a tournament.
There aren't many downsides when your guests are usually coming in to celebrate or have a good time.
What is your favourite joke about your own profession?
There are many good puns to be made, but you can axe us about them later.
What are your social media channels?
You can follow us on Instagram, Facebook, Twitter or check out our website.
PAY IT FORWARD: What is another Calgary business that you love?
There are quite a few great local businesses that we get to call our neighbours. Some to check out would be Rocky Mountain Wine Spirits Beer, Prairie Dog Brewing, and Bow River Brewing if you're in our area!