Elevated Escapes provides fully furnished glamping units that offer guests an eco-friendly getaway in nature. We spoke with Owner Jenna Walsh to learn more about what they do.
What is your business called and what does it do?
My business is called Elevated Escapes. We're a Calgary-based company that partners with landowners In Alberta and BC to run turn-key glamping sites.
What made you want to do this work?
I'm inspired by the impact that nature and calming physical spaces can have on a person— sometimes an outdoor escape in the forest is all you need to shift your mindset, spark creativity, or solve a problem you've been stuck on!
What problem did you want to solve with the business?
There are two key things I aim to do with Elevated Escapes: (1) empower landowners, who may not have the capital or booking management background, to profit from their land and fuel their dreams, and (2) offer guests an eco-friendly getaway in nature where they can, as they say, "disconnect to reconnect".
Who are your clientele/demographics?
People of all ages who love the outdoors and are game for an adventure!
How does your business make money? How does it work?
Elevated Escapes provides fully furnished glamping units as well as booking systems and guest management services, while our partners provide the land to run the glamping units on. We rent our domes and canvas tents to people looking for outdoor accommodations, and profit share with our partners.
Where in the city can we find your profession?
Our domes and tents near Bragg Creek are only 30 minutes away from Calgary, which makes for an easy weekend getaway!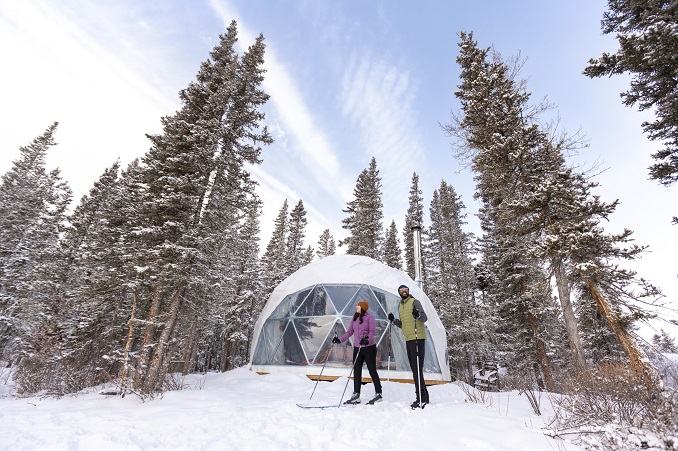 What is the best question a prospective customer could ask a member of your profession when comparing services? Give the answer as well.
What makes your accommodation experience different from your average hotel or Airbnb?
Beyond the unique architecture of the domes, and the ability to have a wood stove fire and look at the stars, our domes near Bragg Creek offer the opportunity to learn about Indigenous traditions, as landowners David and Ginger Onespot have a mission to educate people from all backgrounds about Indigenous ways of life. You can book an Indigenous snowshoe tour as a part of your stay, which includes campfire stories and the opportunity to try traditional foods like bannock and berry soup.
What is the best part about what you do? What is the worst part?
The best part about running Elevated Escapes is the opportunity to curate spaces that instill peace, self-reflection, and inspiration. I would say the worst part is dealing with the never-ending piles of linens that need cleaning (I think all short-term rental owners can relate!)
What is your favourite joke about your own profession?
That running glamping sites is too in-tents of a career path
Where can we follow you?
You can follow us on Instagram
PAY IT FORWARD: What is another local business that you love?
There are so many! Cocobakes YYC has incredible coco bombs (you have to try them!). Pushpa from Pushpa Pyrography is an amazingly talented artist if you're looking for handcrafted gifts. Or if you're looking for local honey, MOB Honey is a personal favourite!