Four friends making music. Featuring members of Wish Lash, Glaux, Uncanny Valley, and Juice Box; with doubled guitars and near-constant vocal harmonies, Purlicue digs up something dark and sparkly, leaning toward post-punk but never quite getting there.
RIYL: Moss Lime, Delta 5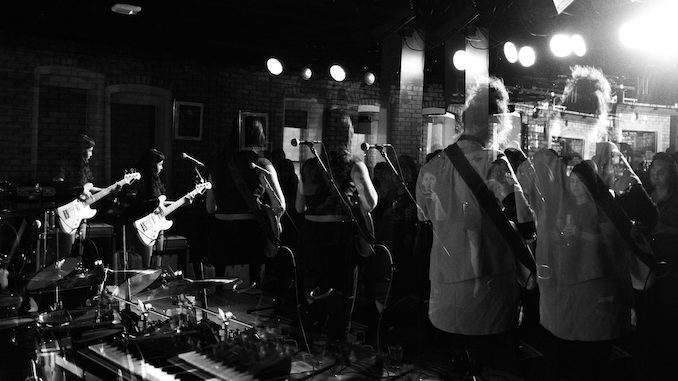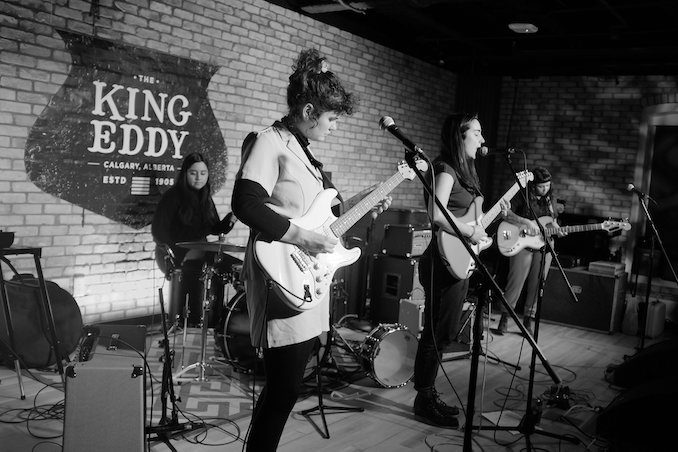 Name: Purlicue
Genre: Pop, punk, art-punk, excellent emo, new wave, rust rock, twee
Founded: Winter of 2018
# of Albums: 2
Latest Release: Dip n' Dot
Latest Single: Not sure maybe Fire (Dip n' Dot)
Latest Video: Hope to make a video soon, don't have one yet

Favourite Local Restaurant:
Tubby Dog
Favourite band as a teenager:
Ali was a hip-hop head so probably Wu-Tang or something, Kerry was into Taking Back Sunday, Adrienne loved Oasis, and Gwen's was Sonic Youth, legitimately.
Favourite band now:
Gwen's really digging the Inflatable Boy Clams, Ali's into the Modettes and Billie Eilish right now, Kerry's favourite song right now is Sorry by KRAMPF, and Adrienne can't think of anything. If you ask us tomorrow all our answers will be different though.
Guilty Pleasure Song:
Despacito for Ali, The Power of Love for Gwen (the Jennifer Rush version), for Adrienne it's Cotton Eye Joe, and Kerry's is Take it Easy by The Eagles.
Live Show Ritual:
Not really a ritual per se but we always eat together but I think everyone does that. If we're playing at the Palomino we do a feast, where we each get the Side Car (four fixin's of your choice) and share.
Favourite local artist:
Hairnet
Janitor Scum
Bog Bodies
Dri Hiev
Nose Hill or Fish Creek??
Being outside is pretty great so either is awesome!
EP or LP?
Either works.
Early bird or night owl?
Depends on the day.
Road or studio?
Haven't had a chance to hit the road yet so not sure we can call it this early.
Where can we follow you?
Instagram | Facebook | Bandcamp
Any shows or albums coming up?
We just released Dip n' Dop in July which is our second EP. No shows so far as two of our members have moved away.