A born and raised Calgarian, Kim Parrent has lived in Majorca, Spain and Houston, Texas. She received her Bachelor of Fine Arts Degree from the University of Calgary with a Major in Art History. Owning and operating a small business for over 20 years installing window displays, doing faux finishing and decorative painting in retail stores, showhomes and private residences has allowed her to paint for a living. She now concentrates on large oil painting portraits. Often painting portraits of musicians and wrestlers, some of whom are local heroes (such as Bret Hart) and  have autographed their portraits.
In 2017, Kim created and painted graphics in The National Music Centre. Participating in a city wide initiative to create banners for communities in Calgary, the banners Kim created were hung in the community of Garrison Green. One of these paintings is now in The Museum of the Regiments and two portraits she painted of Indigenous Chiefs are on the Tsu'tina Nation in the Indian affairs building (Tribal Council).
While on the event committee for Prostaid Calgary in 2019, Kim was able to paint and donate a large portrait of legendary Canadian musician, Randy Bachman which he autographed. A portrait Kim did of Ian Curtis from the band Joy Division sold to one of the founding band members of Joy Division, Peter Hook in the UK. Kim is on the Manchester Cultural history record for producing this painting. In 2018, Kim participated in Expoluchalive in Las Vegas and exhibited the large oil paintings of luchadors she creates now and continues to paint. Kim is currently working on a series of paintings depicting all the Stampede Wrestlers.
Recently, a portrait Kim did of Dale Bozzio from the 80s band, Missing Persons, was sent to Los Angeles to be included and published in her biography, Destination Unknown.
Kim also work as event staff at Contemporary Calgary.
– Sharon Parrent artist and mother of Kim Parrent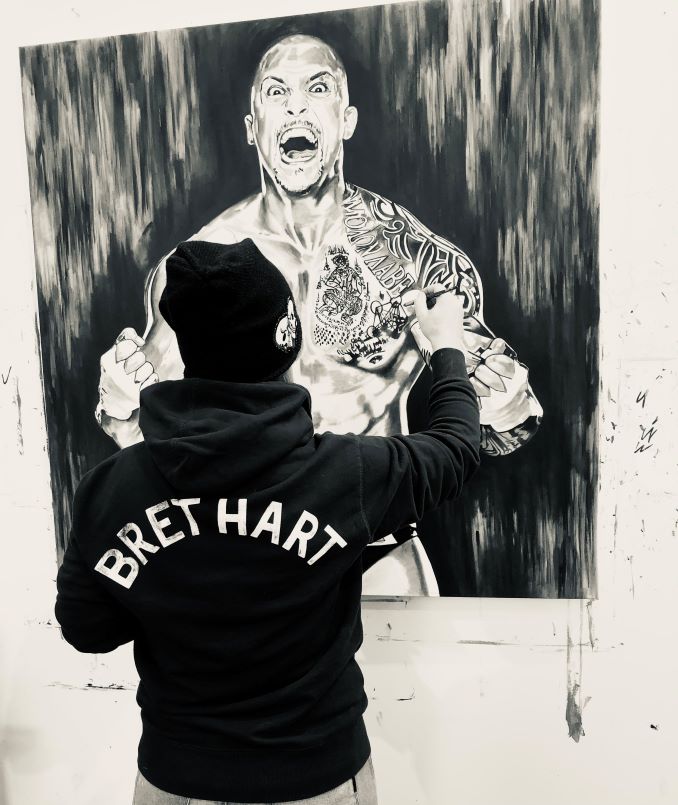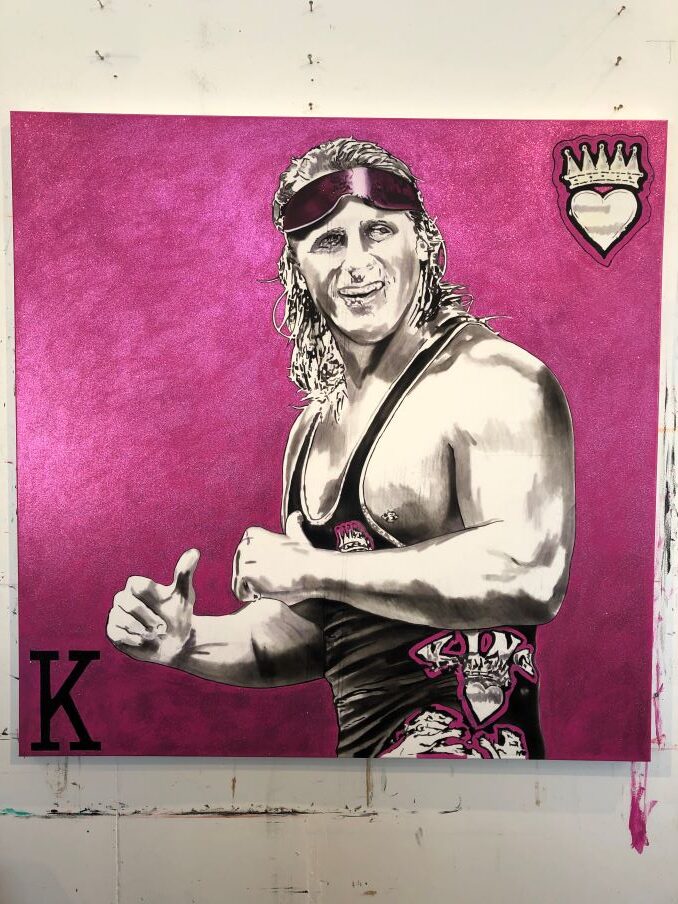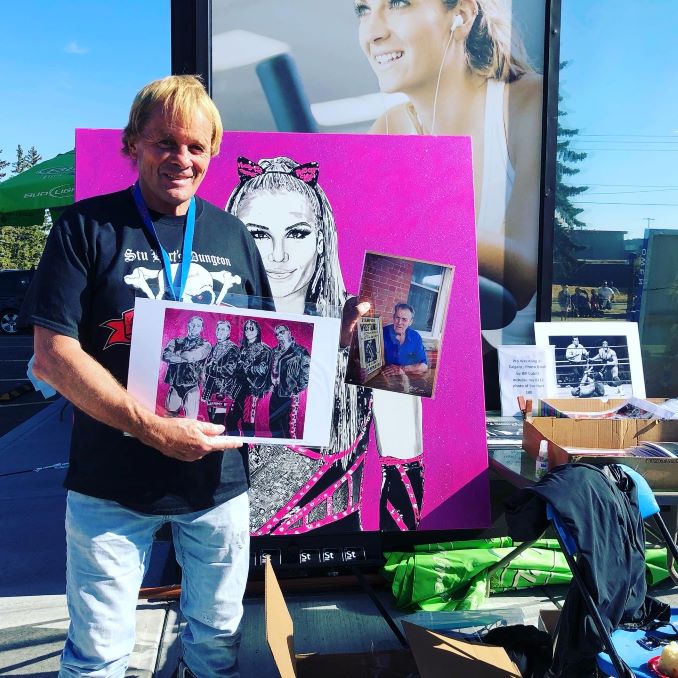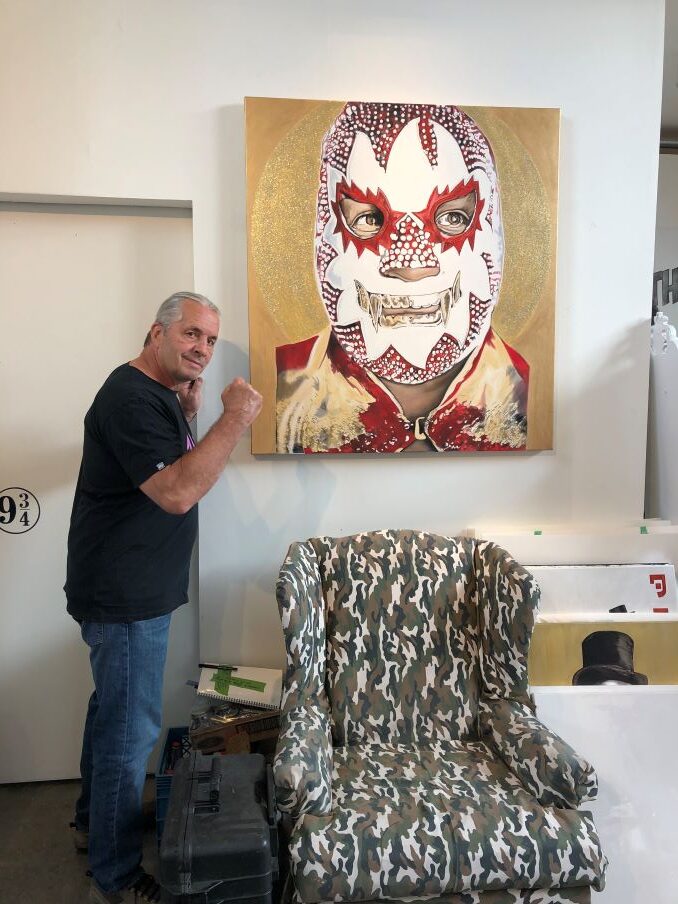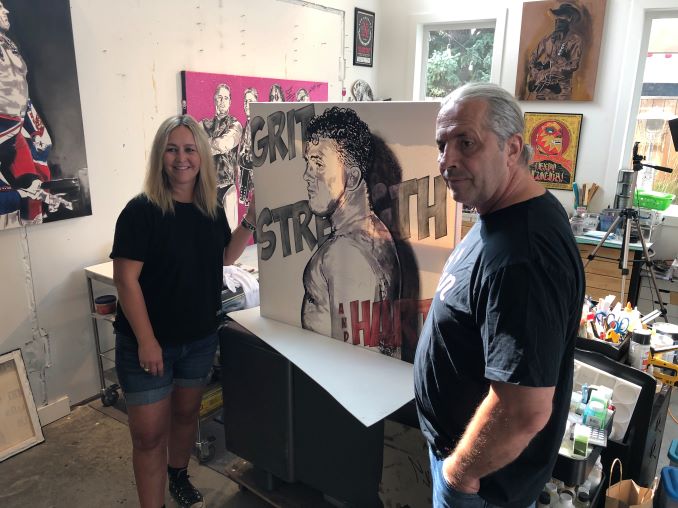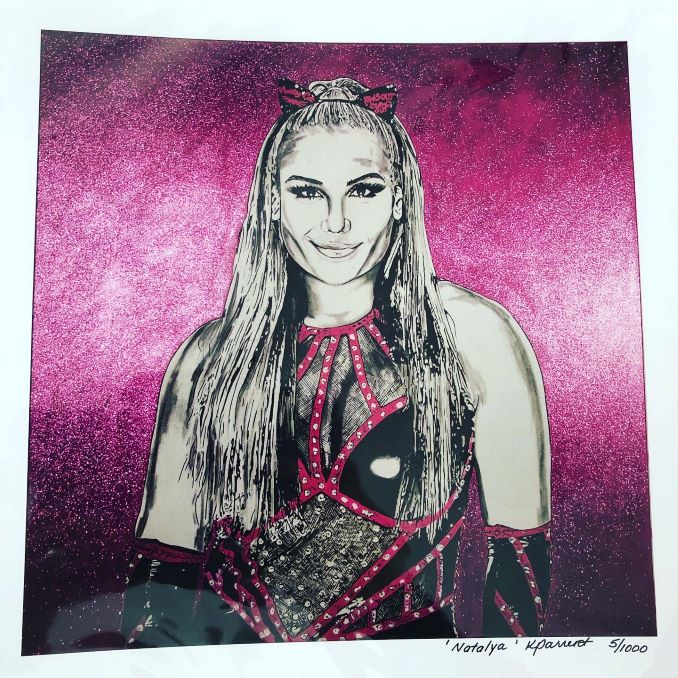 ***
What 'hood are you in?
I live in Calgary in the neighborhood of North Glenmore(SW).
What do you do?
I am a professional artist and teacher.
What are you currently working on?
I am currently working on portraits of Stampede Wrestlers. I have also been working on getting these large oil paintings of local athletes and icons into the new BMO center. If you enjoyed my art, it would be a great help if you could also contact the Calgary Municipal Land Corporation.
Where can we find your work? 
My work can be seen in my studio when COVID restrictions allow, it has been exhibited at cSPACE King Edward and local businesses and private residences in Calgary. It can be seen on Instagram @alligetisstatic and on my website.