Platinum-certified Canadian producer and avant-pop solo artist Hello Moth creates unsettlingly inventive genre-fluid music inspired by artists like David Bowie, St. Vincent, and The Knife. Their songs span fragile love ballads and blacklight infused synthpop as they explore themes of isolation, innocence, and identity. On When the Sky Melted, the lo-fi blips and cinematic flourishes of Hello Moth's previous releases now operate as one, blending into each other to form a digitally constructed orchestra of shadow and light. This playfully shape-shifting production underpins poetic lyrics of confessional honesty, influenced by traditional metre and rhyme but nonetheless conversational.
Hello Moth's reputation was built on live shows. They provided direct support to St. Vincent at Sled Island 2014, and in 2016 Exclaim! called them "the weirdest, most underrated, most original and unashamedly true-to-self performer on the Rifflandia lineup, hands down." As for recorded music, Hello Moth's debut album was nominated Best Electronic Album at the 2014 Western Canadian Music Awards, and CBC had this to say about their 2016 sophomore LP: "Frenetic, weird and all kinds of exciting, Slave in a Stone is the kind of innovative music-making that keeps the future of Canadian music looking bright." Since then, Hello Moth has released a couple EPs (Prog Magazine UK praised Nebula Songs as "unsettlingly inventive" in 2018), and has done a lot of collaborative work with pop artists after co-writing and producing a song that went platinum in 2016 (Jocelyn Alice's Jackpot). These experiences in the pop world influenced a new creative direction on When the Sky Melted, which retains all the weird and the strange of early Hello Moth and builds upon it to create something sweetly immediate with soulful depth.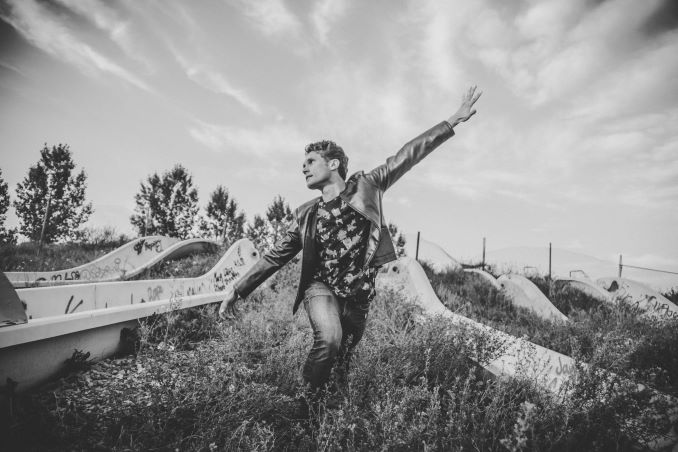 Name: Hello Moth
Genre: Various
# of Albums: 3.5
Latest Release: When The Sky Melted out now!
Latest Single: Canyons / Wanted To Tell You
Latest Video: Wanted To Tell You lyric video
Favourite Local Restaurant:
Vegan Street
Favourite band as a teenager:
The Knife
Favourite band now:
Nakhane
Guilty Pleasure Song:
Teenage Dream
Live Show Ritual:
Platform Shoes
Favourite local artist:
Sargeant X Comrade / Andrew Douglas / Selci / Foonyap / Benjamin Longman
Nose Hill or Fish Creek??
Nose Hill
EP or LP?
LP
Early bird or night owl?
I always try to be both
Road or studio?
Mobile studio (so, also both)
Where can we follow you?
Any shows or albums coming up?