This week's recipe comes from Relax Dinner Parties, a local catering business that offers culinary experiences in your own home! These Braised Lamb Shanks, Forest Mushroom & Green Pea Gnocchi recipes go great together, or can be made to accompany any of your favorite dishes. For video demos of how to make the Lamb and Gnocchi dishes, check out their Instagram!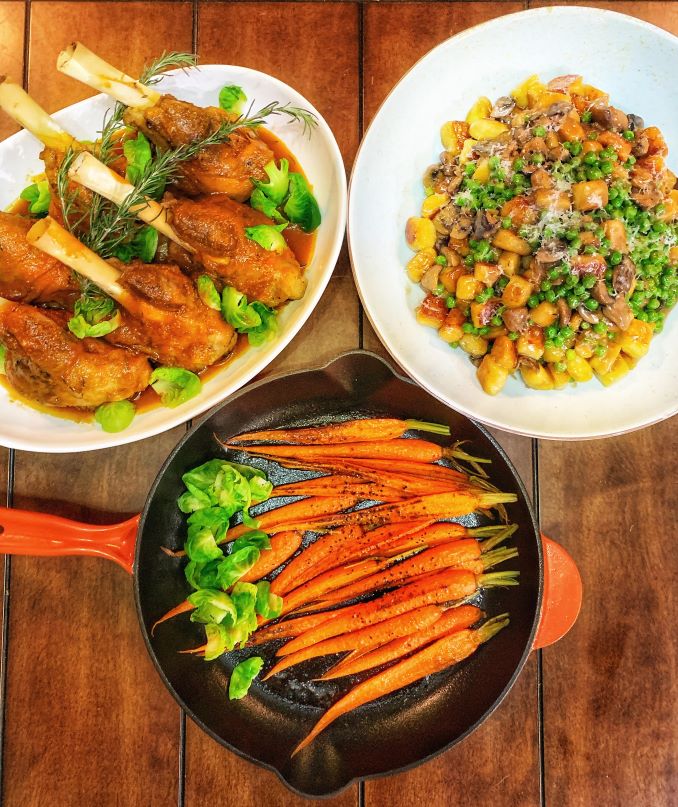 Braised Lamb Shanks
Ingredients 
– 4 Tbsp Canola Oil
– 4 Lamb Shanks
– 4 Large Carrots
– 6 Stalks of Celery
– 2 Large Yellow Onion
– 3 Cloves Garlic
– 4 Sprigs Thyme
– 2 Sprigs Rosemary
– 1 Can of Fitzsimmons East Lake Amber Beer – Substitute Fitzsimmons East Lake Amber Beer for your favorite Amber beer or 1 cup of any Red Wine (If using Red Wine add all to veggies at once)
– 3 Bay Leaves
– 2 Tsp Tomato Paste
– Salt & Pepper
Directions
1. In a heavy bottom frying pan, heat Canola Oil to sear the Lamb Shanks.
2. Season the Lamb with Salt and sear on all sides, until brown. Once seared and browned on as much of the surface as you can, remove the Lamb from the pan and place into a Dutch Oven or high sided oven pan.
3. While Lamb is searing, peel and roughly chop Carrot, Celery and Onion to a medium to large chop.
4. Sautee veggies over a med-high heat, in the same pan that you seared the Lamb. Add Canola Oil if needed.
5. Peel the Garlic Cloves and place on your cutting board. Lay the flat surface of your Chef's knife on top of the Garlic Clove one at a time. Place a cloth over your knife and strike the flat surface of the blade to crush the Garlic Clove.
5. Once veggies are browned, add your crushed Garlic Cloves and Rosemary and Thyme to your veggies. Sautee for 1 or 2 min until Garlic starts to brown.
6. Deglaze the veggies with ½ Can of Fitzsimmons East Lake Amber Beer
7. Add your veggies, herbs, liquid from the pan to your Lamb Shanks.
8. Add the rest of the Fitzsimmons East Lake Amber Beer, the Bay Leaves, Tomato Paste. Add Salt & Pepper for seasoning to taste and fill with cold water until Lamb Shanks are fully submerged.
9. Cover with lid or tightly wrapped tin foil.
10. Place in 400-degree oven for 30 min, then turn down oven to 325 degrees for another 2 to 2.5 hours. The meat should be tender and almost falling off the bone.
11. Remove from braising liquid and cover Lamb to keep warm or place in your oven on a holding temperature of 170 degrees.
12. Strain the liquid, save 1 cup of veggies off to the side, and reduce liquid to 3 cups. Using a blender, puree the 1 cup of veggies and the 3 cups of liquid using a blender. Reduce blended liquid and veggies down to 2 cups total to use for Lamb Sauce.
Forest Mushroom & Green Pea Gnocchi
Ingredients
– 6 Large Russet Potatoes
– 1 Whole Egg
– 1 Egg Yolk
– 150 g Flour
– 5 Tbsp Soft Butter
– 2 Tbsp Canola Oil
– 1 Medium Shallot
– 3 Cup ¼ cut Mushrooms (use your favorite kind)
– 2 Cloves Garlic
– 2 Sprigs Thyme
– 1 Sprigs Rosemary
– ½ cup Red Wine
– 2 Cup Heavy Cream
– 1 Cup Green Peas
– Fresh Grated Parmesan
Directions
1. Bake Potatoes at 350 degrees until soft. Let rest to cool for 20 min. Cut Potatoes in half and scoop out flesh. For this recipe, use 1 kg of cooked potato that has been pressed through a ricer to avoid lumps. If you do not have a ricer, mash potato as best you can.
2. Place Potato in a large and wide bowl to make dough or make dough directly on your cleaned countertop.
3. Add Whole Egg, Egg Yolk, and 150g of flour.
4. Using your hands, bring all ingredients together to form dough, being mindful to not over work. Add flour as needed. The dough should be firm but feel like a soft pasta dough.
5. Cover the dough with a clean cloth or saran wrap and let the dough rest for 10 min.
6. On a clean surface, cut off a piece of dough, around 1/5th. Flour the surface of the table, and using your hands, start to roll the dough away from you and back, while moving your hands from the centre of the table out to the sides. The product should look like a long roll of nickels made of Gnocchi dough.
7. Cut the dough into pieces 1 inch wide, moving down the dough. Place each piece on a floured tray and cover or store in fridge until ready to cook.
8. Blanch Gnocchi in a large pot of rolling boiling water. Remove Gnocchi as each piece floats to the top. Once all is cooked, drizzle with oil so they wont stick, and let cool.
9. In a heavy bottom frying pan, on med-high heat, heat 2 tbsp Canola Oil and 2 tbsp Butter to sear Gnocchi. While searing, do not burn your butter in the pan with a high heat, be patient, build color and crispness with a med high heat.
10. Remove golden brown Gnocchi from the pan to add to sauce when ready.
11. In a heavy bottom frying pan, lightly Sautee finely diced Shallots in 3 tbsp butter, and then add your ¼ cut Mushrooms. Sautee until Mushrooms have softened, then add Rosemary, Thyme, and the crushed Garlic Cloves (using the same method from the Lamb Dish).
12. Sautee for 1 or 2 min until Garlic starts to brown. Deglaze with Red Wine and reduce for 1 min.
13. Add Heavy Cream and reduce until sauce starts to thicken. Add Green Peas and reduce heat, cooking for 2 more min.
14. Add already cooked and seared Gnocchi, toss together.
15. Finish by grating Fresh Parmesan at the table.