Our featured dish this week is the Baked Lemon Tart from Pie Junkie and Bakery LTD. This timeless classic is a light and refreshing dessert. The company makes all their pies by hand, using 100% Alberta butter and beet sugar. Pie Junkie uses as much local fruit from the area as possible, depending on the season.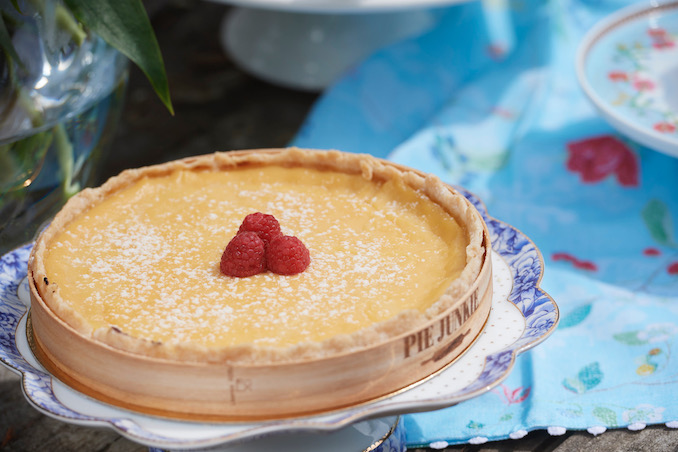 Baked Lemon Tart Recipe
INGREDIENTS
– 200 grams Whole eggs
– 150 grams White Sugar
– 2/3 cup French lemon Juice
– 1/2 cup Orange Juice
– 2 Lemons Lemon Rind
– 55 grams Unsalted Butter
– 55 grams Whipping Cream
Directions:
1. In a bowl, whisk together eggs, sugar, lemon juice, orange juice and lemon rind. Set aside.
2. In a saucepan over low head, melt butter. Stir in cream. Add egg mixture and cook over low heat, constantly stirring, just until mixture thickens. Do NOT Boil! Let cook for about 15 minutes.
3. Pour custard into a baked pie shell to the top. Bake in 350 oven for 20 to 25 minutes remove from oven and let cool. (two hours) Sprinkle with icing sugar and a few raspberries for that pop of colour.
Find out more about Pie Junkie and Bakery LTD.