It's an education in timing. The pacing is quick. The movement is fluid. The spacing is precise. And I'm not even talking about the acting yet. I'm talking about the set and its ingenious eye-popping choreography. A spectacle of elaborate moving rooms and secret passageways. It's a hypnotizing spectacle with excellent functionality. All its moving parts and pieces create the labyrinthine mansion in Vertigo theatre's hilarious and outlandishly dark production of Clue.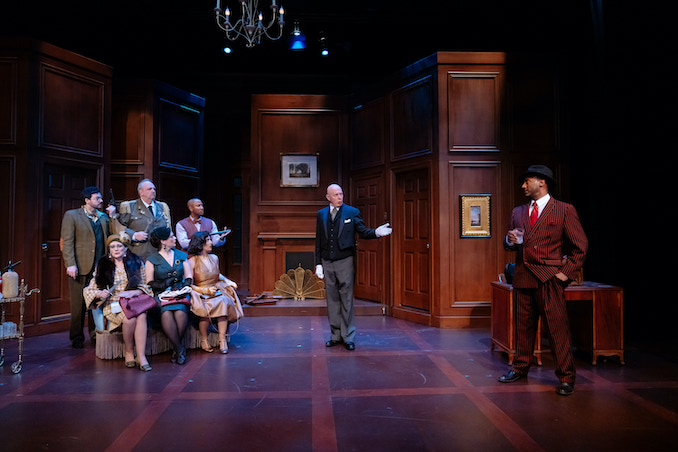 First conceived as a 1940's British board game called Cluedo, then as a 1980's film starring Tim Curry, the play follows the action of six mysterious guests all with different aliases, who we quickly learn are all being blackmailed by the owner of the mansion, a mysteriously named Mr. Boddy. But as blackmail quickly turns to murder, each of the guests become suspects and potential victims who must now work together to solve killings that keep piling up as the night wears on.
While truly an ensemble piece, each actor brings the right kind of comical stereotype to their roles. There's no need for depth here. We're in a farce. The more lunacy the better. There's the uppity butler Wadsworth played by Christopher Hunt whose pocket keys keep disappearing and reappearing, while Katherine Fadum's Mrs. White always knows the exact number of dead husbands she has, even as the audience loses track. There's the soft-spoken Mr. Green, a germaphobe played by Tenaj Williams who often finds himself with the dirtiest of tasks.
Vanessa Leticia Jette's seductress Miss Scarlet frequents the double entendre as often as she becomes the object to be gazed upon by others like Grant Linneberg's daft and simple Colonel Mustard. The knowledgeable Professor Plum played by Tyrell Crews seems to understand a lot, except whether a body is alive or dead. All this chaos causes Elinor Holt's normally uptight and rigidly controlled Mrs. Peacock to drink heavily from a flask as her speech gradually loosens over the evening. Rounding out the cast are Natasha Strickey's fearful French maid Yvette, and Jamie Konchak and Kaleb Tekeste who take on numerous and different quirky characters.
Director Haysam Kadri's control over the various stage pictures and action between scenes is a wonder. He gives the audience much joy in watching the actors swivel these impressive sets around. It's nearly as much joy as observing the finely crafted performance of each actor. Perhaps most impressive is the wrap-up of the play when there are as many as ten actors on stage all at the same time. The eye never wanders from the most important action. Whether in the hilarity of slow or fast motion theatrical conceits, or in the macabre choreography of shuffling dead bodies, or in seemingly non sequitur singing telegrams, Kadri always manages to focus the audience's attention on the right moment at the right time. He's also aided by Anton De Groot's lighting design which helps encapsulate and pinpoint these important moments. It's this kind of precision and control that make Vertigo's production of Clue, a real laugh-out-loud success.
In addition to the real star of this production which is undoubtedly Scott Reid's fabulous and functional set design, Andrew Blizzard's original musical composition is superb, creating just the right mood for this play that is bathed in dark yet comical tones. And Deitra Kalyn's costuming not only puts the actors firmly in the 1950s McCarthy era but like the elaborate design of the set, there are multiple layers to her costuming. All of this adds up to the notion that some characters are not who they appear to be.
It is rather remarkable that a play can transition from the basic ingredients of a board game to a successful film to a successful stage adaptation. Vertigo's production of Clue certainly shows the promise in this strange kind of evolution.
Maybe, I'll start working on my Hungry Hungry Hippos adaptation.
***
Performances of Clue run until June 5th at Vertigo Theatre. Run time: Two hours with an intermission.