This week's recipe comes from local Italian restaurant, Bonterra Trattoria. Liven up this classic pasta dish with the addition of bacon made from wild boar. Serve it for dinner and have the leftovers for breakfast. Wild boar bacon is available at specialty meat shops, but use double-smoked bacon if you prefer.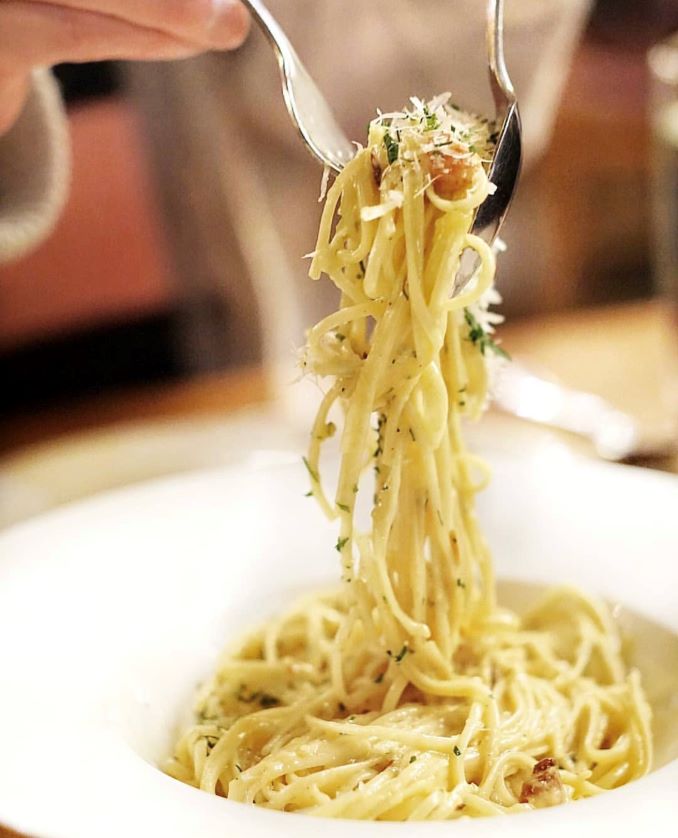 Serves 4 to 6
Ingredients
-1 cup wild boar bacon in 1/4 inch dice
-4 cloves garlic, sliced
-1/2 cup sliced shallots
-3 tbsp duck fat
-1/4 cup extra virgin olive oil, plus more for garnish
-salt & pepper to taste
-3/4 lb linguine or spaghetti
-pinch of chilli flakes
-1/4 cup white wine
-juice of 1 lemon
-1/4 cup butter
-1 1/2 cups finely grated grana padano, plus more for garnish
-2 eggs, lightly beaten
-1 tbsp chopped fresh Italian parsley, for garnish
Directions
Place bacon in a large frying pan on medium heat and cook until bacon fat starts to melt, about five minutes. Stir in garlic, shallots, duck fat and olive oil and sauté for about five minutes, until garlic and shallots are translucent and about to caramelize. Season with a pinch of salt and black pepper.
Bring a large pot of salted water to a boil on high heat. Stir in pasta and cook according to the package directions until just "al dente," or slightly firm. Drain the pasta and set aside.
Add chilli flakes to the shallot mixture, then deglaze the pan with white wine, and add the lemon juice and butter. Allow the butter to melt completely, stir well and remove the heat. Using a spatula, fold in the pasta and return the pan to low heat. Gently toss the pasta with the shallot mixture until well coated. Sprinkle with grana padano. Pour in the eggs and mix them in gently. The sauce should thicken as the egg cooks with the heat from the cooked pasta. If the sauce becomes too thick, thin it with a little water or white wine. Adjust the seasonings, if necessary.
Spoon the pasta into a large family-style serving platter and garnish with more grana padano, parsley and a drizzle of olive oil. Serve immediately: carbonara waits for no one!