There's no doubt that Stephen Avenue is one of Calgary's most popular attractions. The avenue has everything from restaurants and bars to shopping and theatres, making it the go-to spot for a night out or a day of exploration. Stephen Avenue is lined with historic buildings and the street is closed to traffic, making it a pedestrian-only zone. As one of Calgary's most iconic thoroughfares, Stephen Ave has undergone a lot of changes in recent years. And there are more to come thanks to The Future of Stephen Avenue Project, a multi-year City of Calgary project designed to reimagine the destination location and position it for a renewed era of success.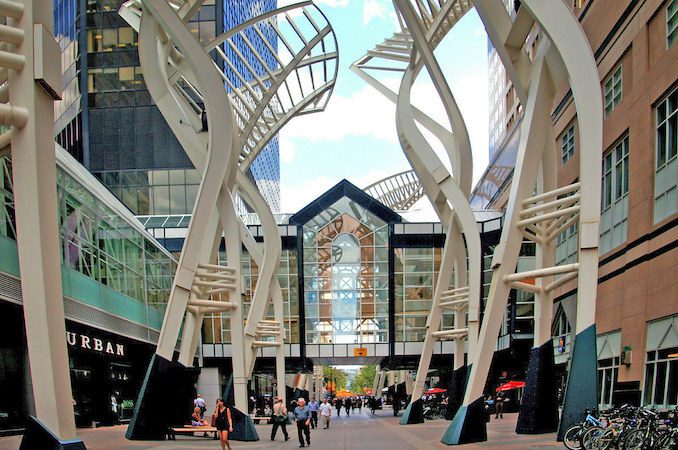 History of Stephen Avenue
Stephen Avenue is one of Calgary's most vibrant and historic streets. Named in 1884 after Lord Stephen, the Governor General of Canada from 1867 to 1872, Stephen Avenue was the site of Calgary's first store and post office. The Calgary Tribune moved to the avenue in 1884, followed by the Thompson Brothers bookstore in 1893, and the Calgary Milling Company in 1902. The avenue continued to grow exponentially until the Great Depression when construction in Calgary slowed down. And then picked right back up again when the oil boom began in 1947. In 2001 a portion of Stephen Avenue was declared a national historic site.
Current Initiatives
The Future of Stephen Avenue Project kicked off with a public realm study in 2019 with provided city planners with a roadmap for repositioning and restructuring the avenue. Currently in the activate and experiment phase of the project, testing is underway on the following pilot concepts:
Winter City Design Competition – in collaboration with the University of Calgary's School of Architecture, Planning and Landscape, designers and artists are invited to propose innovative winter design elements that help to make the space usable year-round
Corner pollinator bed with seating – at 1st Street SW, you'll find a planter with seating, as incorporating nature into urban areas has been proven to have positive effects on well-being and biodiversity
Centre Street corner seating – testing of different types of seating with different configurations
YYC/LRT public sculpture – described as "a public sculpture, shadow projection device, satellite studio and place for creative public engagement"

What's Next
Upon receipt of feedback from the pilot projects, phase 3 will involve implementation into more detailed and permanent designs. Stated goals of the project include:
Amplifying the human environment, celebrate heritage buildings, and provide varied ground floor uses and a rhythm of active building facades.
Providing opportunities for public engagement and experimentation by working with downtown partners and removing bureaucratic barriers.
Making walking a great experience – a rhythm of connected points of interest to spur curiosity and invite people to wander, explore and linger.
Fostering socialization and gathering, while making everyone feel welcome.
Activating Stephen Avenue at all hours of the day, throughout the year, to build a lively urban neighbourhood.
By the numbers:
Between 5,000 – 10,000 visitors per hour hit Stephen Avenue during peak times
The avenue is home to nine major shopping centres/department stores
Runs from 1st Street SE to 4th Street SW
90+ people took part in project stakeholder workshops
See full details and provide feedback on the Future of Stephen Avenue Project plans to date at the City of Calgary website.
Read Calgary's Most Haunted Places – Stephen Avenue makes an appearance!