I got a chance to catch up with, and interview, legendary Indie Calgary Wrestling Promoter, Otto Gentile. We talked about the history of Stampede Wrestling, his CanAm promotions, and his work with numerous charities and foundations. Most importantly, we got him to speak with us about his new Calgary-based Wrestling School, The Alberta Wrestling Academy.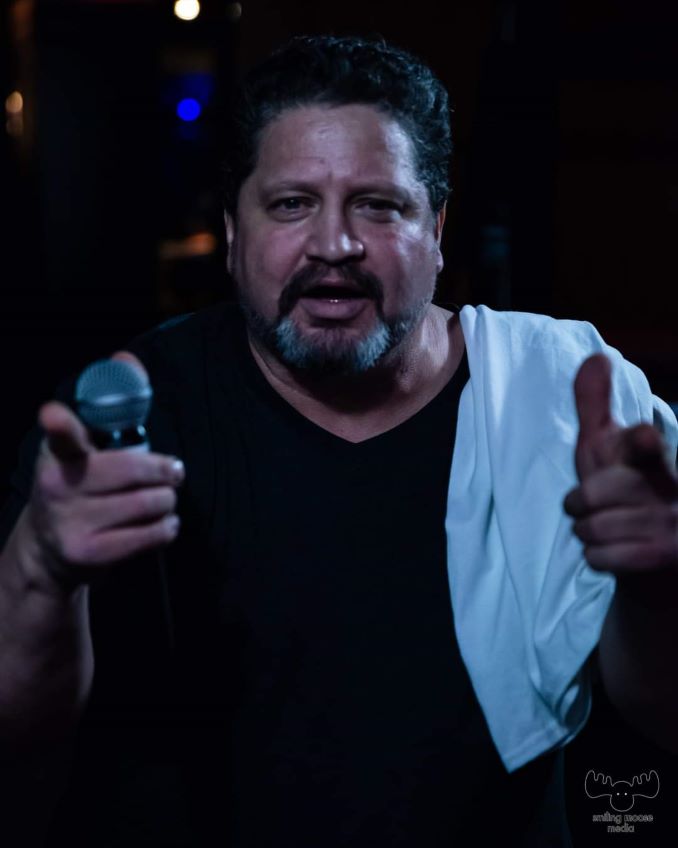 What made you want to get into wrestling? What exact move, from your favourite wrestler, did you see, and said "this is IT, this is what I want to do!"
Actually, I stumbled upon it, as a kid, you know, watching Saturday morning cartoons. And Lo' and Behold, there was Stampede Wrestling, and it just drew me in like you wouldn't believe! When I got taken down to it by my Uncle, for the first time, I knew that there was nothing else but Professional Wrestling for me… I've grown up ever since watching it. I pretty much watch, eat, sleep… it's ALL wrestling for me!… I remember it was down at the Stampede, here at the legendary Stampede Pavilion… and I believe the Main Event was Bret Hart against Bad News Allen! Ever since then I've been hooked.
We saw on your website that you wrestled yourself in the 80s, what was your record? Fight anyone we might know?
I started in 1988, that was the first time I stepped into any sort of wrestling training whatsoever. I went to meet my mentor, and coach, who has since then passed away, may he rest in peace… his name is Steve Gillespie he was known as Dr. Hannibal of Japan, for a promotion called FMW, which stood for Frontier Martial-Arts Wrestling, which was more of a hardcore style of wrestling in Japan. I met him at Southland Leisure Center, I went in, expecting to see a wrestling ring, he looked at me and said 'OK, c'mon over here', he picked me up, and slammed me, on the gymnasium floor… and said 'when you learn how to be flexible, come back to me, and I will train you no problem.'
Back then I was into Bodybuilding and trying to get bigger, so I understood what he meant. So 6 months later down the road, I got flexible enough that I started my training, and ever since then I have been loving this sport. Now that I'm 55, I'm trying to not only come back, to do it again, but I'm also trying to mentor kids, especially underprivileged kids, or kids with disabilities, because I am the person of a mindset that if this is in your heart, and your head, that you wanna do this, than there's some aspect, that you can do in this business. Whether it be a wrestler, a referee, a timekeeper, the bell-ringer, an announcer, whatever! There's something for everyone in this kind of business, and it's just a matter of having the confidence, and the people that allow you or give you that platform in order to do it… Did you ask about stories? One day in my training experience, I walked into a gym, and lo' and behold, there's Lance Storm, Chris Jericho, Rick Titan, I don't know if you remember Rick Titan, but he was the guy that did the 2nd Razor Ramon, and a couple of Pro Japanese Wrestlers, were waiting for me and lemme tell ya, I sure learned how to bump, and I sure learned how to get slammed, and I sure learned how to take a chop that day…
I'm an '81 baby, so I grew up during what I like to think is the Golden Age of Wrestling, with Hogan and the Warrior, at Skydome! I remember that vividly!
I got a chance to meet them all! Hogan, Rick Martel, the Model, Kerry Von Erich, Sable.. The Rock. I get a chance to meet a lot of these people… My first student I ever trained with, he was an ex-Cirque Du Soleil performer, his name is Sidney Iking Bateman and is now currently in the WWE, and wrestling as Reggie, so it was a very proud moment for me, to actually help that gentleman, get to live out his dream, and we still talk every couple of days… we message back and forth on Facebook, and I'm hoping when they come here in September, I can get some tickets and actually go see him do it live, which would be absolutely amazing!
How did CANAM and Alberta Wrestling Academy start?
CANAM was first, we started CANAM wrestling about 25 years ago, we started doing shows at the BackAlley Nightclub, which is why we call it the CanAm arena, we started 25 years ago there, we were there, I think every Sunday, for the first little while, than we went to Tuesday Night Live, and it just grew and grew, and than 6 months down the road when we had a show, that was road- worthy, we started going across Canada with it. We went from the Queen Charlotte Islands, all the way to Hamilton, Ontario, and we did all of Northwest Territories, and the Yukon. We primarily focused on First Nations Communities, because they were having a huge problem with drug and alcohol abuse… so we wanted to try and help, give back to the communities, and so what CANAM actually stands for, it's an acronym for: Constantly Against Narcotic & Alcohol Misuse. We reach out to the communities, we do workshops with the kids, a lot of the guys told their own stories, about getting hooked on drugs, because of wrestling injuries, and what they did to try and get off… and we would perform at night, kinda like a reward for the people who went to our workshops, we would present a show for the entire community.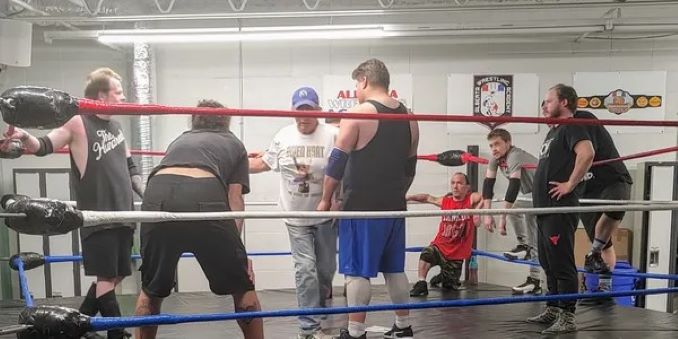 In the Professional style, there is a lot more involved than just wrestling physically, how much does your school focus on the other aspects of wrestling?
Within the last 10 years, I have been getting more involved with wrestling on a teaching level… I was the commissioner for Real Canadian Wrestling, here in Calgary, and I said to my friend Ed Anderson: 'Why is it that we don't start our own school, and start training people?'… We were crazy enough – to start a Wrestling school during the Pandemic. When we did our grand opening, on October 3rd in 2020, we immediately got 18 students, and we haven't looked back since. The Alberta Wrestling Academy, we have gone through a lot of ups and downs, there were times when I thought we weren't gonna survive, because of the pandemic, being open and closed, open and closed… we had to change our mindset on the training. So as you know, being a wrestling fan, you know that these guys need to learn how to talk on microphones, so we adapted our program because we couldn't go to the gym to train, so we started doing 'Promo Competitions'. We offered prizes for these competitions, and every single one of our students can cut an interview, can cut a promo. They're not afraid to grab a microphone and talk on it now. So I'm kinda proud of our ingenuity and changing the way we train people.
Who are your clientele/demographics? Would we be surprised who studies wrestling?
With us being open to, underprivileged youth, and trying to work with these kids that have disabilities, or problems that they are dealing with, it's a vast variety of people. We are of the mindset that we do not discriminate against ANYBODY, we have a gentleman that is 4′ 8″, and he's been in the business for 16 years, and he works with us at the Alberta Wrestling Academy. We have ex-football players, that are 295 lbs, that are doing this. We have guys that are 6'7″… 6'9″ that do this. We have a very proud trans-gender wrestler, her name is Ehva Jones, and she wrestles as E.V., and just to be able to support, these kinds of people, in trying to chase their dreams, and living vicariously through them… when they do hit success, of being able to perform in front of a live crowd, is something very special.
How expensive is it for someone to get into wrestling at the entry-level, and how does it compare to other sports? If you display natural talent like in boxing, are there ways to alternatively fund tour wrestling career?
Yes, Usually, wrestling schools can cost anywhere from 3-5 thousand dollars, depending on where you go. We are of the mindset that the fixed price of $1000 a month is more reasonable. If you pay for two months in advance, we will give you a third month for free. Just being able to get $2000 out of somebody nowadays is a very crazy thing. And to be able to do that, and give someone a life skill, that they can use to try and get into the business and then make their money back, is something that I am very proud of (about the Alberta Wrestling Academy). I'm not looking to get rich, and I'm not looking to steal their money. I want them to learn a different way of living, a clean lifestyle, a way to gain muscle, a way to gain knowledge, a way to gain confidence, a way to gain a character… We train them from A to Z, we help them with their character, we help them with their promos, we help them with their wrestling attire… to help make them a complete character, ready to go for wrestling, so that they can market themselves in the professional "indys", which we are called – the Independent Circuit – and they are in effect Independent Contractors. They can go work for anyone. Another thing we pride ourselves on is that we opened during the pandemic, and we asked 'how do we get our name out there?'. What we did, is we partnered up with promotions around the entire world. We have partnerships with gyms and promotions in Italy, Spain, the UK, Puerto Rico, 8 different promotions in the US, 2 or 3 promotions in Mexico, 3 or 4 different promotions here in Canada. So this all opens up the opportunity for our kids, that go through our program… now they can go to any of these promotions, that we are already connected with, for work. So our network around the world is actually a big huge payoff for us as well, because some of our kids can go get some training down in Mexico… 3 or 4 of our students have already gone, and we pride ourselves on building that bridge, from Canada to Mexico, through our great friend – and our first ever 'Stu Hart Memorial Champion' – Sweet Daddy Soul he put in amazing work down in Mexico and got our name known everywhere in Mexico, and now we have that bridge that can bring the Mexican wrestlers here to Canada, and our wrestlers that can go over there and learn the 'Lucha Libre" style of wrestling.
Where in Calgary and around the world can we find your alumni?
All over the place, back in the day, we probably created about 160 stars, when we first started CanAm wrestling, and now we are starting to create them again. There is people everywhere. It's worldwide, that's the absolutely amazing thing about it, you're not stuck in one place, you can go anywhere to do this.
This sport is loved by everybody… from 9 to 99 let's say, so it's a great thing.
Speak a little about the Workshops you guys do in addition to the shows.
We are partnered with Bikers are Buddies, and we created a new program with them, it's called the AWABAB which means Alberta Wrestling Academy Battling Against
Bullying. Now, in every community that we go to, we not only bring the drug and alcohol abuse messages but also our 'Coping with Bullying' program. We just wanna reach out to the kids that are going through this, and we know that this is happening, the world has really changed, and unfortunately in some areas, it's changed for the worse. We know that the kids are getting bullied, so we want to give them education, we wanna give them the ability to outreach to these adults that actually do care about what happens to them. Our debut in Strathmore, there was a kid from Sundry, BC, so we reached out to his family, brought them to the show. They didn't know any of this was gonna happen! We brought the kid into the ring, and we did kinda a little interview with him, and we then offered him a scholarship, which we created in my mentor's name, the Steven Gillespie Wrestling Scholarship from the Alberta Wrestling Academy, and what this scholarship represents is free wrestling training for this child. So whenever he is ready to come to our school, he can do so, and we will train him for free, in the art of professional wrestling, to teach him a new craft, so hopefully one day he can go out and make some money at it.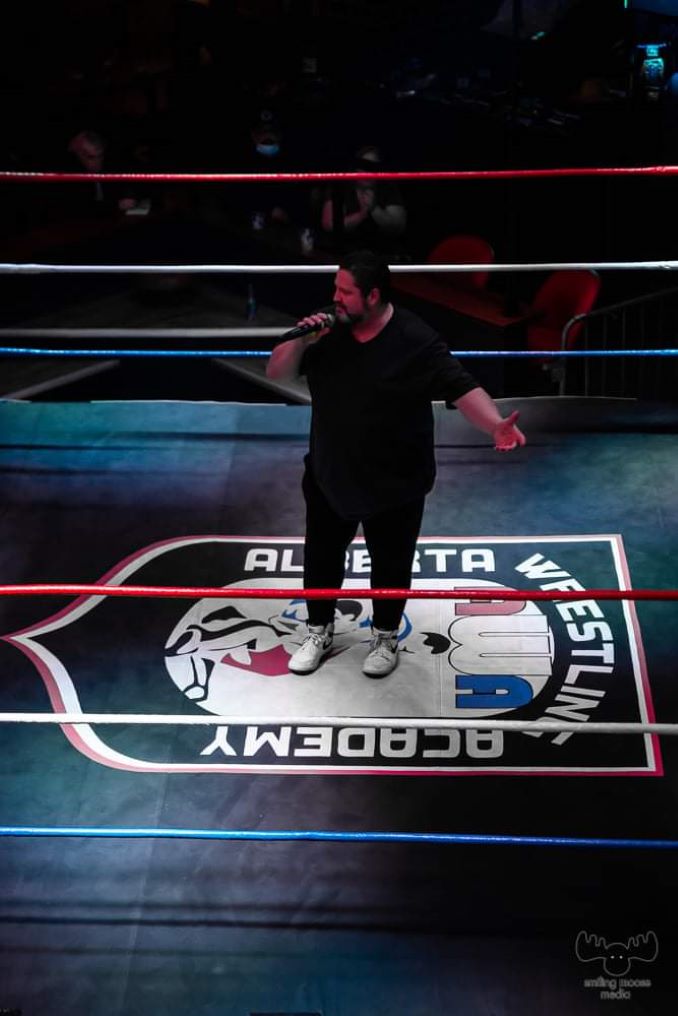 What is the best part about what you do? What is the worst part? Any good stories from "Behind the Mat" you can share with us? You ever go to the "Dungeon" in Calgary when it existed?
Ha! Yeah, I've been to the "Dungeon" many a time! The absolute best thing, like I said, is living vicariously through all these kids that, when you see them perform in front of a live crowd, and you see that smile on their face, that they actually GOT to DO IT. That is what is gratifying to me. The worst thing? It's probably that this industry, there's lots of jealousy, about success, and this last year, our company has grown so much, that there's a lot of people out there with negativity about what we are trying to do. Which is not gonna stop me, it's not gonna stop my partners… I just wish THAT part of it wasn't around, because we are here to work with anybody and everybody, and that's why I pride myself on all these partnerships that we do have.
What is your favourite joke about wrestling?
It goes like: Tell a phone, tell a graph, tell a wrestler, and your message will get around the world real quick!
What are your social media channels?
Website | Facebook | Twitter | Instagram | Youtube
PAY IT FORWARD: What is another Calgary business that you love:
We pride ourselves on all our partnerships, and in this business, you gotta have good sponsors. We are partnered with great organizations: Oxford House Foundation is a housing-kinda project that allows people, with drug and alcohol issues, (or any other issues), to have a safe house for them to go through their recovery. I'm extremely proud of that one, because I myself, I am 18 years clean and sober, and being able to say that I am partnered with that, and being able to raise money for them, to continue their great work, means everything to me.
We are partnered with Bikers are Buddies as I mentioned before, and it doesn't stop there! Nanbert Manor. They raise food, hygiene products, etc. for these people that go through this kinda stuff. Next week we are doing a fundraiser for a family in Strathmore that lost their house in a fire, and everything in it. This is the kind of stuff that puts a smile on my face… this is why I and my partner created this school. To give back to the community… And finally, Spolumbo's Fine Foods & Deli man, that guy has been a supporter for us from day one. Has never said no to us, anything and everything we need he has always given to us, his name is Tony Spoletini. I love him like a brother, and I can't show the gratitude this fella deserves, so if I'm gonna 'pay it forward', I'm gonna pay it forward to him because he's helped us, get on our feet, and has always been there for us.