Homemade meatballs are simply the best. This week's recipe is for Veal Meatballs from Glen Manzer, Culinary Director of Creative Restaurants Group. Use your favourite tomato sauce to braise them, then serve these meatballs with crusty bread and a glass of Chianti.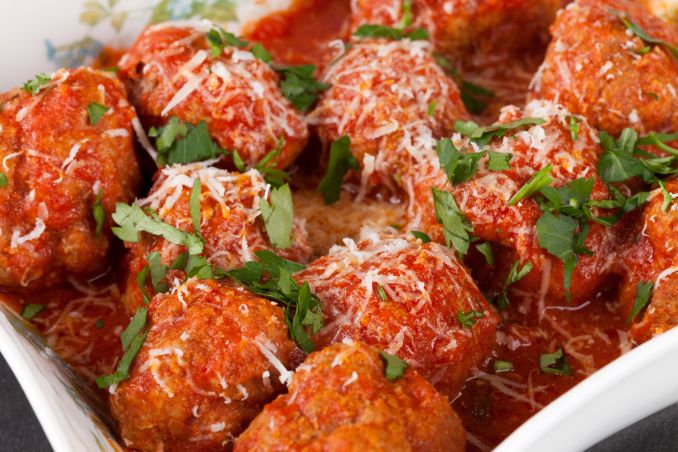 Veal Meatballs
Serves 4
Ingredients
-6 tbsp extra-virgin olive oil, plus more for garnish
-1/2 cup finely diced shallots
-6 cloves garlic, minced
-Kosher salt and black pepper
-Pinch of ground cinnamon
-Pinch of ground fennel seeds
-Pinch of chilli flakes
-2 cups whole milk
-1 loaf fresh focaccia, crusts removed, roughly torn
-1tsp finely chopped fresh sage
-1tsp finely chopped fresh oregano
-1 tbsp finely chopped fresh basil, plus more for garnish
-1 tsp finely chopped fresh Italian parsley, plus more for garnish
-1 tsp finely chopped fresh thyme leaves
-Zest of 1 lemon
-1 1/4 lbs ground veal
-3 cups tomato sauce
-1 cup grated Parmesan
Directions
1. Heat 2 tbsp of the olive oil in a large saute pan on medium-high. Add shallots and garlic, season with a pinch of salt and cook for 10 minutes. Remove from the heat, stir in cinnamon, fennel seeds and chilli flakes and allow to cool completely.
2. Pour milk into a large bowl, add the bread and allow to soak for 10 minutes. Drain and discard the milk, then, using your hands, squeeze any excess liquid from the bread. Stir the bread mixture into the shallots and garlic. Add sage, oregano, basil, parsley, thyme, lemon zest and ground veal and mix gently until just combined. Do not overtax. Season with a pinch of salt and black pepper.
3. Heat 2 tbsp of the olive oil into a large frying pan on high. Pinch off a quarter-sized piece of the meat mixture, form it into a patty and fry for five minutes, or until crisp and browned. Taste, and adjust the seasonings if necessary. Using your hands, shape the remaining meat mixture into three-inch balls. Add 2 tbsp more olive oil to the frying pan and carefully add meatballs, cooking them in batches, if necessary, until browned on all sides, 10 to 15 minutes. (Handle the meat gently so that you do not break up the balls.) Using a slotted spoon, transfer meatballs to a large ovenproof dish, arranging them in a single layer.
4. Preheat the oven to 400F. Cover the meatballs with tomato sauce and bake for 30 minutes. Remove from the oven, arrange on a large family-style serving platter and garnish with parmesan and Italian parsley (or chopped basil or micro basil). Drizzle with olive oil and serve immediately.