This week's recipe comes from Moxie's Executive Chef and Calgarian, Chef Brandon Thordarson. This Tuna Poke Powerbowl is a tasty way to get your veggies in, while tasting and looking like takeout!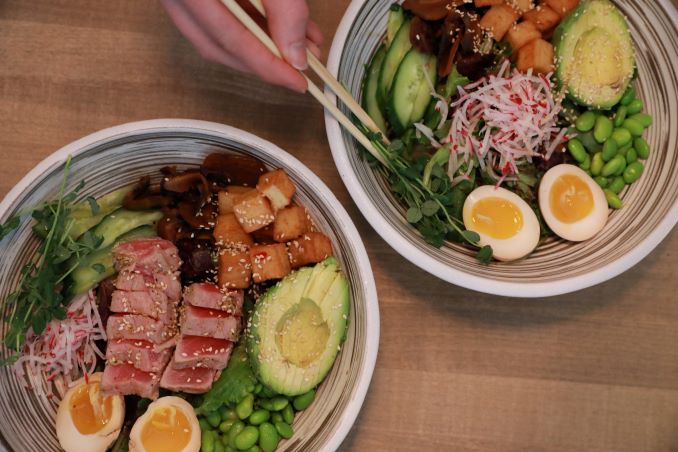 Tuna Poke Powerbowl
Ingredients
– 4oz fresh tuna, cut into 1/4 inch square dice
– 2 tbsp Japanese soy sauce
– 2 tbsp rice vinegar
– 1 tsp sesame oil
– 1 cup grated cauliflower
– mixed artisanal greens
– 1/2 cup cucumber, diced
– 1 egg
– 1 radish, grated
– 1/3 cup edamame beans
– 1/2 avocado, thinly sliced
– 10 pea shoot sprigs
– 1-2 shitake mushrooms, sliced
Directions
1. In a small bowl, mix soy sauce, rice vinegar and sesame oil to make a dressing. Add to greens and toss, saving some dressing for the tuna.
2. Heat cauliflower rice and place in the bottom of a large bowl.  Place greens atop rice.
3.  Lightly sauté the mushrooms in oil.
4. In a pot, bring water to a boil. Drop egg in for 6 minutes, then cool in ice before peeling the shell off to achieve a creamy, soft yolk.
5. Arrange the cucumber, boiled egg, radish, pea shoots, beans, mushrooms and avocado around the bowl, leaving room in the middle.  Sprinkle the avocado with sesame seeds.
6. Mix the diced tuna with the remaining dressing and marinade before placing it atop greens in the middle of the dish.