This week's recipe is for truffle squash ragout that can be used to make some very awesome eggs benedict (instructions included).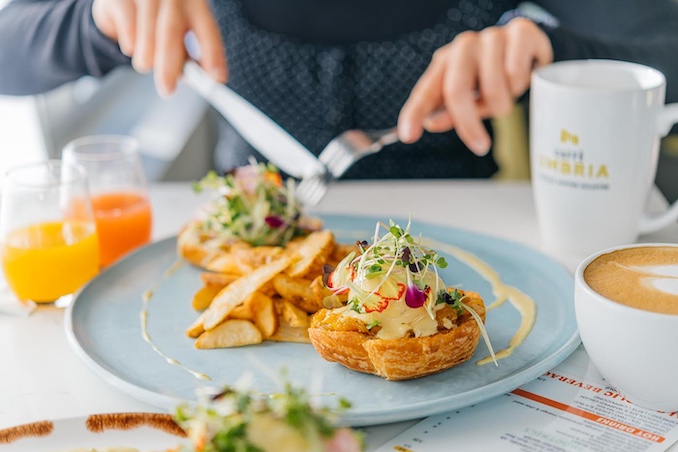 TRUFFLE SQUASH RAGOUT MAKES 4 PORTIONS
Ingredients
-1 oz. Canola Oil or any other vegetable oil will do
-1 Leaves bay leaf fresh or dried
-1 Large yellow onion diced in fine cubes
-4 cloves of garlic chopped
-2 sprig of fresh thyme whole
-3oz of brown sugar (packed)
-2 pound of peeled & cubed Butternut Squash 1/4 inch
-1 tbsp. Truffle paste (tartufata) fine Italian supermarkets will have it (but not a must if mushrooms are not liked)
-Kosher salt and black ground pepper fresh
-TBSP of white Truffle Oil (specialty stores or fine Italian super markets) to finish only!!
-Vegetable stock (enough to cover the squash when cooking) about 1 litre will do, can use water as well if no stock available
Directions
1. Pre-heat a large brazier pot with canola oil. Add cubed squash and sauté for 5-8 minutes without giving the squash any colour, add bay leaf, season lightly with salt and black pepper, add thyme sprig whole.
2. Add diced onions and chopped garlic, sugar, stir well and cook for an additional 5-6 minutes on medium low heat. Add vegetable stock just enough to cover the squash. Lower the heat and cook for 25-30 minutes or until squash is fork tender. When done stir in the tartufata.
3. Cool completely and finish with truffle oil, season with kosher salt and pepper as required
4. Serve warm over your favourite toasted bread (rye or other dense breads are great), or wilted spinach. Poached eggs or eggs of any liking will pair well with this side dish, Hollandaise is not a must but is recommended.