This week's recipe is Roasted Tomato Chicken Pasta and comes from registered dietitian, Cheryl Strachan's 30-Minute Heart Healthy Cookbook.  This simple weeknight dish is made with chicken thighs because they're more forgiving than breasts. They're a bit higher in saturated fat, but not much. The bold flavors can stand up to whole-wheat pasta, but use regular if you prefer. Roast a sheet of asparagus, bell peppers, or other veggies tossed in oil while you're at it, and just stir them in. Finish with fresh parsley, basil, thyme, or oregano if you have some on hand.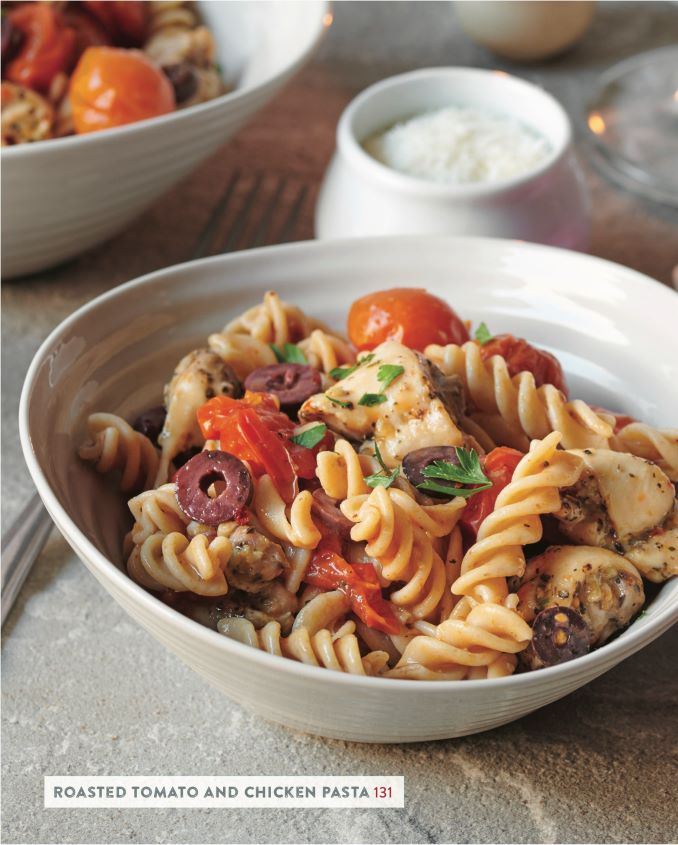 Roasted Tomato and Chicken Pasta
Serves 4
Hands-on time: 20 min
Total time: 30 min
Ingredients
1 pound boneless, skinless chicken thighs, cut into bite-size pieces
1/8 teaspoon kosher salt (optional)
1/4 teaspoon freshly ground black pepper (optional)
4 cups cherry tomatoes, halved
4 garlic cloves, minced
1 tablespoon canola or sunflower oil
1 teaspoon dried basil
8 ounces uncooked whole-wheat rotini
10 kalamata olives, pitted and sliced
1/4 teaspoon red pepper flakes (optional)
1/4 cup grated Parmesan cheese (optional)
Directions
1. Preheat the oven to 450°F.
2. Season the chicken with salt and pepper, if desired. Toss the chicken in a large bowl with the tomatoes, garlic, oil, and basil. Transfer to a rimmed baking sheet, and spread out evenly.
3. Roast until the chicken is cooked through, 15 to 20 minutes, tossing halfway though. A meat thermometer should read 165°F.
4. Meanwhile, cook the pasta to al dente according to the package directions. Drain.
5. In a large serving bowl, toss the chicken and tomatoes with the pasta, olives, and pepper flakes (if using). Top with Parmesan, if desired.
COOKING TIP: Olives off the tree contain a bitter compound that is fermented out using a salt-based brine—which is why olives are always a bit salty. If you don't add the olives here, double the salt.
Copyright line: Excerpt from The 30-Minute Heart Healthy Cookbook: Delicious Recipes for Easy, Low-Sodium Meals, by Cheryl Strachan RD, published by Rockridge Press. Copyright © 2019 by Callisto Media. All rights reserved.
Purchase link: https://www.amazon.com/30-Minute-Heart-Healthy-Cookbook-Low-Sodium/dp/1641526327