Made by Momma helps local moms by providing them with support during rough times, whether it be food, baby supplies, or just a shoulder to lean on. Their event on April 1st, the "Un-Gala", allows Calgarians to practice social-distancing while also helping local moms! Rather than getting dressed up an attending a gala, Made by Momma's twist allows you to put the money that would have been spent preparing into a donation for local moms! We spoke to president, Allyson Palaschuk to learn more!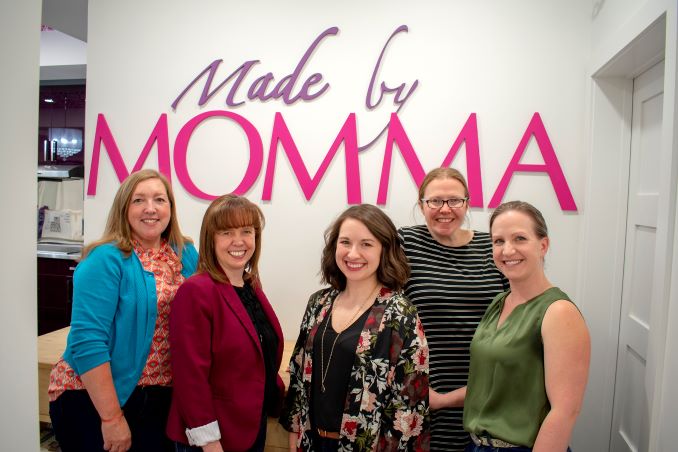 Describe your charity/non-profit in a few sentences.
Made by Momma is a grassroots non-profit organization and registered Canadian charity located in Calgary. We help mothers with young children facing situations of adversity and crisis by providing healthy homemade meals, wholesome baked goods, baby essentials, children's items, supportive in-home visitors and other services to allow struggling mothers the time they need to rest, recover and focus on their families and their health.
What problem does it aim to solve?
Our mission at Made by Momma is to support mothers with young children who are struggling by helping them with practical peer-to-peer support. So many people are not native to Calgary, and may not have the sense of community, or a social circle to support them when times are tough. There are many families without a support network to turn to when they face unexpected challenges like illness, injuries, loss of a home, or a job, the death of a spouse or a child, or the birth of premature or multiple babies. We aim to become that village of support when it's needed most.
When did you start/join it?
I'm one of the founding members, and ten years later still a dedicated and passionate volunteer, and the Board President. I can be found down at the Resource Centre most days helping out, chatting with volunteers, connecting with donors, and ensuring moms are getting the support they need.
What made you want to get involved?
I'm a mom with four children myself – and I have certainly gone through my own struggles over the past 30 years as a parent. Motherhood isn't always a smooth road, and I truly understand what so many of the mommas we help are going through. I know that sometimes a healthy meal, a thoughtful care-package or an understating ear to listen, can make a world for different to a mom who feels overwhelmed.
What was the situation like when you started?
We started out small and grassroots – primarily we were found just by word of mouth throughout the community or on our social media channels. That first year we worked out of our own homes and a rented storage room. That didn't last long!
How has it changed since?
While we have strived to maintain our grassroots nature, many things have changed – including huge increases in the number of families we help every year, new programs, the number of volunteers on our team, and that we now operate out of our own resource centre; there is a lot that has remained the same. We've been through a lot over the past 10 years…H1N1, the 2013 Floods, the 2016 Fort Mac fires, and now COVID-19 – but also for situations of personal adversity, like cancer diagnoses, births of premature babies, and the loss of a spouse or a child. We can't stop crisis from happening, but we can continue to help more families during hard times, and we are much better able to do so now than we were when we started.
What more needs to be done?
Our work truly never ends. We operate all year-long. In fact, we are still open, and busy helping families through the COVID-19 pandemic– with the highest levels of safety of course.
In a bigger picture, as a society, I think we all have to be kinder to each other, and recognize that it's OK to not be ok. As mothers, we are natural nurturers and often take on extra stress with every intention of "doing-it-all" but we know that not every mother has the social support to be a super-mom, super-wife and super-woman every day of the year. There should be no shame in needing help. It's really is OK to ask for support.
How can our readers help?
When adversity hits our community and the needs increase – we rise! As a volunteer-run and donation-driven organization, we rely on the community to help us meet our mission – that can be in the form of volunteering, hosting a donation-drive, ordering/donating items from our Amazon wish-list, or supporting us financially. All of these opportunities to help can be found on our website.
Do you have any events coming up?
Surprisingly, we do! It's our 10th anniversary, and we knew we needed to do SOMETHING to celebrate this milestone, but we aren't really "Gala" girls, so we decided to plan an UnGala – an event our supporters do NOT have to attend! The Made by Momma UnGala will be held on April 1, 2020 and is guaranteed to not be cancelled! Calgarians are encouraged to purchase a ticket or add up the expenses they would normally spend on attending a traditional gala event, and instead donate those funds. Tax receipts can be issued and as Made by Momma is a volunteer-run charity and there will be no expenses for an actual event, 100% of all donations go directly towards helping local families facing adversity or crisis. More information can be found here!
PS – We've been planning this event for a while. We had no idea 6 months ago that everyone in the entire world would be self-isolating – and that every other 2020 event we had planned would be cancelled – our Golf Tournament, our Casino, our Trade shows… everything!
Where can we follow you?
PAY IT FORWARD: What is an awesome local charity that you love?
NICU Family Care – Another fabulous volunteer-run organization helping out families with babes in the NICU. ♥
Make sure to check out Made by Momma's "Un-Gala" on April 1st!